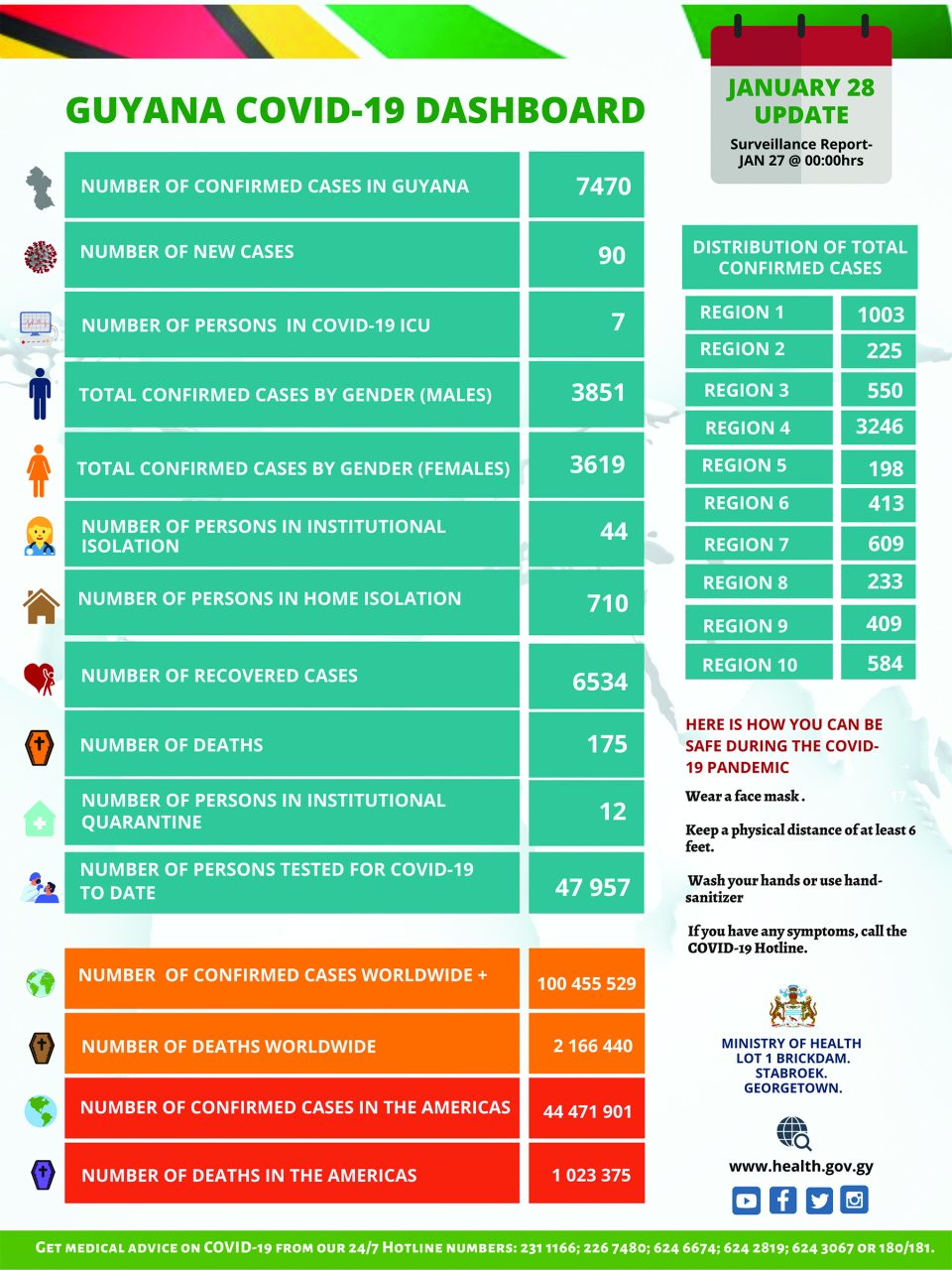 Home
News
90 new COVID-19 cases were recorded in 24h
– Region 4 registers 66 scary cases
The Ministry of Health confirmed on Thursday that 90 new cases of COVID-19 were registered from a total of 599 completed tests. This now brings the total number of cases to 7470 since the first case was discovered in February 2020.
New statistics released by the Minister indicated that the death toll remains at 175, with the latest victim being a 65-year-old man from Region Five (Mahaica-Berbice), who surrendered on Wednesday while being cared for at a medical facility.
On Tuesday, Guyana recorded two deaths: a 74-year-old man from Region 10 (Upper Demerara-Upper Berbice) and a 58-year-old man from Region Four (Demerara-Mahaica).
The statistics also show that seven people remain in the Intensive Care Unit (ICU), while 44 are institutionalized, 710 are on home isolation, and 12 are in institutional quarantine.
The country has seen 6534 recoveries. To date, 45,957 people have been tested for the virus, with 3581 men and 3619 women reported to be positive.
Analysis of the new cases shows that four were found in Region One (Barima-Waini); one in Region Two (Pomeroon-Supenaam); seven in Region Three (Essequibo-West Demerara Islands); 66 whopping in Region Four (Demerara-Mahaica); eight in Region Six (East Berbice-Corentyne) and four in Region 10 (Upper Demerara-Berbice).
The total number of cases in Regions Five (Demerara-Mahaica), Seven (Cuyuni-Mazaruni), Eight (Potaro-Siparuni) and Nine (Upper Takutu-Essequibo Upper) remain at 198, 609, 233 and 409 respectively.
Prisons
Meanwhile, prisoners and prison officers across the various penitentiaries have been isolated after testing positive for the new coronavirus (COVID-19) recently.
This was revealed on Thursday by Health Minister Dr Frank Anthony, who noted that 33 cases had been found at Timehri Prison; four prison officers and one prisoner were tested positive at New Amsterdam Prison; and there are also a few cases in Lusignan Prison.
"We have had 33 prisoners who have tested positive at Timehri, and those individuals have also been placed in a special area where they are isolated from the rest of the prison… We have the medical staff from The Prison Service monitors them. Most are disproportionate, so once they go through that 10-day period, they will be released from isolation, "the Minister informed during the coronavirus update.
Back in September, Home Affairs Minister Robeson Benn had announced that a total of 140 prisoners from Lusignan Prison had tested positive for coronavirus disease. They were kept in a separate part of the Dal Bay until they recovered.
He had pointed out at that time that the prison fires in Camp Street and Lusignan within the five-year period had restricted significant capacity across the prisons and led to overcrowding. In fact, a visit showed that over 570 prisoners were confined to a small space.
Anyone displaying any of the symptoms associated with COVID-19, or need any additional information, is asked to contact COVID-19 Wires 231-1166, 226-7480 or 624-6674 at once, or visit us at www.health .gov.gy
People with comorbidities were asked to continue taking their appropriate medications or treatment to manage their condition. Preventative measures and guidelines to protect against the virus must be adhered to, as this category of people is at greater risk if they contract COVID-19.
Read More Interesting Content