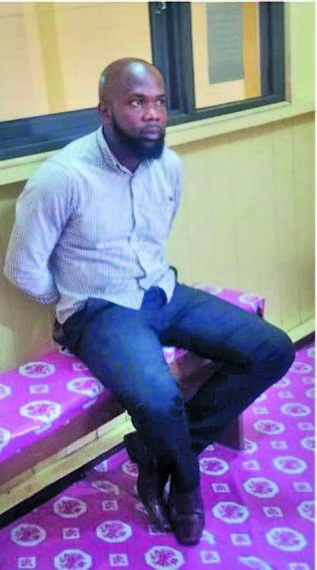 … After failing to attend court
Senior Magistrate Leron Daly on Friday issued a warrant for the arrest of Kevin McDonald, who was detained by Police after he attempted to arrest a man while pretending to be an officer of the Customs Anti-Narcotics Unit (CANU).
Nicknamed "Brother Fraud", McDonald of Nabaclis, East Coast Demerara, has been charged by the Police with two counts of abduction, one of which is alleged to have committed on Ryan Gonsalves, one of the individuals he attempted to arrest.
McDonald was instructed to appear at Georgetown Magistrates' Courts on Friday before Magistrate Daly to answer the charges but failed to make an appearance and has therefore been issued an arrest warrant.
Reports are that McDonald, a former member of Guyana Police, attempted to arrest the man in the vicinity of Thomas and Middle Streets, Georgetown.
According to information received, he was decked out with a body camera and handcuffs while driving a heavily toned white Toyota Premio car.
McDonald then left the car and approached the young man, informing him that he wanted possession of narcotics and that he would be transported to Brickdam Police Station. The young man, however, refused to go with "Brother Fraud" and insisted that he knew himself well.
McDonald failed to provide any form of identity and the young man objected to his arrest. That's when he tried to force the young man into his car. By then, the Police noticed a disturbance patrol and entered the scene.
This prompted McDonald to jump into his car and speed away. By then, the Police ranks were already hot in pursuit and cornered. Unable to provide proof of identity to confirm his claim to be a CANU officer, he was arrested and transported to Brickdam Police Station.
He was released on bail until he appeared in court. While a policeman in 2015, he was accused of forging receipts to the former Ministry of Culture, Youth and Sport and General Machinery. He was convicted of the crimes and sentenced to pay a $ 400,000 fine. McDonald was reported guilty by the Magistrate in absentia.