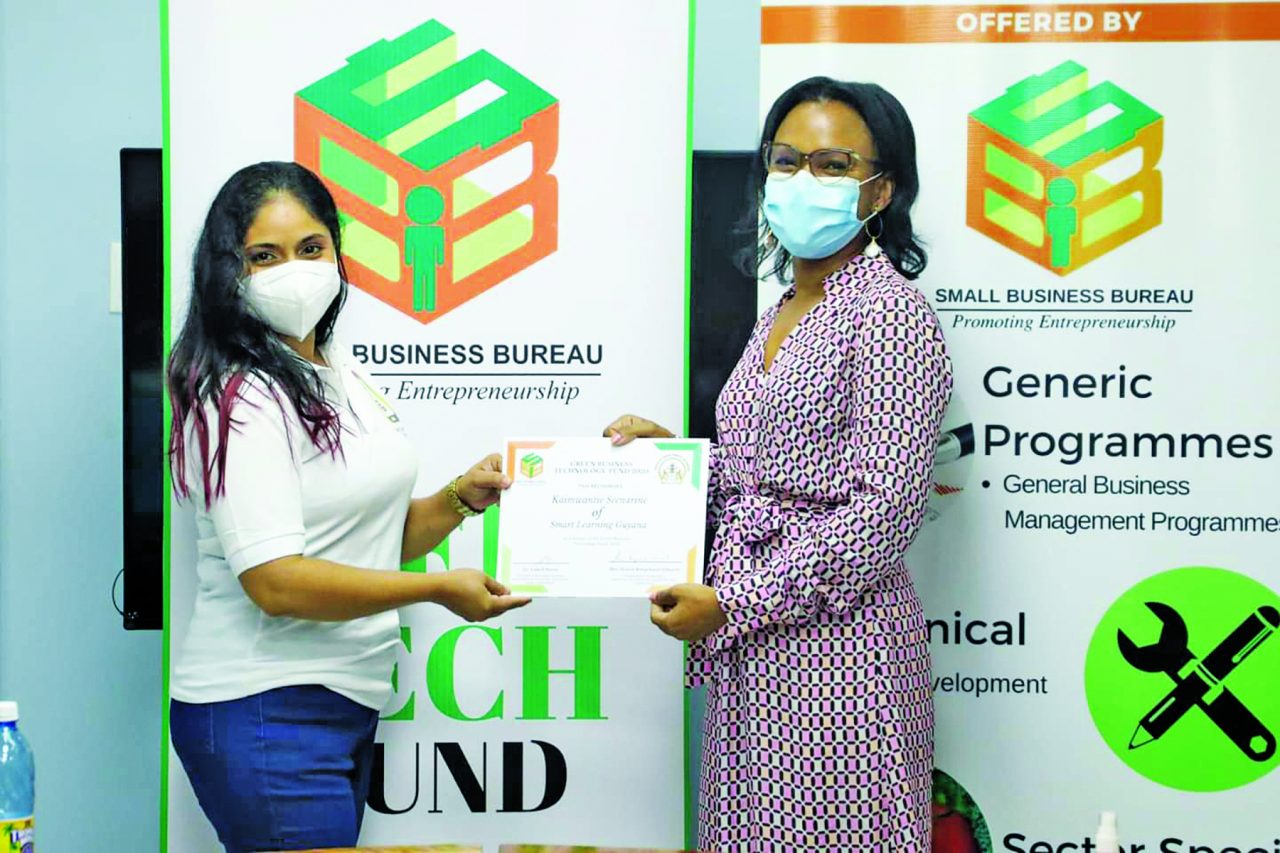 Home
News
Entrepreneurs receive $ 20M in funding from the Bureau of Small Business
In line with its mandate of promoting entrepreneurship and small business development, the Office of Small Businesses (SBB) recently transferred $ 20 million in grants to entrepreneurs under its Green Technology Fund.
This program is for existing and new businesses focused on technology and the environment.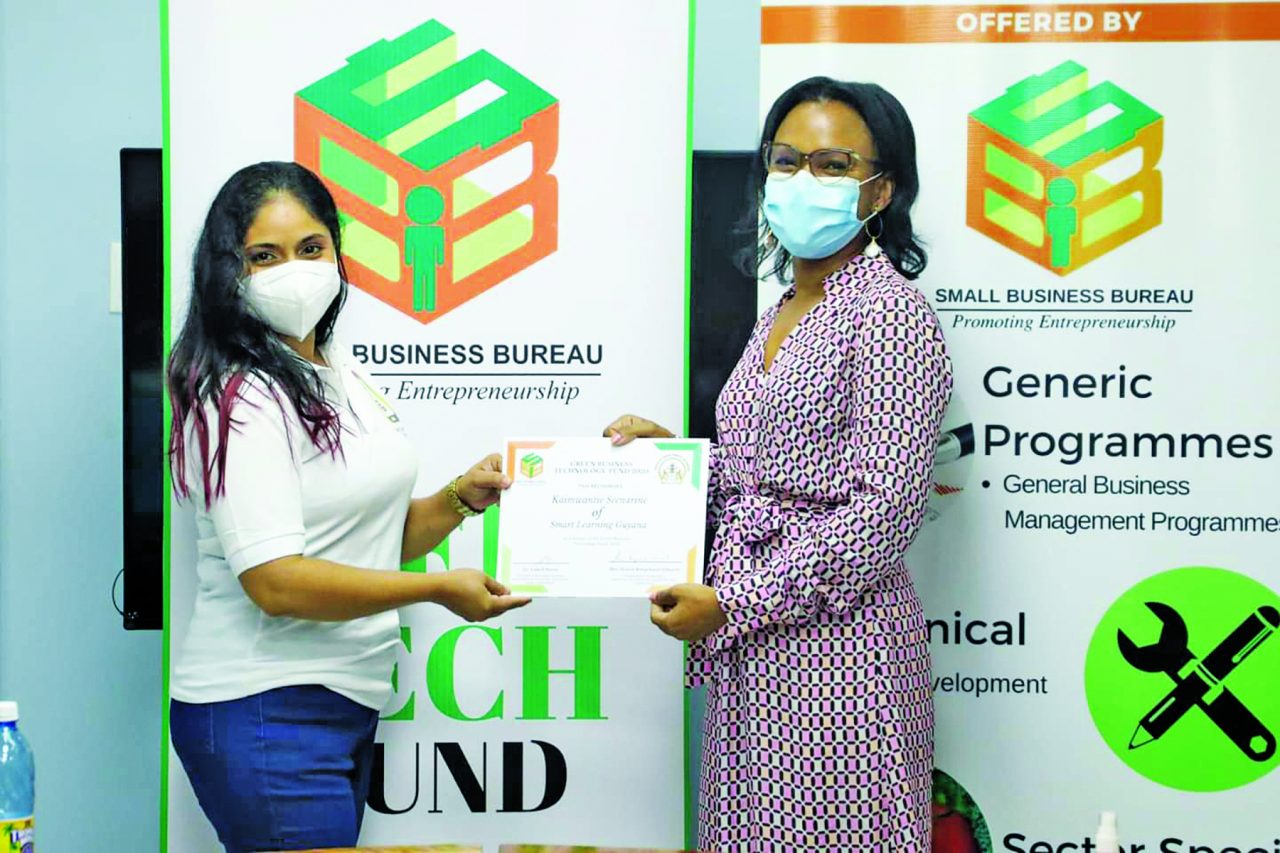 During a simple ceremony, SBB's CEO (CEO), Dr Lowell Powell, revealed that only 20 of the 85 people applied for grants last year, having received "very good submissions". Each received $ 1 million that is going to start or improve their businesses.
He reminded the CEO that the SBB was committed to developing sustainable businesses. He revealed that from 2018 to now, the SBB has been able to help businesses that are creative, office-oriented and environmentally friendly.
"We will continue to work in this area because we have many opportunities here in Guyana."
However, he warned that receiving a grant comes with hard work, noting that "a lot of the time you receive a grant and you think it's free money. But nothing in life is free. There is a time in life when you have to be accountable for that money ".
"We want to see your progress; we want to see your growth. We know there will be challenges, but just make sure you get the support of the Ministry … I want to encourage you to work together. "
According to Dr Lowell, everyone has a dream and believes that they have the right to fulfill that dream that they must benefit from. In this regard, he noted that this is where the Ministry of Tourism, Industry and Commerce will give its support, financial or otherwise.
John Edghill, Director of Business Development and Entrepreneur at the Ministry, said: "What you have done is a very noble step. In Guyana, there is not much innovation, but what you have done is provide innovation that is very sustainable and done with green practices. "
Edghill assured them that the Government was committed to developing them. "We are here as your partners … you are our development partners," he noted.
The officer also highlighted that access to finance is one of the main issues facing entrepreneurs as well as gaining technical skills.
Against this background, he said, "Through the Bureau of Small Businesses and other agencies under our remit, we will increase access to finance and develop entrepreneur skills. There are opportunities available to you. We don't just give you $ 1 million; we invest in ideas and innovation. "
Media Rank Media owner Dr Rosh Khan, who was among the judges of the presentations, told the grant recipients that they need to use their skills as entrepreneurs to solve people's problems, seeing these difficulties as opportunities for innovation and to build something that would not never did. exists.
Although money was important, Dr Khan urged them not to go after him. He told them that entrepreneurship was value creation, and that they had to work towards achieving this. "So the more value you create; the more problems you solve. The more innovation you bring to the table, the more money that will end up in your hands and in your community…. "
Recipients thanked the SBB for its support. Cherry Ann Greene, CEO of Ride Along GY, said the grant will allow her to purchase much-needed equipment to start her business that she plans to launch very soon.
According to the young woman, her goal is to reduce carbon emissions and other greenhouse gases that have far-reaching environmental and health impacts by promoting more pedal cycles in and around Georgetown.
President Dr Irfaan Ali has pledged the Government's support for small business development. With the establishment of a National Council for Entrepreneurship and Innovation, a culture of entrepreneurship will be radically reformed to encourage the emergence of new entrepreneurs while supporting existing ones.
The Government intends to introduce a Small Business Reform Bill in the National Assembly which will, among other things, widen the range of procurement opportunities that allow small businesses providing small-scale infrastructure works to actively benefit of Government procurement.
Read More Interesting Content