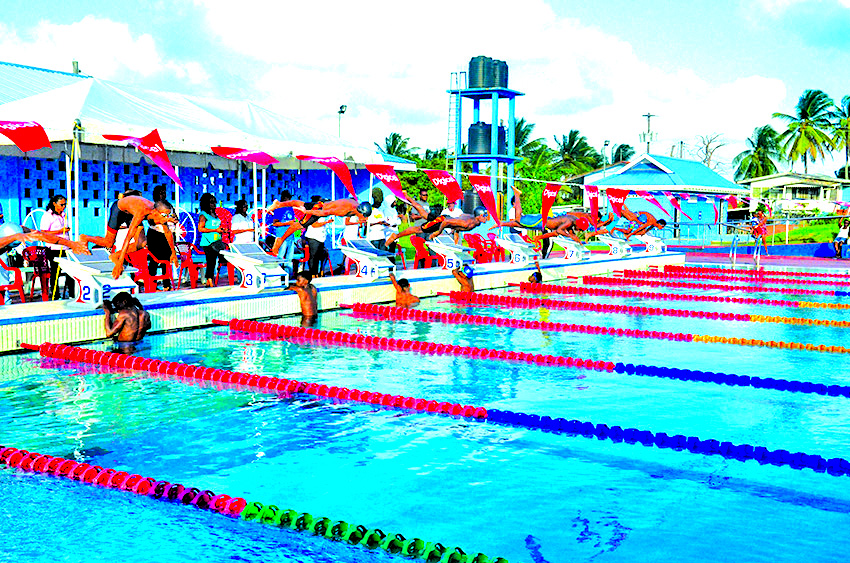 Home
Sports
GASA, Ramson working on swimmers' access to facilities
The Guyana Amateur Swimming Association (GASA), through its President Dwayne Scott, has hinted at the possibility of several other venues to facilitate competitive swimming.
This announcement was made on the heels of Scott's meeting with the Minister for Culture, Youth and Sport, Charles Ramson Jr., in an initiative involving the Minister meeting the heads of the Sports Association on a monthly basis.
"The Minister, along with his team, is also working on some improvements at the Water Center and Colgrain, and is currently working on allowing us to re-access the Castellani House," he shared Scott in an invited comment.
Giving a more detailed update on how this move is going, Scott explained, "Colgrain should be up and running before the end of the month. He specifically wanted us to use Colgrain for our clinic program, which is for the development of young swimmers; and had indicated that perhaps by the end of March we should have access to Castellani House. "
As expected, these facilities will see some rehabilitation before GASA starts using them.
"Both facilities will have some rehabilitation, which is good for swimming, because now it will allow us access to more facilities in Georgetown. We have also discussed with the Minister the possibility of expanding swimming activities outside the Georgetown region or borders, "Scott revealed.
He continued, "We have looked at the possibilities of Region 3. We have discussed the possibility of revisiting the pool facility at the Uitvlugt Estate. We've discussed the Linden Facility, and we discussed the Berbice Facility. The Minister assured us that he will be working to have a facility available in Region 3, and will also look at the Uitvlugt Facility to see what can be done, so that we can access it, perhaps after the next budget is passed.
"For the Linden situation, we're supposed to work to get a dedicated time slot for Linden athletes to use a facility. This will have to go through NICIL, because it is under their control. The Minister, with our support, will take the lead in ensuring that athletes have access to the (therefore) facilities they can train. Of course, some of these will occur after the COVID restrictions. "
Scott went on to share plans for a new swimming facility in Linden, which would go a long way in helping the mining town produce more competitive swimmers.
"More importantly, he noted that there is a plan to replace Linden with a new pool, just for competitive swimming. These plans will be disclosed to you by the Minister at some point, based on what is available and how the plans are being delivered.
"Obviously, it should be launching at some point, along the same lines as the synthetic track that has been developed at Linden. Again, the location and details of that will be provided to you by the Minister, "said Scott.
Read More Interesting Content