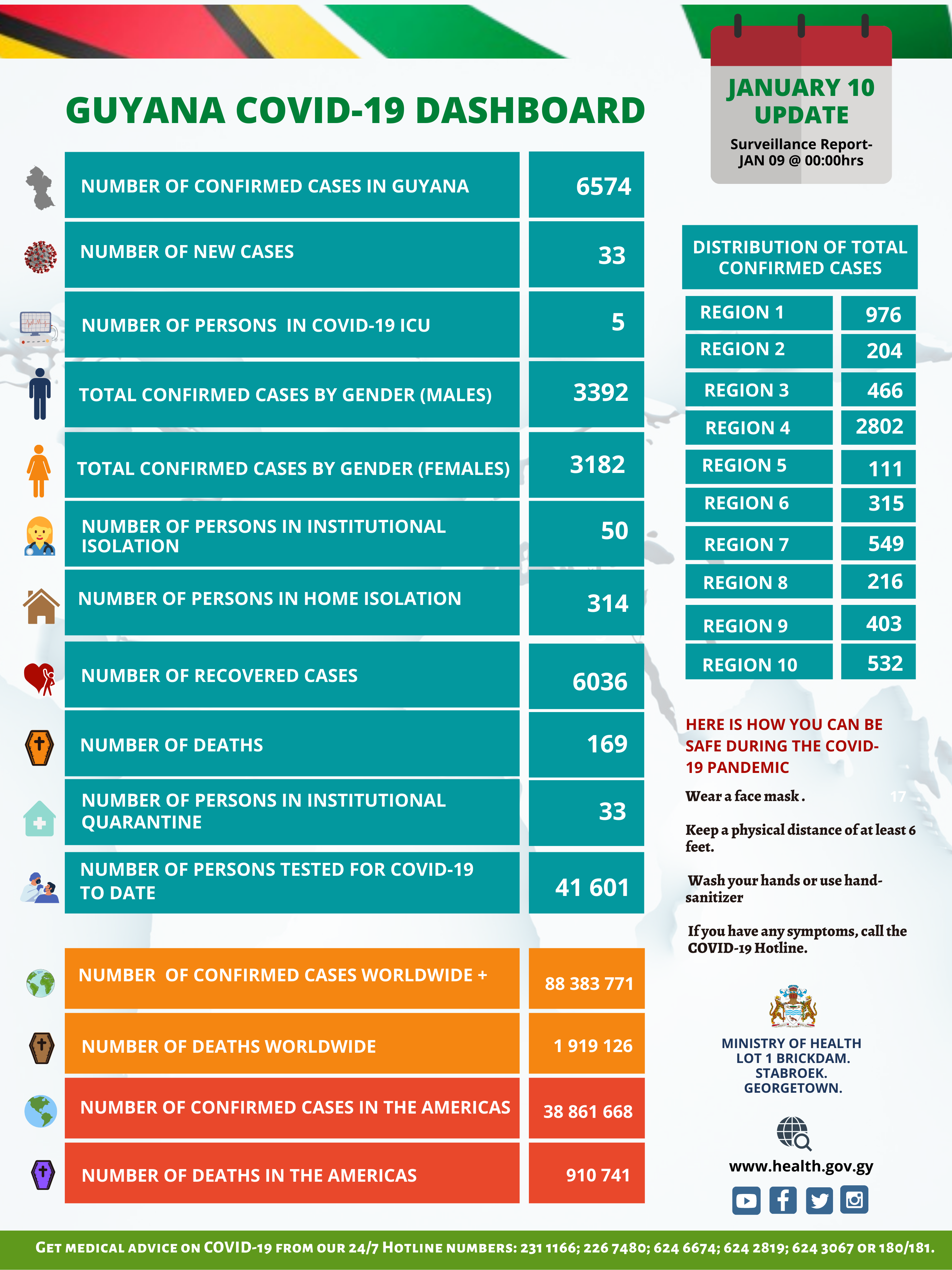 Home
News
Guyana records 2 more COVID-19 deaths, 33 new cases
The Ministry of Health reported Sunday that two other people who tested positive for the novel coronavirus (COVID-19) had died. This now takes the total number of deaths from the pandemic to 169.
These latest deaths are two men: a 58-year-old man from Region Four (Demerara-Mahaica) and a 39-year-old man from Region Seven (Cuyuni-Mazaruni). Both people died Saturday while being cared for at a medical facility.
Guyana last recorded the death of COVID-19 on Tuesday, January 5, 2021, when an 85-year-old man from Region 10 (Upper Demerara-Berbice) died while being cared for at a medical facility.
Meanwhile, the Ministry of Health also reported Sunday that 33 new COVID-19 cases had been recorded in the last 24 hours out of some 547 tests conducted.
According to the Ministry's updated COVID-19 dashboard, the total confirmed cases in the country are now 6574 – 3392 males and 3182 females.
Of the total, only 369 are currently active cases. This includes five patients in the COVID-19 Intensive Care Unit (ICU) and the remaining 364 people separately, that is, 50 separate people institutionalized and the remaining 314 alone the home.
There are also 33 people in institutional quarantine.
To date, around 6036 people have recovered from this life-threatening virus, that is, 17 more recoveries than recorded the previous day.
Guyana, meanwhile, has tested about 41,601 people for the novel coronavirus so far.
Of the 33 new cases recorded on Sunday, one was found in Region One (Barima-Waini), two in Region Two (Pomeroon-Supenaam), four in Region Three (Essequibo-West Demerara Islands), 17 cases in the Demerara- Mahaica region, two in Region Six (East Berbice-Corentyne), one each in Cuyuni-Mazaruni region and Region Eight (Potaro-Siparuni) and five cases in the Upper Demerara-Berbice region.
The figures in the other two regions – Region Five (Mahaica-Berbice) and Region Nine (Takutu's Upper Essequibo) – remained the same.
According to the World Health Organization (WHO), on Sunday, there were about 88,383,771 confirmed cases worldwide along with 1,919,126 deaths.
WHO also reported on Sunday, in the American Region, that is, Latin America and the Caribbean, that the number of confirmed COVID-19 cases has increased to 38,861,668 while the death toll in the region has increased to 910,741.
Since taking office, the PPP / C Government has embarked on a massive testing campaign to ensure that all positive cases, especially asymmetric ones, are identified.
In recent months, there has been a decline in the number of active cases in the country but according to Health Minister Dr Frank Anthony, in his recent update of COVID-19, this does not mean the epidemic is over.
"When people see a drop in numbers, people start to get complacent. We are by no means out of this pandemic because if we still had people who are active causes, we would still have spread. How much would that spread, how many more people will become infected – that's something we can't foresee at the moment and so we have to remain vigilant, "he said.
Dr Anthony went on to say that "while we are working to reduce numbers, we also have to get people to make sure they are doing the right things. The numbers coming down do not mean we have to relax our approach to this pandemic, and I often see this kind of irresponsible behavior because people feel we are do well and we don't have to worry. "
In fact, the Health Minister revealed that they expect to see an increase in COVID-19 positive cases, as well as hospitals this month as some people did not adhere to the guidelines during the recent Christmas holidays.
Nevertheless, Guyanese are reminded to adhere to the COVID-19 Emergency protocols
Measures (No. 13), in force until January 31, 2021.
This order emphasizes, among other things, the need to use a face mask correctly and consistently when leaving home; the importance of maintaining the physical distance six feet from others; and the need for good hand hygiene to help reduce the spread of COVID-19.
If anyone is exhibiting any of the symptoms associated with COVID-19 or needs any additional information, kindly contact COVID-19 231-1166, 226-7480 or 624-6674 immediately or visit www.health.gov.gy.
Read More Interesting Content