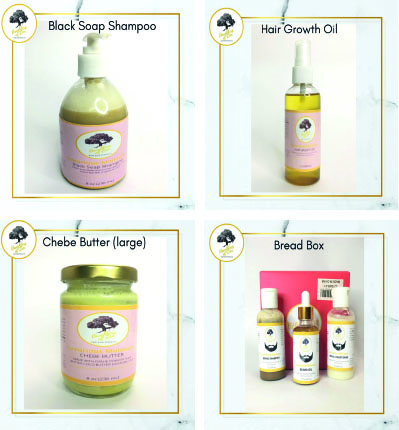 Home
News
Physician, AS student launches home hair, skin care line
Inspired by their beauty journey, a medical doctor and student from the University of Guyana (AS) is diving into the beauty industry with the launch of their home line of the skin and hair care brand "Daughters of Zion Natural Hair and Skincare". The two minds behind this initiative are Dr Amanda Fredericks and Stephanie Noble, a final year Tourism student at AS.
The line – which has been years in the making – includes hair shampoos, conditioners, moisturizers, skin scrubs, and even beard oil for the men, just to name a few.
"Daughter's of Zion Natural Hair and Skincare" is a beauty line for everyone. Anyone can use his products, regardless of the texture of their hair. "The products you see now are for people of African descent with natural hair and we wanted to move away from that. We have customers of Indian, African descent…. It's mixed. We cater to different types of hair and even chemically treated relaxed hair. We're trying to create a diverse line of products, "shared Dr Fredericks.
As for Noble, she explained that she was tired of using the commercial products because of the harsh chemicals they contain. In this regard, the young woman said she and her business partner started making natural hair products for themselves.
"We used to make these products and use them on our own. The reason we decided to start making natural products was because we were a little tired of the commercial products and the chemicals they contain. They just didn't work with our hair. So, with research, we started making products for ourselves. Even before we met, it was something that was supposed to happen because of her [Fredericks] used to make some products on her own and I use some. This was something we had in common. "
The company, which prides itself on the use of natural ingredients, was officially launched in September 2020, and according to Noble "sales have been truly amazing." He added, "Marketing is good, but we still have some way to go. No business has marketing like perfection. You have to work on marketing and always get the product out there and build confidence in it. "
Dr Fredericks admitted, "Making the products is a happy time for us; it is a joy. The office is in my home. Hi [Noble] would come over and we would make the different products and sterilize the bottles. And we would do everything to keep them of good quality. We have a place where we store them and when we receive the orders, we pack and distribute them. "

The company hired its first employee last year. "It's really blooming. People really look into the business, "the doctor added. In the early days of doing business, the company was more focused on providing women's hair and skin care products. But as time went by, he launched a line for men.
"We have a men's line. We have not forgotten about the men. Many men came to us saying that this is what is happening with me. They wanted something for themselves. We have to give the customer what the customer wants. So we went back to the drawing board and created a line for men, "said an elated Fredericks. That line includes beard shampoo, beard conditioner, and beard oil.
Noble noted that they have received positive feedback since adding these products. "We've been getting some great reviews. Dealing with men and their beards; it's kind of like her baby now. It's like women and their hair. They said they have been receiving less shedding with the beard, it's much softer. Therefore, men now pamper themselves. It's a pleasure to see that men are taking care of themselves. "
Given how quickly the company has started, with around 100 orders, its owners anticipate acquiring their own store within the next five years. But not only that, they are already considering offering home cosmetology services such as facial and hair care to their loyal customers, some of whom have alopecia and seborrheic dermatitis.
According to the duo, while their advice to budding entrepreneurs may sound cliché, it is something that has worked for them. Their advice is to work on your idea and do research on the business venture you want to explore. Apart from this, they pointed out that having start-up capital is very important.
"Set aside money to invest in your business. Save your money; money management is important. Also, ask people to invest in your business. "
"You have hidden support groups. You might think people aren't watching but they care. They are waiting for you to put something out to say 'I need one of those', or 'I like what you do'. And you would find out that your customers are the people you see every day, and they would recommend you to other people, "Noble added.
Although it faced some challenges in the beginning, the company is currently building its website which will include payment options through Visa and GTT Mobile Money cards. Delivery services will also be available. In closing, the entrepreneurs emphasized that their mission is to create a company that allows both men and women to feel comfortable in their own skin.
"We want to create a company where women can feel comfortable walking without make-up, wear their natural hair in their natural state, and feel comfortable with their look. Our product gave you that ability to redeem yourself into your authentic state. So you can be foolish walking around. We want to bring back that positivity and confidence that men and women lack. "
To view the full email catalog "Daughters of Zion Hair and Skincare" [email protected] or call +592 647 9852.
Read More Interesting Content