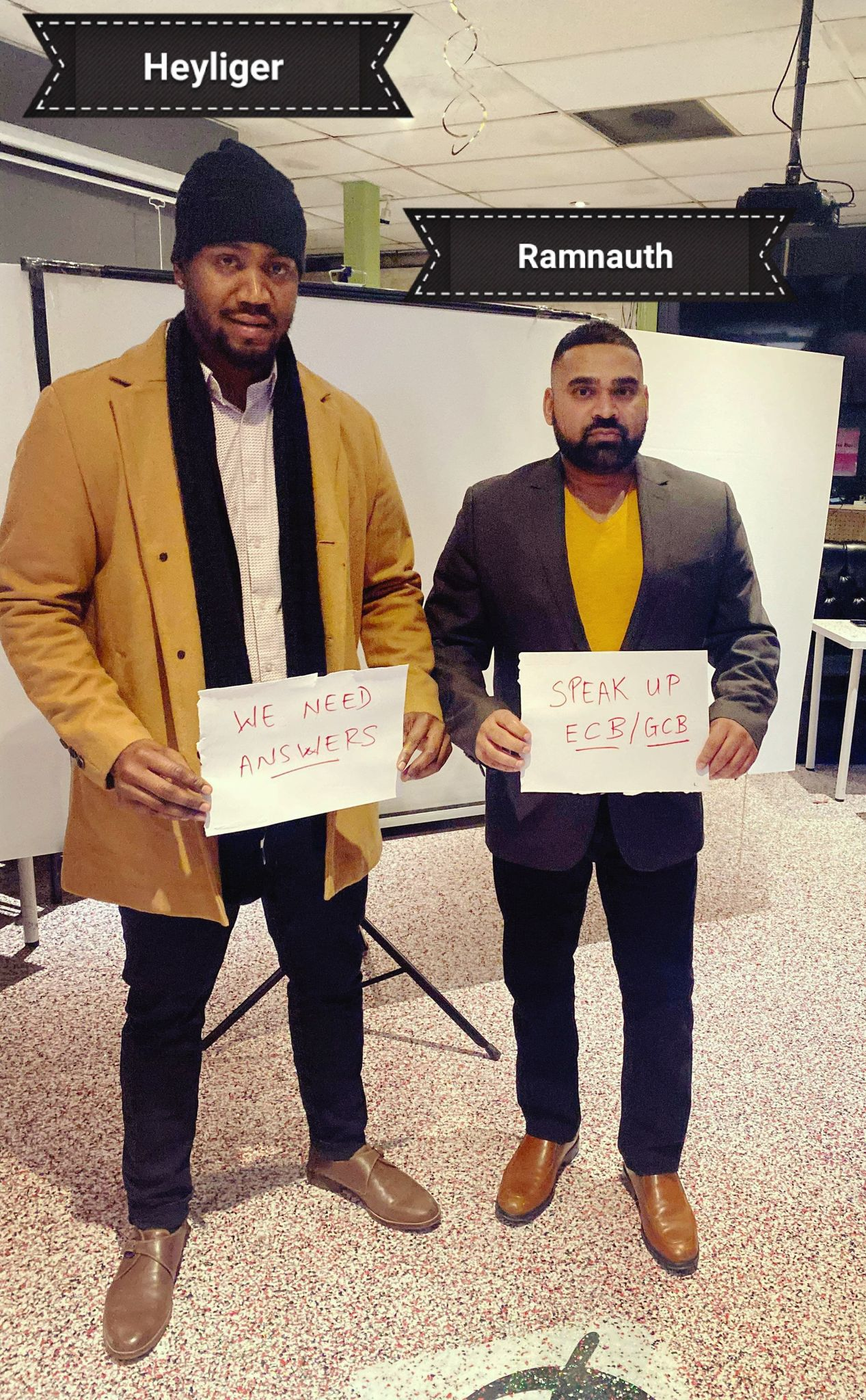 Home
Sports
Ramnauth, Heyliger slam selectors for not including Beaton, Anthony Adams and Ricardo …
– Savory selected to replace Griffith
Devon Ramnauth and Dillon Heyliger, two former national youth players, have expressed disappointment with Guyana's selectors after not including any Essequibo player for the upcoming Super50 tournament early next month in Antigua.
However, that all changed, as Trevon Griffith tested positive for COVID-19 and Kemol Savory was called after many listed their concerns about not including Essequibo's key players.
However, key players Ronsford Beaton, Ricardo Adams and Anthony Adams, who have all done well at the highest levels, were not included in the squad.
According to Ramnauth and Heyliger, some players should have done the side automatically because they have put in good performances over the years in the cricket of the franchise that is mainly used to select players for the regional assignment. They are left-arm spinner Anthony Adams and Ricardo Adams (unrelated), while fast bowler Ronsford Beaton is also a question mark.
None of these players were able to catch the eyes of the selectors, as the touring party consisted solely of players from Berbice and Demerara.
Guyana Jaguars are set to open their campaign against Barbados Pride in the six-team competition that runs February 7-27. Ramnauth and Heyliger played junior and senior cricket for Essequibo, but they want more representation for the players who were overlooked for the tournament. They believe that the Essequibo Cricket Board (ECB) should really play a bigger role in ensuring that their players are selected to represent the national team, because the players are talented enough and, more importantly, have put on good performances.
"Essequibo County players have long been neglected and our talented players are being stifled because of a lack of ECB representation.
We need ECB solutions! "I'm calling the ECB president Fizul Bacchus and the other executives to address this issue publicly," revealed Ramnauth.
Heyliger and Ramnauth currently reside in Canada. Heyliger continues to show his trade in North America, and is a member of the Canadian international side. He also mentioned that the ECB can do better to ensure that their players are well represented at all levels.
"This is very disappointing to hear that these three players have done well but cannot find themselves in the Guyana Jaguars squad; the ECB must be more proactive and get their actions together for the benefit of our cricket at Essequibo. They need to be more supportive of our talent, "lamented Heyliger, a versatile all-rounder.
In 2019, Beaton was part of the team, as fellow Essequibo cricketer Ricardo Adams made his first appearance in 2018 and hasn't played yet, while Anthony has shown consistency with the ball in the franchise's cricket, and has done impressed in the four- day version.
Beaton, meanwhile, has been out of cricket for a while because of his bowling act, but was part of the camp in preparation for the tournament. According to reports, these players have not passed their fitness test, but Ramnauth and Heyliger want to know what the criteria were to be fit, in an effort to make the team.
"We want answers to how you go about selecting the team. The choice must be justifiable and transparent, so the players would not suffer, "Ramnauth declared.
"We need the leader to come forward and give the right representation. This has been going on and on for years now; the results are there, and these players should be selected, "Heyliger declared.
Read More Interesting Content