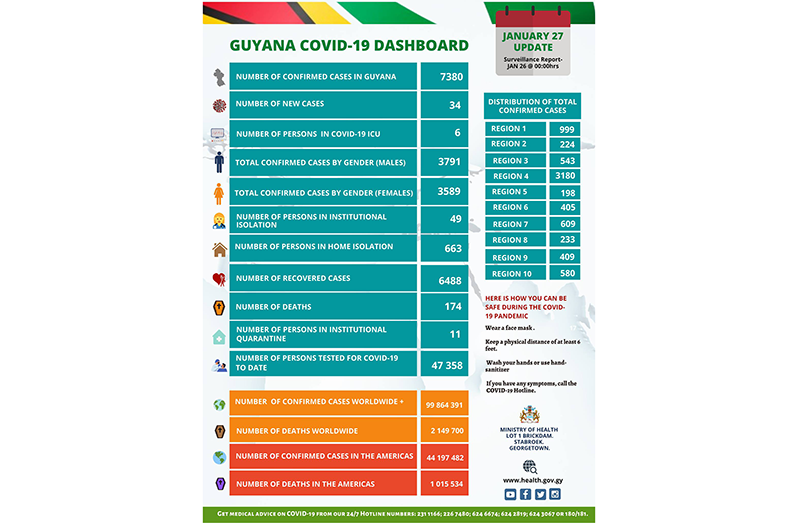 GUYANA has recorded three other COVID-19-related deaths within a 24-hour period, taking the country's death toll to 175.
This was revealed by the Ministry of Health on Wednesday.
The most recent deaths are three men – a 74-year-old man from Region 10 (Upper Demerara-Upper Berbice); a 58-year-old man from Region Four (Demerara-Mahaica) and a 65-year-old man from Region Five (Mahaica-Berbice). All died while receiving medical attention.
Even as the fight against COVID-19 continues, an additional 34 people have tested positive. This brings the total confirmed cases in the country to 7,380, since the first case was recorded in March 2020, according to the ministry's COVID-19 dashboard for January 27.
It was reported that the new cases had been recorded from a total of 262 tests. Women accounted for 21 of the newly confirmed cases.
The new cases were recorded in Regions One (Barima-Waini), Three (West Demerara-Essequibo Islands), Four (Demerara-Mahaica), Five (Mahaica-Berbice), Seven (Cuyuni-Mazaruni), and 10 (Upper Demerara-Berbice) Upper). Twenty-one of those who tested positive are from Region Four.
According to the dashboard, 33 more people have recovered, bringing the total number of cases recovered to 6,488.
The country currently has 729 active cases.
There are currently 49 people other than organizations; 663 are alone at home, and 11 are in institutional quarantine.
Many people infected with the virus are said to be disproportionate, that is, they do not exhibit symptoms.
In addition, six people are being detained in the COVID-19 Intensive Care Unit (ICU) at the National Infectious Diseases Hospital, Liliendaal, Greater Georgetown.
The updated Emergency Measures COVID-19 are in force between January 1, 2021 and January 31, 2021. However, current measures require everyone to wear face masks when leaving their homes. Adequate physical distance and cleanliness are also important. The current curfew time is 22:30 hours to 04:00 hours.
People with COVID-19 symptoms are asked to call the COVID-19 helpline numbers: 231-1166; 226-7480; or 180/181 for assistance.