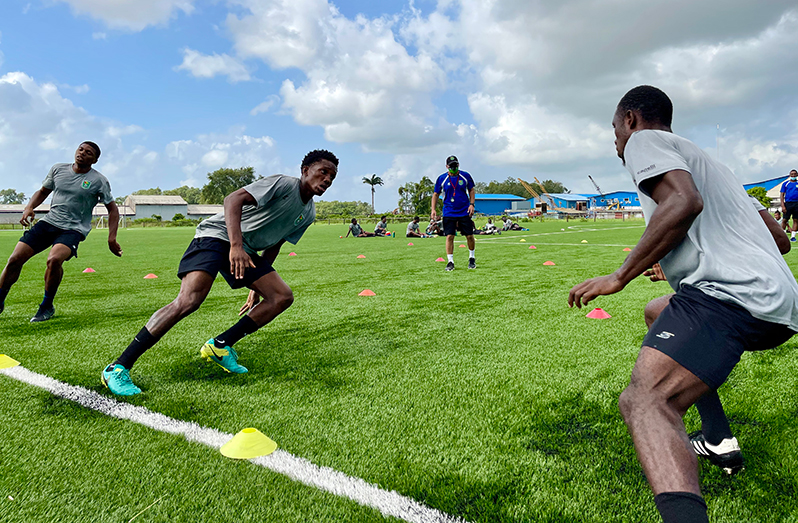 By Rawle Toney
Twenty-five – five of the 32 shortlisted players called by Head Coach Marcio Maximo, on Sunday conducted the mandatory fitness and evaluation test, as the Golden Jaguars begin preparation for their clash on March 25 against Trinidad and Tobago.
Assistant Coach Charles 'Lilly' Pollard, along with Fitness Coach Wilson Toledo took the players through their steps at the National Training Center.
Jobe Caesar, Sheldon Holder, Quincy Adams and Trayon Bobb were the notable players who were absent on Sunday's fitness evaluation.
Last week, the GFF announced that they had tested 32 local players and ten staff, but when contacted, Secretary General Ian Alves told Chronicle Sport that the number of players turned out, represented the number of players the staff who cleared to do it.
Alves said the Coaching Staff were worried that the longer they were waiting, they would have less time with the players and eventually hinder their preparation plans.
Meanwhile, the GFF told members yesterday that they were "pleased to report that everyone involved in the ongoing training exercise has been cleared by the Health Authorities to do so."
When asked directly by Chronicle Sport, if all 32 players and staff returned a negative test, Federation Public Relations Officer Keeran Williams could only point to the vague statement issued.
According to the GFF, the fitness tests provide important information to the coaching staff and will inform individual and squad training regimes in the run up to the 2022 FIFA World Cup qualifying games in March.
GFF president Wayne Forde pledged to take "all necessary precautions to ensure that the cohort and staff stay safe and well during this time, including regular COVID-19 testing. We look forward to fully resuming training in the coming days, as long as conditions allow, and remain ready to take any action required if the pandemic enters another difficult period . "
Forde said, "given the lack of competition over the last year, we are pleased to report that the squad is already looking in good shape thanks in part to the individual training plans given to them by the GFF's technical team during the closing period. . "
Golden Jaguars were drawn in Group F alongside Trinidad and Tobago, The Bahamas, Puerto Rico and St Kitts & Nevis.
Following their March 25 clash with Soca Warriors, the Golden Jaguars will return home to defeat against the Bahamas on Tuesday, March 30.
On Friday, June 4 Guyana will travel to St. Kitts & Nevis for their third game and then host Puerto Rico on Tuesday, June 8.
See the shortlisted players below:
GOALKEEPERS: Alex Murray, Sese Norville and Shawn Adonis.
DEFINITORS: Raphael Edwards, Sherwin Skeete, Jeremy Garrett, Eric Moore, Shemar Wilson, Colin Nelson, Quincy Adams, Kevin Dundas, Nicolai Andrews, Rishaun Ritch, Lionel Holder and Trevon Lythcott
MIDFIELDERS: Daniel Wilson, Marcus Wilson, Curtez Kellman, Threvon Pluck, Kersey Benjamin, Delwin Fraser, Pernell Schultz, Ryan Hackett, Trayon Bobb, Omari Glasgow, Dorwin George, Nicholas MacArthur, Darron Niles, Jamar Harrigon and Job Caesar.
FORWARD: Holder of Sheldon and Abumuchi Benjamin.