Aliann Pompey 2021 will take place June 19 at the National Track and Field Center, the event organizer told Chronicle Sport.
Pompey, winner of the Guyana Commonwealth Games 400m gold and silver medal, saw her fifth edition of the AP Invitational, as most sporting events in 2020, canceled due to COVID-19.
This year's AP Invitational will be considered a 'gateway to Tokyo', as it can be the last resort for local, regional and international athletes seeking a qualification until July 23 – August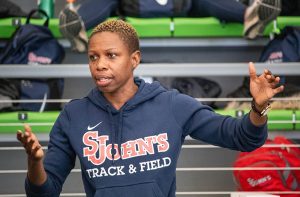 3 Olympic Games in Japan.
At the AP Invitational, which concluded its inaugural event in 2016, 11 athletes, all from overseas, moved on to compete in the Rio Olympics.
In February 2020, the AP Invitational was announced by World Athletics as part of its structured Global Athletic Continental Tour.
World Athletics had stated that the impetus for creating the Continental Tour was to provide more competition and win opportunities for more athletes.
The AP Invitational will be one of two events taking place in South America on the Continental World Athletics tour; the other – the Brazilian Grand Prix.
At the AP Invitational 2018, 2012 Olympic Champion and 2016 Olympic silver medalist Kirani James clocked 44.99 seconds to win not only the 400 meter Invitational 'AP', but also to set a new 'Record Track'.