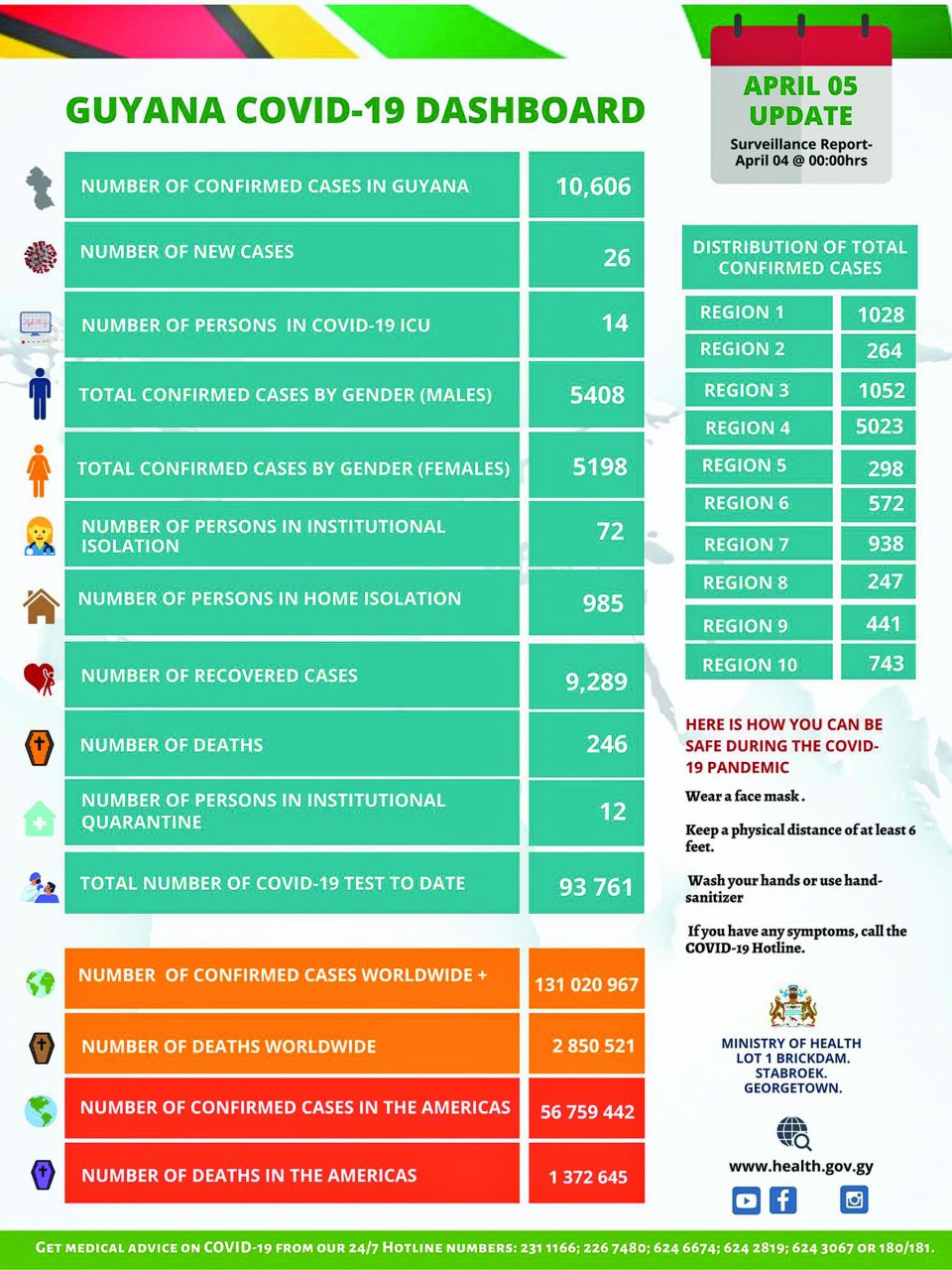 … Operational cases exceed 1000
COVID-19 deaths continue to rise in Guyana, with four more people succumbing to the life-threatening virus on Sunday. This takes the total number of deaths from the pandemic to 247.
The Ministry of Health reported Monday a 73-year-old woman from Region Six (East Berbice-Corentyne), a 59-year-old man from Region Seven (Cuyuni-Mazaruni); a 44-year-old man from Region Three (Essequibo-West Demerara Islands) and a 67-year-old woman from Region Four (Demerara-Mahaica) surrendered. All died while being cared for in medical facilities.
A total of 14 people have surrendered to the virus for April so far – an alarming start as a week is not yet complete.
However, 26 new cases were recorded on Sunday from 316 samples sent for testing. According to new statistics released by the Ministry, the total confirmed cases in the country are now 10,606 – 5408 men and 5198 women.
There are 1071 active cases: 14 in the designated Intensive Care Unit (ICU), 985 other than home and 72 in institutional isolation. Another 12 people are also in institutional quarantine. The data showed that 9289 patients had recovered from the life-threatening virus while 93,761 had been tested.
Of the new cases, four were found in Region Three (Essequibo-West Demerara Islands), seven in Region Four; seven in Region Five (Demerara-Mahaica); one in Region Six (East Berbice-Corentyne); two in Region Seven (Cuyuni-Mazaruni) and five in Region 10 (Upper Demerara-Berbice).
The cases in Regions One (Barima-Waini), Two (Pomeroon-Supenaam), Eight (Potaro-Siparuni) and Nine (Upper Takutu-Upper Essequibo) remain at 1028, 264, 247 and 441 respectively.
In the meantime, Guyana has been steadfast in delivering its vaccination campaign. According to the Ministry of Health on Sunday, since the practice began in February about 40,468 COVID-19 vaccines have been given nationwide including several dose doses.
Last week, Guyana exceeded 3000 vaccinations in a day on three occasions. The highest number of vaccinations was recorded in the three most populous regions – Demerara-Mahaica, East Berbice-Corentyne and the Essequibo-West Demerara Islands, respectively.
The smallest numbers were recorded in Region Eight, followed by Region 10 and Region Nine. Only these three regions have recorded fewer than 1000 vaccinations so far.
Nevertheless, the Ministry is looking to ramp up the introduction of the vaccine and has set a target of 40,000 first-dose injections to be given along with hundreds of second doses. As such, more than 100 fixed and mobile site teams will be giving first and second dose vaccines starting today, Tuesday, April 6.
People aged 40 or over are eligible for the injection. These include all health workers, teachers, members of the Joint Services, public servants as well as Private Sector employees.
Read More Interesting Content