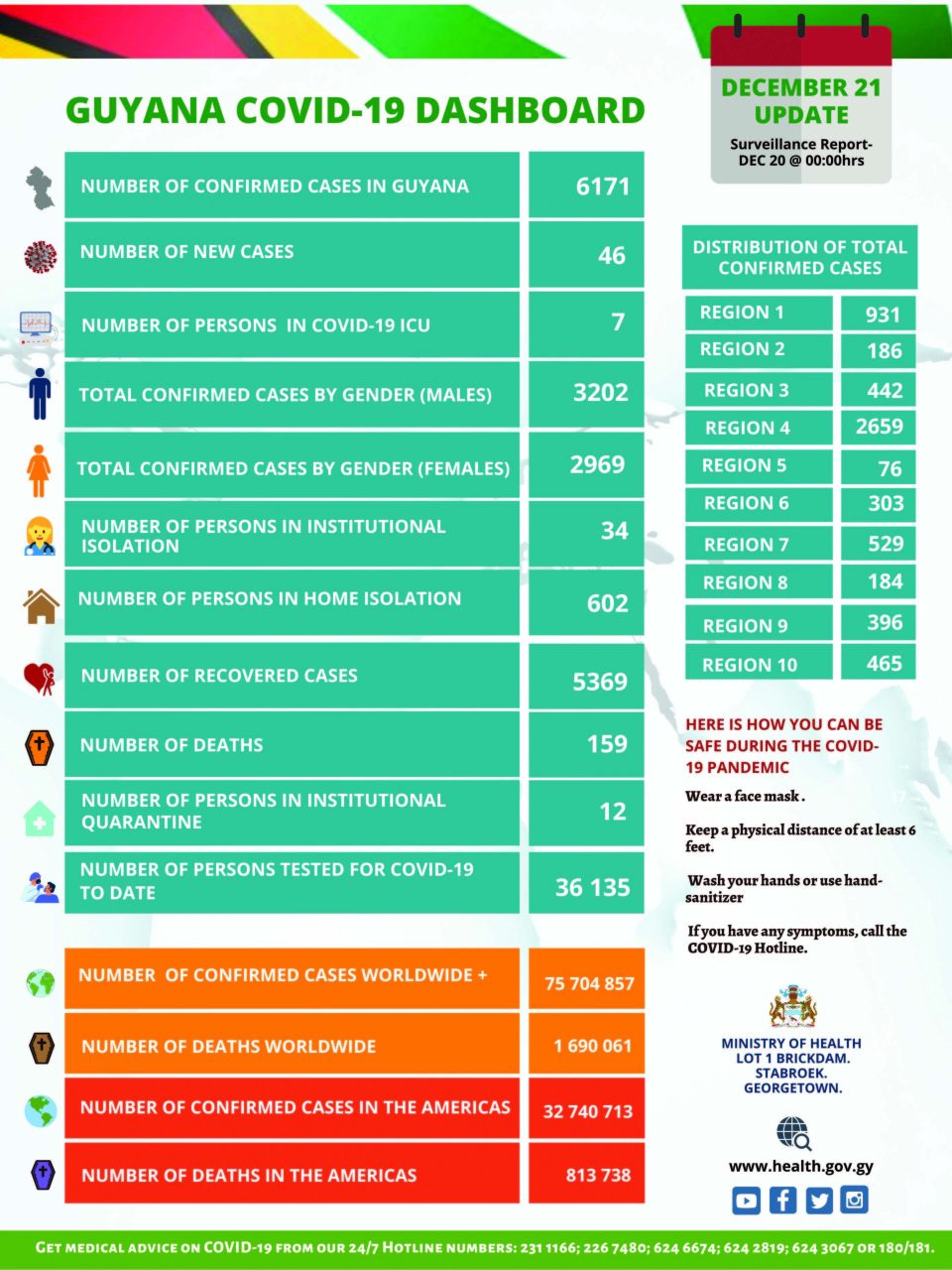 Home
News
46 new COVID-19 cases were recorded in 1 day
– active cases now 643
The total number of confirmed COVID-19 cases so far in Guyana has moved to 6171, after the Ministry of Health recorded 46 new positives in one day.
The latest statistics show that of the 6171 positive cases, 3202 were male and 2696 were female.
With the deaths remaining at 159, there are seven people in the Intensive Care Unit (ICU), 34 in institutional isolation, 602 at home and 12 in institutional quarantine. The active cases are now 643. To date, 5369 patients have improved.
Analysis of the new cases showed that four were recorded in Region One (Barima-Waini); one in Region Three (Essequibo-West Demerara Islands); 27 in Region Four (Demerara-Mahaica); one in Region Five (Mahaica-Berbice); five in Region Six (East Berbice-Corentyne) and eight in Region 10 (Upper Demerara-Berbice).
There are still 186 cases in Region Two (Pomeroon-Supenaam), 529 in Region Seven (Cuyuni-Mazaruni), 184 in Region Eight (Potaro-Siparuni) and 396 in Region Nine (Upper Takutu-Upper Essequibo).
However, Health Minister Dr Frank Anthony on Monday noted that the Infectious Diseases Hospital in Liliendaal, Greater Georgetown, is working on all cylinders and is ready to treat severe cases of COVID-19.
However, he noted that equipment was being sourced for other services.
"We can now make light cases straight up for ICU patients … We have an area in Ocean View that is designated for theater etc but we haven't implemented it. We are still finding the equipment. "
As it related to their intention to install a maternity department at the facility, he said this has not yet been completed. However, when finished, mothers will be able to deliver their babies too.
"In the meantime, for maternal patients, they would still have to stay at Georgetown Hospital and we have a special section we have built, so we can test and isolate if they are positive. They would be able to give birth in hospital. once we complete that section in Ocean View, then these maternal patients can get across there as well. "
For December, the National COVID-19 measures have been extended and the curfew has remained from 22: 30h to 04: 00h. It states that no one is allowed to host or attend a private party, banquet hall, bar and club among others.
Failure to comply with the mandatory mask requirement would render people liable under Section 152 of the Public Health Ordinance.
For the Christmas season, people have already been warned to avoid tremors and use other measures to keep themselves free. Places of worship were also asked to follow suit.
The order also emphasizes, among other things, the need to use a face mask correctly and consistently when leaving home; the importance of maintaining the physical distance six feet from others; and the need for good hand hygiene to help reduce the spread of COVID-19.
If anyone is exhibiting any of the symptoms associated with COVID-19 or needs any additional information, kindly contact COVID-19 231-1166, 226-7480 or 624-6674 immediately or visit www.health.gov.gy.
848419
Read More Interesting Content