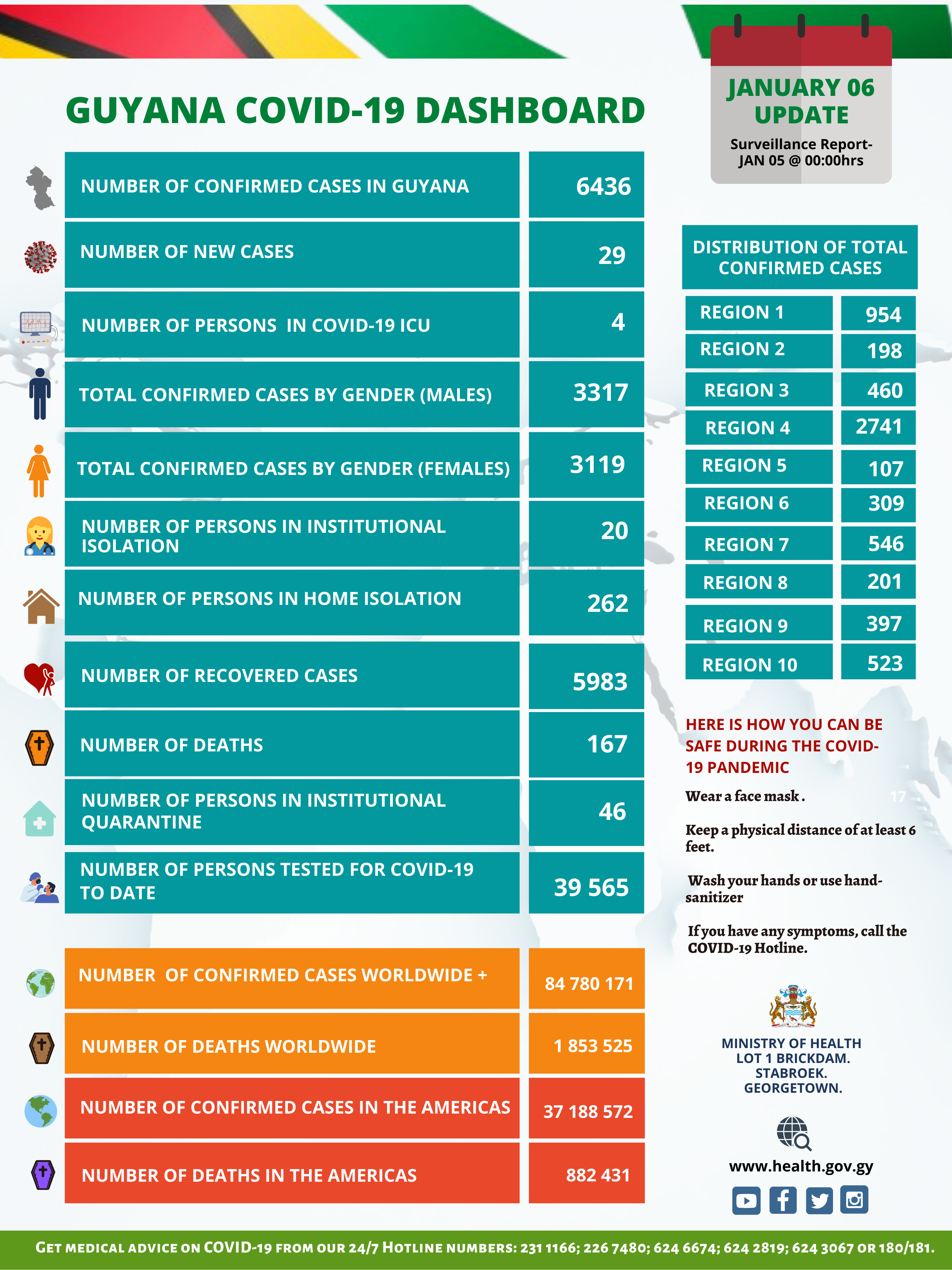 … 29 new cases were recorded
The Ministry of Health has reported that another person who tested positive for the novel coronavirus (COVID-19) has died.
This now takes the total number of deaths from the COVID-19 pandemic to 167.
The most recent death is an 85-year-old man from Region 10 (Upper Demerara-Upper Berbice) who died Tuesday while being cared for at a medical facility.
According to the Ministry, its officials have contacted all relatives and persons to facilitate contact tracking and quick assistance for all who may have been exposed to the now deceased man.
Guyana's last COVID-19 deaths were recorded on Sunday when a 70-year-old man from Region Six (East Berbice-Corentyne) and an 85-year-old man from Region 10 died while being cared for at a medical facility.
New cases
Meanwhile, the Ministry also reported Wednesday that 29 new COVID-19 cases have been detected.
According to the updated COVID-19 dashboard, the number of confirmed cases in the country has now increased to 6436.
However, only 286 of these are active cases. These include four patients in COVID-19 Intensive Care Unit (ICU) and the remaining 282 separately, that is, 20 separate people institutionalized and the other 262 separate from home .
There are also 46 people in institutional quarantine.
In addition, the number of people recovering from the life-threatening viral disease has increased to 5983 – 35 more recoveries than the figure reported the previous day.
Meanwhile, some 39,565 people have been tested for the new coronavirus in Guyana so far.
Of the 29 new cases detected on Wednesday, nine are from Region One (Barima-Waini), two from Region Three (Essequibo-West Demerara Islands), seven from Region Four (Demerara-Mahaica), five from Region Five (Mahaica- Berbice), three from East Berbice-Corentyne and three others from Region Seven (Cuyuni-Mazaruni).
Figures for the other four regions remained the same.
Since taking office, the People's Progressive / Civic Party Government (PPP / C) has embarked on a massive testing campaign to ensure that all positive cases, especially asymptomatic cases, are detected. This has resulted in a high number of cases being identified.
However, Guyanese are reminded to adhere to the COVID-19 (No. 13) Emergency Measures protocols, which are in force until January 31, 2021.
This order emphasizes, among other things, the need to use a face mask correctly and consistently when leaving your home, the importance of maintaining six feet of physical distance from others, and the need for good hand hygiene to help reduce the spread of COVID -19.
According to the World Health Organization (WHO), on Wednesday, there were about 84,780,171 confirmed cases worldwide along with 1,853,525 deaths.
The WHO also reported on Wednesday, in the American Region, that is, Latin America and the Caribbean, that the number of confirmed COVID-19 cases has increased to 37,188,572 while the death toll has increased to 882,431.
Read More Interesting Content