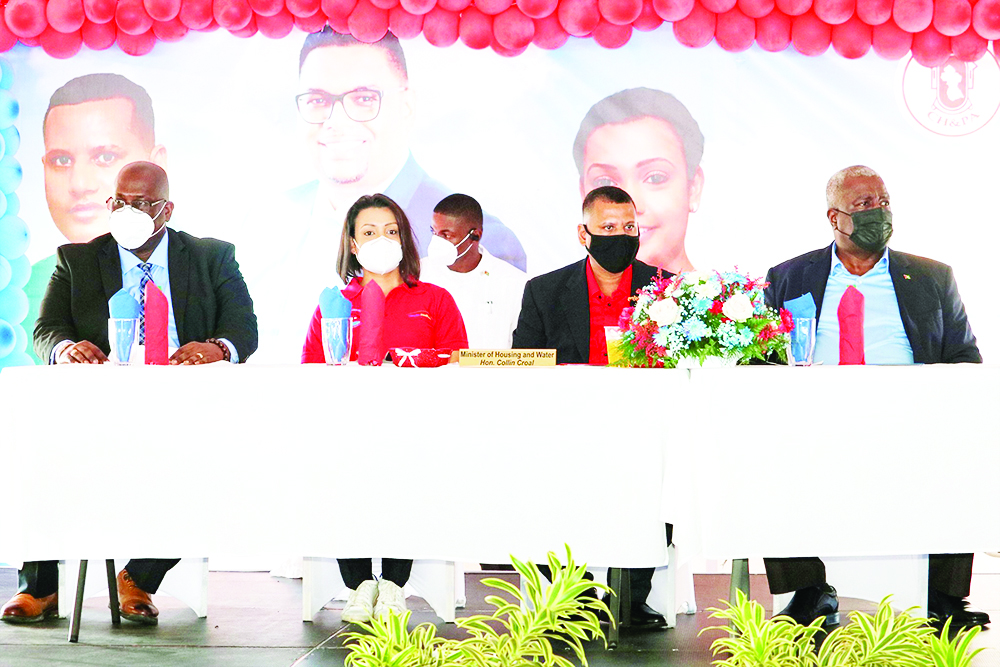 Home
Top Stories
Allotting over 1500 househouses in Region 3 over 2 days …
"Dream Realized" initiative
… PM says Govt is committed to "affordable" home ownership
The Ministry of Housing and Water on Tuesday continued its "Dream Realized" housing drive, this time on the West Coast of Demerara where about 1500 land allocations will be made over a two-day event.
The initiative, delivered in collaboration with the Central Housing and Planning Authority (CH&PA), is designed to tackle persons who have been waiting for many years to acquire a large house. During the two-day event, residents of Region Three (Essequibo-West Demerara Islands) benefit.
At the Leonora Synthetic Track on Tuesday, Minister of Housing and Water, Collin Croal told those gathered that this set the stage for a socio-economic campaign that will undoubtedly foster development in other coexistence sectors.
"Over the next two days, over 1500 people are expected to benefit from allocations. I'm happy to share in this joy of moving a step closer to home ownership … When our Government invests in the housing sector, there is a direct positive impact in job creation. In the construction sector, even more spending and high demand for basic goods and services, adds good things to SMEs, "Croal highlighted.
He further said, "We are therefore not only contributing directly to the public interest and standard of living but we are also setting the stage of the socio-economic campaign that will increase wealth for our people."
Meanwhile, Minister for Housing Administration Susan Rodrigues assured people that people will find many people in communities with full occupancy and proper amenities. Many were allocated in Cornelia Ida, Stewartville, Anna Catherina and Meten-Meer-Zorg.
"We want to make sure that you are placed in fully occupied communities so that you have neighbors, so that there is a children's playground, that there is a school, health center or hospital nearby, that supermarkets and shops so no matter what region you live in, you will be able to access all these facilities, "Rodrigues noted.
On the other hand, Prime Minister Mark Phillips, who attended the event, told residents that the Government is focusing on affordable housing and the provision of utility services in all areas.
In addition, the First Minister said that these activities were helping to deliver on the commitments made during the campaign trail.
"Not only will our Government provide many houses and neglect you. We will provide the infrastructure you need to live comfortably. You will have the basics of running water, roads and electricity so that you and your families can live in dignity. Your Government has been working and will continue to work for you, "the First Minister said.
Meanwhile, Guyana Times caught up with Abdul Azad of Anna Catherina, who received an allocation after staying for over 20 years. He was delighted with the news, noting that his family will start building their house immediately.
"I'm very, very happy to have a lot in my village and I thank the President a million times. I applied since 2000 and am very happy today to receive many … We will be starting (building) very soon by the grace of God, "the 45-year-old player shared.
Last Friday and Saturday, a similar campaign was held in Region Four (Demerara-Mahaica) and the target of some 2000 housing lot allocations was reached. Most importantly, they cleared applications from the 1990s.
Rodrigues had told Guyana Times that they were able to assist those candidates who "fell through the cracks" and were waiting for years.
Nevertheless, over $ 1 billion will be injected into the District Three housing sector in 2021 through a project funded by the Inter-American Development Bank (IDB). Money was committed for La Parfaite Harmonie, Onderneeming, Minister of the West, Recht-Door-Zee, Lust-en-Rust and Schoonord.
The IDB project, slated to begin in January 2021, will target the elevation of infrastructure in existing housing areas to make it more appealing to potential homeowners and create more sustainable communities.
Upon taking office, the PPP / C Government pulled VAT on building materials and increased mortgage interest relief by up to $ 30 million to enable easier home ownership. (Rupa Seenaraine)
102508
Read More Interesting Content