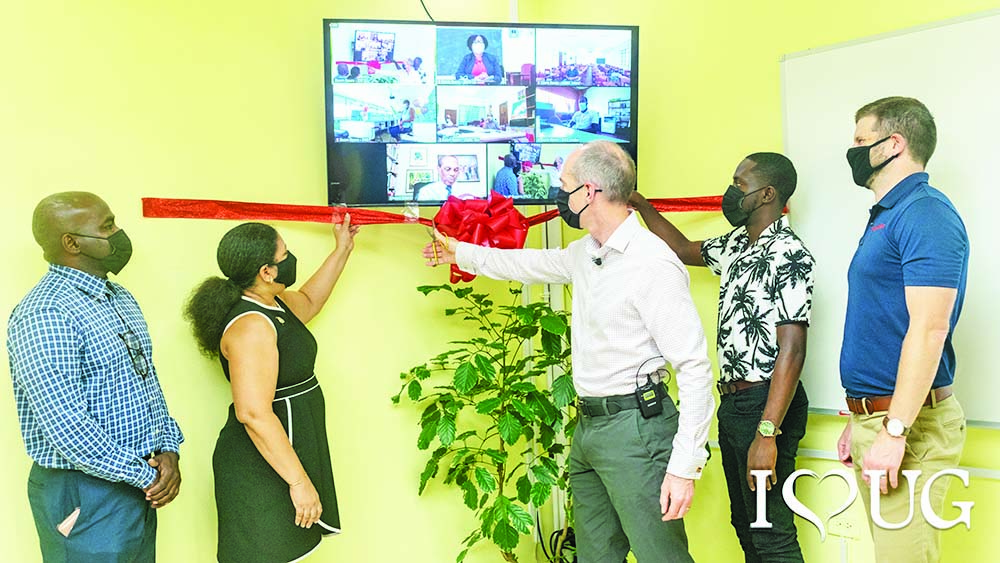 Home
News
AS is launching Zoom rooms to promote blended learning
Students across the University of Guyana's nine campuses – Georgetown, Linden, Berbice, Bartica and Anna Regina – will now be able to view live classes in an interactive way, following the launch of the University's Zoom Room project.
The project consists of 18 rooms – with a personal space of over 150 spread across campuses.
To mark the launch of the initiative, a simple ribbon cutting ceremony was held on Saturday. The initiative is part of a donation under the Greater Guyana (GGI) Stabroek Block Joint Ventures up to US $ 70,000.
The University said in a statement that the project is the first building block of blended learning architecture.
The University's Vice-Chancellor, Professor Paloma Mohamed-Martin, said the mission of the project when it was first discussed by the Office of Philanthropy and Civic Engagement (PACE) in 2019 was to establish a digital information room to serve as a central space. and an operations center to facilitate local and international teleconferencing meetings, virtual university-directed virtual classrooms outside Guyana, and a data bank facility intended to accommodate 30 people per session.
However, in light of the COVID-19 pandemic, the project had to be resubmitted and redesigned to meet the new needs of the tertiary level organization.
Meanwhile, the University's Chancellor, Professor Edward Greene, who attended the launch, congratulated the AS teams for conceptualizing and implementing the highly complex technical project.
He further expressed his gratitude to ExxonMobil for his input to the project.
"I extend my appreciation to ExxonMobil, CNOOC and Hess for Guyana's Largest Enterprise (GGI) from which this significant gift was made possible and for the co-operative spirit in which they were so willing to partner in making this venture a reality," .
ExxonMobil Guyana President Alistair Routledge also said in his remarks that his company is delighted to be working in partnership with the University of Guyana on the project, noting that although this is the first of the Greater Guyana Initiative, it is not the first project which ExxonMobil has been associated with the University.
"We are working hard to find it through exploration and development, and monetising the country's offshore resource. That transformation will drive the transformation of the economy. But the University of Guyana plays that vital role of transforming the education system and building the country's ability to achieve a truly sustainable economy. I think there is a clear partnership, one we are very happy to enjoy and one that is growing in the future, "noted Routledge.
Presidents included AS Chancellor Professor Edward Greene, Vice-Chancellor Xi Professor Paloma Mohamed-Martin, ExxonMobil Guyana President, Alistair Routledge; Senior Adviser, Government and Public Affairs Matthew Scharf among other senior executives at the company.
Read More Interesting Content