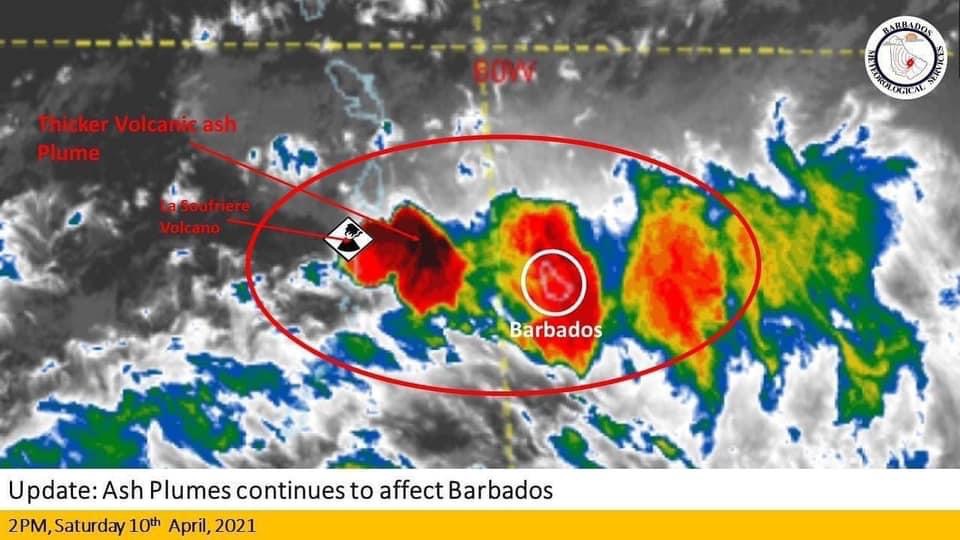 (Barbados Nation) West and North Barbados were hit hard by the falling ash as a result of the La Soufriere volcano eruption in St. Vincent and the Grenadines.
St Lucy was especially bad because by 11:30 am it looked like 6:30 pm and the ashes could be felt on the skin and in the eyes.
Bromefield resident Gracelyn Griffith, who had problems with dust from the nearby Arawak Cement Plant, said in recent years things are much worse now.
"My knees are bad so I stay indoors but even if I could, I wouldn't go out there. This makes the dust from Arawak seem like nothing. This morning, it wasn't that bad but as the day went on, it started to get dark. Imagine being at home in the morning and having to turn on your lights?
"My granddaughter is my granddaughter, I try to protect her because she has asthma. I very much hope this clears up soon, "he said.
In St Silas, St James, Duaine Lewis woke up to see a gray blanket of dust covering everything.
"It was darker than usual and the street lights were on so I thought it was earlier. When I went to look outside, there was dust all over the window sill and then I saw the dust all over the cars, "he said.
Lewis said he came outside to see the damage to his car and was surprised at how dirty it was. He said it had not been cleaned as there were conflicting views about how to tackle the ashes.
"I've been hearing different theories like not using windshield wipers so I'll check some more and see if I clean it myself or take it to Shine Automotive for a professional cleaning," he said.
Visibility gradually deteriorated, making the journey from St Lucy back to St Michael a treacherous one, at times requiring snail speed.