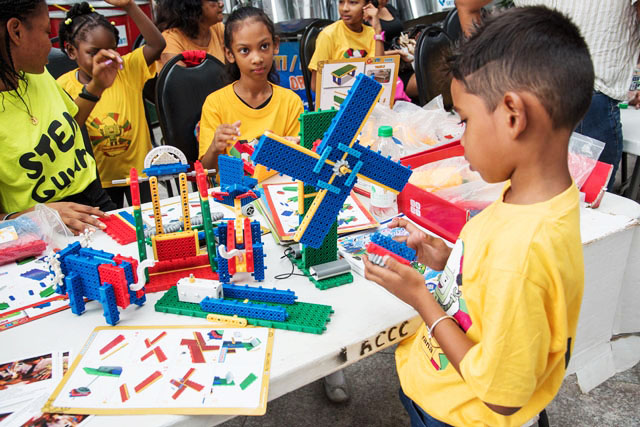 "The aim is to recruit, engage and enrich children's academic experiences that show extreme talent and interest in technology," said STEMGuyana co-founder Karen Abrams. "These children are only about 5% of the population and may be the best performers in the best schools. Just as musical talent and football talent can be found in any community, so too are the kids who love to take things apart, full of ideas, which often can't sit still, love their legos, which build scooters and go-karts and have a matchbox. We aim to identify these children in every community in Guyana; ensure they have fun and exciting technology education, help strengthen their maths and science skills, provide opportunities for them to interact with their peers from around the world and then enrich their academic lives with our integrated and challenging STEM curriculum. "Fundamentally, STEMGuyana is serious about helping to prepare the next generation of outstanding Guyanese innovators, technology entrepreneurs and problem-solvers who will work on solutions to advance the development of Guyana's economy.
In line with this vision, the STEMGuyana organization has partnered with members of the Guyana Diaspora, the Youth Department and a soon-to-be 'big' corporation to launch the STEMGuyana International Academy on November 8th, 2020. More than 70 Guyanese descent students in 1st through 9th grade; from the United States, Guyana and the Caribbean meet weekly to participate in STEMGuyana's unique, integrated curriculum, which blends topics from the MOE Science and Mathematics curriculum with arduino technology projects and creative Scratch coding lessons. Among the 70 students are 15 scholarship students from vulnerable circumstances who hail from in-house communities, under-resourced families and more than 5 regions throughout Guyana. These scholarships were sponsored by NY GUYDA organizations who are a long-standing STEMGuyana sponsor.
The STEMGuyana organization takes its role as an equal opportunities educator seriously and to that end is working with a major sponsor to expand the program to 400 more vulnerable young people in Guyana. The Youth Department will provide young people trained over the last two years to manage a robotics club. The plan is to once again engage these young people in select ICT hubs, fund their salaries, fund cleaners and supplies and the tools necessary to make the virtual academy courses available every Saturday and Sunday for community children who would not otherwise be able to benefit from such an exciting, rich and global program. STEMGuyana has already received a commitment from a major sponsor to sponsor this program.
"We also plan to make our upcoming television show," Robin The Robot "available on children's television throughout Guyana," said US STEMGuyana adviser Marlena Henderson. "To that end, we have signed a contractual agreement with NCN to carry the weekly robotics show for young people across their network." Although the show has a major sponsor, STEMGuyana will continue to identify and engage with companies that want to support STEM education access for children across Guyana by supporting the "Robin the Robot" show with weekly ads.
STEMGuyana's contributions to the nation over the past 4 years can hardly be understated. The organization has mentored the nation's young people, ensured that high-quality technology education is available to children in rich and poor communities in Guyana, trained young people who performed outstandingly in global robotics competitions, expanded the a pre-covid network of children's STEM clubs in 9 out of 10 regions in Guyana and held summer demonstrations and camps exposing more than 15,000 children in Guyana to new and exciting technology. The people of Guyana owe a debt of gratitude to this organization. For more information on stemguyana programs, email [email protected]