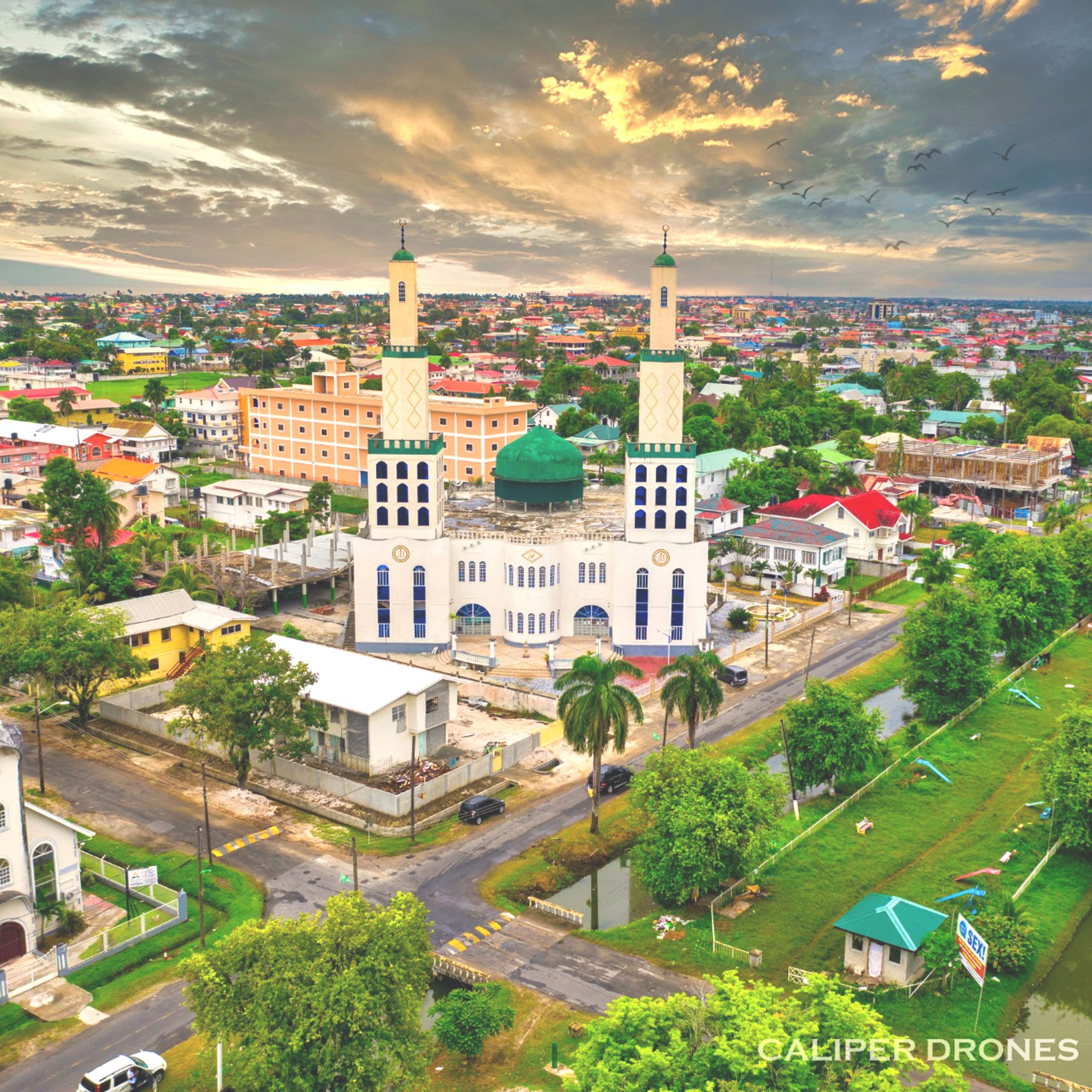 Caliper Drone Services has further monetized its overhead shots by turning them into gorgeous holiday postcards, promoting less popular but beautiful places around Guyana. The cards are already popular with the company's corporate customers as well as Guyanese who wish to send greetings to their relatives in the diaspora.
Company owner Julian Cadogan has gone from drone photography from construction sites to just enjoying taking them as a hobby. Over time, he photographed some scenic places never seen before in Guyana and then got the idea to print them as postcards.
In October, Cadogan and his team decided to look at the market for such postcards. They finally had a finished product by the end of November, which they used for survey purposes. The feedback, he said, was good.
The front of each card is a photograph of a place in Guyana and the back gives a small description of the picture and location.
The postcards, he noted, could be a joyous and joyful gift this season as loved ones reflect on the beauty of Guyana. They can also be used for Thanksgiving Christmas parties.
Caliper Drone Services is currently working on streamlining the mechanism to get the cards to customers in Canada and the US.
Just three years ago, Cadogan was caught on his farm in Hubu Backdam, East Bank Essequibo and had no ink for such business. But then he attended the Digital Wealth Summit in 2017. He was among several farmers at the conference who became aware of how drones could be of service. They learned that instead of farmers often venturing to the backdam to inspect their crops, they could get drones to do it for them.
Cadogan didn't just take the presenter's word for it. Instead he returned home and researched the venture. In doing so, he realized how effective the use of this technology could be for farming. But the more he looked into the benefits of having a drone, the less he thought about using it for farming. He went back online to learn how to operate the device.
He began to think about how beneficial it would be for building services to have drone photos of their sites and to share this idea with three friends. After they had discussed the matter, they had a friend invest in the business to give them the capital they needed to start the venture.
Caliper Drone Services was founded in 2017 and Cadogan saw that he needed to focus all his attention on it, so he gave up farming for a while. He is considering returning to it in about five years after all his projects have gone ahead as planned.
It took some time for the business to start as Cadogan and his team sought to understand how they could best market their services.
"Let's say for a construction agency, it might be easy for someone who works there to take the photos but depending on your time and work schedule, they may get stuck and forget to do it, "Explained Cadogan. "So, by outsourcing, you know that every week on Saturday you need to take photos and you can guarantee that we will take it within that timescale and deliver it to you.
"We create photos of construction company sites to send back to their stakeholders. Let's say Lands and Surveys or any other government agency is interested in having a drone team within their infrastructure, we can suggest the best drones for them, provide the training and make sure they have the necessary equipment to ' w set up and start running. We also procure drones for interested people. They let us know and we would suggest the best for them and get it imported. "
When asked if he was worried about competition by importing drones into others, Cadogan said he was not worried about this at all. He noted that individuals would still buy drones for themselves with or without the assistance of his company, and added that the equipment was often for personal use.
He said Caliper Drone Services is one of two known companies providing such services in the country. His company comes primarily for the purpose of sourcing sites and recording the progress of various projects. Giving an example, he said a contractor could tell his boss that work on a drain had been completed and as a test, the required site could be photographed using drones. The use of drones could also prevent entry into an already congested site and prevent ongoing disruption.
He gave another example, "Let's say you want to see a riverside property and the road stops a mile away from the actual area. We can take a drone and we can fly up and down to see the boundaries. We can see exactly what is there and understand that no one is trespassing there. You can even access the state of the river. "
The self-taught drone pilot shared that it took about a month or two for someone to move from beginner to competent pilot.
Now that Caliper Drone Services is working with some large construction companies, he has first-hand knowledge of some of the projects being done in Guyana. The company has made a name for itself and its services are often in high demand. Cadogan shared that they are sometimes contracted for more than one job at a time which is not an issue, as he has several drone pilots.
When asked how the service was affected by the pandemic, he said it was more positive than negative, explaining that since many clients were stuck abroad, unable to return to Guyana, they relied on his services.
Caliper Drone Services can be contacted at 627-1583 or 699-2508.