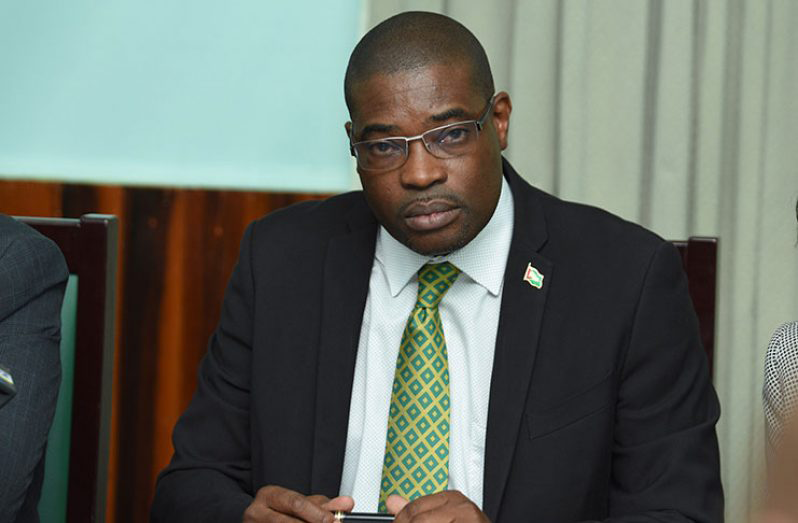 – ANUG encourages police enforcement to the fullest extent where acts of illegality are found
NEW and United Guyana (ANUG) is calling for David Patterson to resign as Chairman of the Public Accounts Committee (PAC) as all public office holders should be held accountable for their actions. Patterson, who is the Secretary General of the Alliance for Change (AFC) and former Minister of Public Infrastructure, is facing a charge of fraud following an appearance in Georgetown Magistrates' Court on Monday. The charge stemmed from the controversial contract awarded for the feasibility study and design of the new Demerara River Crossing in 2016.
Rawlston Adams, between November 18, 2016, and February 1, 2018, in Georgetown, Patterson, and the former General Manager of the Demerara Harbor Bridge Corporation (DHB), are alleged to have conspired together and with other unidentified persons to defraud Bridge Corporation Demerara Harbor (DHBC) from $ 162M.
The money belonged to the Asphalt Equipment, which is covered by the DHBC.
ANUG, in a press release Tuesday, said it is time for Guyanese to demand governance systems that ensure transparency and to hold public officials and ministers on both sides of the political divide accountable for their actions. In recent months, ANUG noted that there had been evidence emerging from several instances of improper transactions by senior Government officials of the previous regime and the State initiatives they managed, in which assets were donated to ' r officials as gifts or in severely undervalued 'sales'. .
"The latest scandal of gift giving seems to be coming to light involving the Ministry of Public Works (Ministry of Public Infrastructure 2015-2020) and the agencies under it, the Department of Maritime Administration and the Bridge Corporation Demerara Harbor. The former subject minister, David Patterson, who allegedly received jewelery 'gifts' improperly, initially denied any knowledge of these gifts, "noted ANUG.
Further, the party noted that Patterson even claimed he does not wear jewelry. However, after showing him the evidence, he later admitted to receiving such 'gifts'.
"He blatantly claimed that he was unaware that his acceptance of such 'gifts' was in breach of any regulations and that he had not asked for the 'gifts' to be bought for him. Ironically, Mr Patterson is Chairman of the Public Accounts Committee (PAC) in Parliament. This Parliamentary Committee has the role of scrutinizing public spending and public accounts, "noted ANUG.
Imaginatively, ANUG noted that this is the Committee that would scrutinize and police the giving of 'gifts' and the sale of State property assets at face value to officers in circumstances of abuse and conflict of interest.
"Mr. Patterson is resisting calls for him to resign as Chairman of the CAP. ANUG notes these developments and, reiterating our message, that to change from the ongoing misuse and disregard for public and public funds, there must be transparency, "the party said.
The party explained that as long as public agencies are populated by managers and directors selected by the political party in power, there is no transparency and the opportunity for implantation remains. ANUG calls on police to enforce the law to the fullest extent where acts of illegality are discovered.