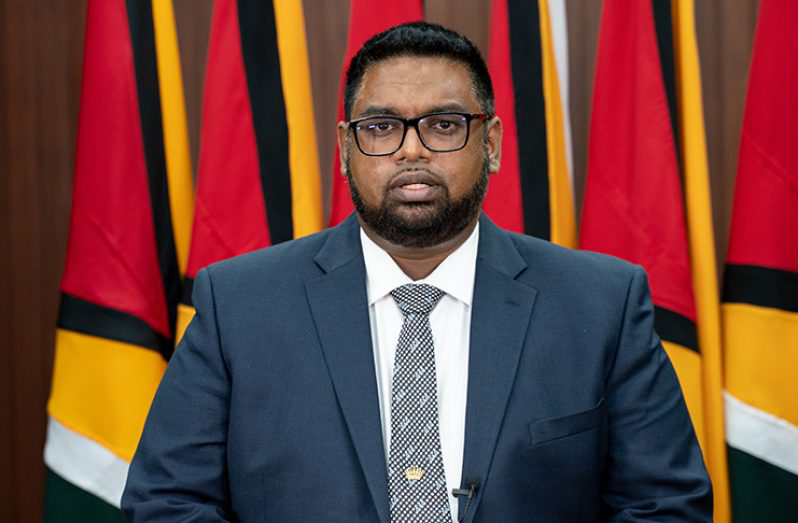 – supplement govt's 'aggressive' efforts to secure vaccines
By Vishani Ragobeer
CHINA has already agreed to supply Guyana with 20,000 doses of its COVID-19 vaccines, amid aggressive government efforts to engage its international partners so that sufficient vaccines can be obtained to immunize the population in the shortest time possible, according to President Dr. Irfaan Ali.
On Saturday, during a speech to the nation, Dr Ali reiterated that the government was "aggressive" on all routes to vaccines. This includes engaging with many international Guyana partners, such as India, China and Russia, who have been developing and producing vaccines.
Already, he pointed out, "The Chinese Government has confirmed that it will give Guyana 20,000 20,000 doses of vaccines. Discussions are ongoing and arrangements to procure vaccines from these countries will be finalized shortly. "
Although it is unclear what Chinese vaccine Guyana will receive, international reports highlighted that Beijing-based biomedical company Sinovac has developed the CoronaVac, an inactive vaccine that can expose the body's immune system to the terrible coronavirus without jeopardize the response of a serious disease. This allows the body to be immunized by 'fighting' the injected virus.
Meanwhile, Sinopharm, a Chinese state-owned company, is developing two COVID-19 vaccines, which, like Sinovac, are also inactive vaccines that work in a similar way and are said to be 79 percent effective.
Although this level of vaccine effectiveness is lower than Pfizer and Moderna vaccines, used in the United States (US) and the United Kingdom (UK), the BBC noted that the United Arab Emirates (UAE), which approved said vaccine Sinopharm earlier this month found the vaccine to be 86 percent effective. This higher effectiveness rate was gleaned from the provisional results of the UAE phase three trial.
President Ali also noted that the government had been in discussions with the Caribbean Community (CARICOM), the Organization of Islamic Cooperation (OIC) and the European Union (EU) for a quota of vaccines. He further highlighted that the government is also engaging with major vaccine manufacturers including Pfizer, BioNTec, Moderna and AstraZeneca to complete a supply of vaccines. These governmental efforts to secure vaccines are taking place in addition to Guyana's engagement with the COVAX facility, where the country has already submitted the required documentation and expects vaccines as early as February.
Months ago, Guyana joined the COVAX facility, a global initiative aimed at speeding up the development and manufacture of the COVID-19 vaccines, and then providing them in a fast, fair and guaranteed way. And, under this mechanism, Guyana is expected to receive its first set of vaccines to cover about 20 percent of the population for free.
The first three per cent will be used for frontline health workers and the next, around 17 per cent, will be used for older and higher risk people, such as those with comorbidities. Guyana is not yet aware of which of the vaccines it will receive.
'COVERAGE SPEEDY'
The Director General of the World Health Organization (WHO), Tedros Adhanom Ghebreyesus, recently lamented the unequal and unfair distribution of COVID-19 vaccines. Subsequently, The Economist noted that developed global economies will achieve widespread vaccination coverage more rapidly than 84 poorer countries, which are projected to achieve that widespread coverage until 2023. Guyana was listed as one of the 84 countries.
However, President Ali demanded that his government want to speed up the rate of vaccine acquisition and distribution.
"We are pursuing every avenue to get as many vaccines to cover the population as soon as possible," he stressed, explaining that the government is using enough of its human and financial resources to achieve this. Similarly, Health Minister Dr Frank Anthony assured that efforts were being made to accelerate the acquisition and distribution of vaccines. This, he reasoned, is why Guyana has been engaging with other partners, besides the COVAX facility, to secure those vaccines.
He also reminded that widespread vaccination is the "exit strategy" for the pandemic; this means that only around 80 per cent of the population will be immunized through vaccination or cure after catching the virus, there would be some sort of 'normality'.
To accommodate the use of vaccines, Guyana's vaccination capacity has been strengthened. As Guyana is not yet sure which of the COVID-19 vaccines it will receive, the country has secured the necessary cold-chain infrastructure to ensure that it has equipment to store the vaccines at an adequate temperature cool.
In addition, healthcare workers are being trained to administer the vaccines to adults, as most of Guyana's vaccination regimes deal with childhood vaccination. Also, as COVID-19 vaccines require two doses over time, extensive records must be kept. Health workers must also be trained to recognize and treat potential side effects of the vaccine, although these are not common.
Importantly, Dr. Anthony stated that local health authorities should have the ability to administer around 7,000 vaccines a day once the rollout begins. President Ali, on Saturday, noted that about 3,800 vaccines will be available by February and March.
As the government prepared to immunize the population against the new coronavirus, President Ali emphasized the need for the vaccine to be accepted by the public. In noting that vaccination is not compulsory, he assured that the government would only distribute vaccines that the WHO considers safe, and those he himself will be vaccinated to show that the vaccine is indeed safe . It also made the two doses of vaccine available to the population.