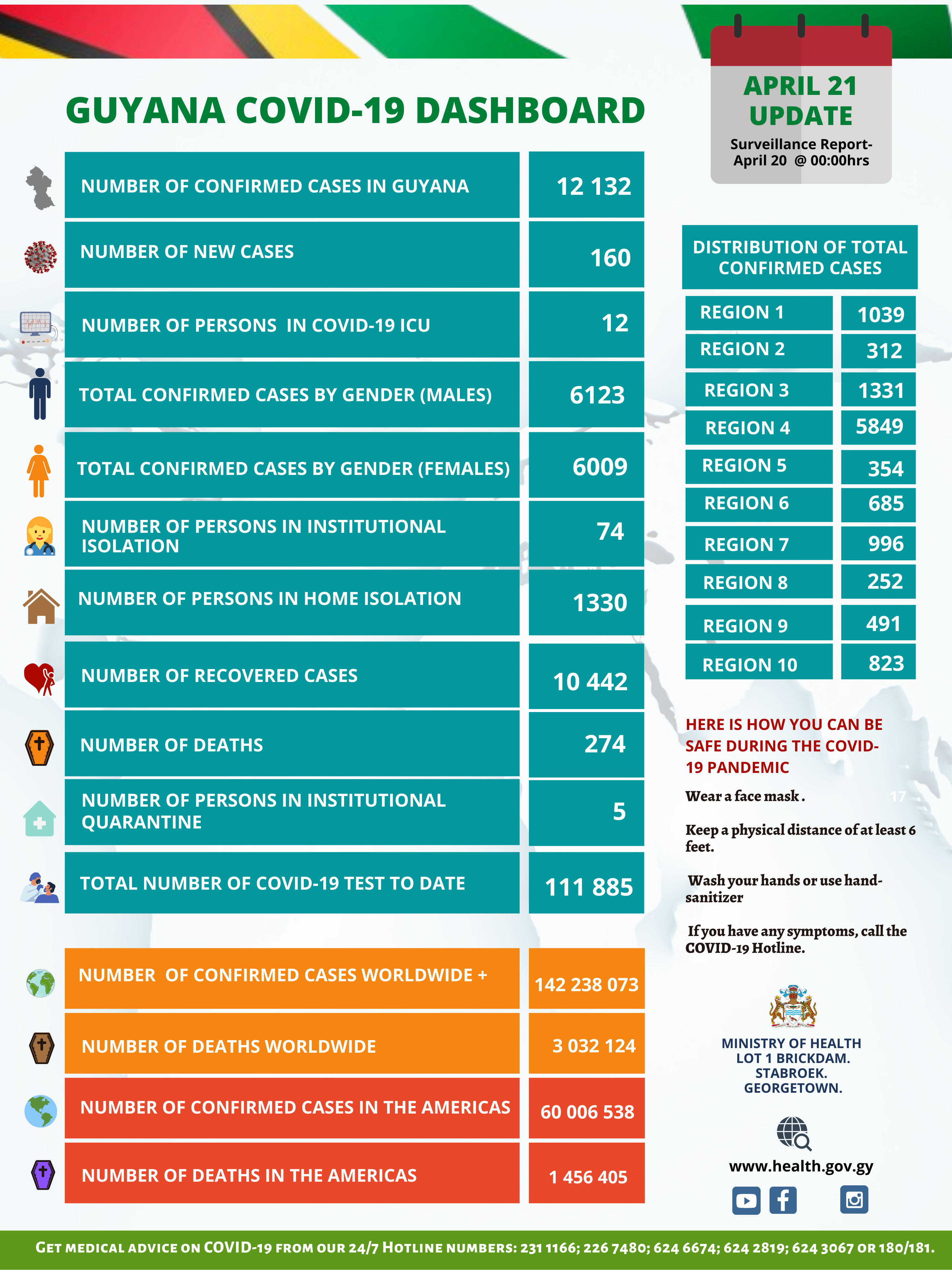 Home
News
COVID-19 death toll now 274 after a District 6 woman died
… 160 new cases recorded
Another person who tested positive for the novel coronavirus (COVID-19) has died, taking the total number of deaths in Guyana from the virus to 274.
This latest death is a 52-year-old woman from Region Six (East Berbice-Corentyne) who died Tuesday while being cared for at a medical facility, the Health Ministry said.
With this death, the total number of people who have died from COVID-19 so far in April has risen to 31, with three deaths reported this week so far. Two men – a 60-year-old man from Region Six and a 56-year-old man from Region 10 (Upper Demerara-Berbice) – died of the virus on Monday.
The Ministry of Health also reported Wednesday that 160 new COVID-19 cases were detected during the previous 24-hour period.
According to the updated COVID-19 dashboard, the total confirmed cases in Guyana are now 12,132 – 6123 men and 6009 women.
However, only 1416 of these are currently active cases, with 12 patients in COVID-19 Intensive Care Unit (ICU) and 1404 on their own – 74 alone institutionalized and 1330 separate from home.
There are also five people in institutional quarantine.
Further, the number of people who have recovered from the life-threatening disease in the country so far has increased to 10,442 – about 145 more recoveries than the figure reported the previous day.
A total of 111, 885 people have been tested for the new coronavirus so far in Guyana.
Of the 160 new cases reported on Wednesday, one was found in Region One (Barima-Waini), eight in Region Two (Pomeroon-Supenaam), 20 in Region Three (Essequibo-West Demerara Islands), 94 cases in whopping in Region Four. (Demerara-Mahaica), 17 in the East Berbice-Corentyne region, two in Region Seven (Cuyuni-Mazaruni), five in Region Eight (Potaro-Siparuni), four in Region Nine (Essequibo-Upper Takutu Upper) and nine cases in Region 10.
The number of cases recorded in Region Five (Mahaica-Berbice) remained unchanged.
Not adhering to requirements
The increasing number of COVID-19 cases and death tolls come as local authorities continue to struggle with a new wave of infections that see an increasing number of young people catch the virus and infected people getting sick with some needing to go the hospital.
In fact, during Wednesday's COVID-19 update, Health Minister Dr Frank Anthony reminded people to practice social distance by staying six feet apart, avoiding crowded environments, and hiding.
"If people don't keep to these simple requirements, then unfortunately because of the virus that is circulating within the population … you would become infected. So, people need to stick to the restraint rules we have in place and I think once they do, they are going to stay safe, "he said.
Meanwhile, health authorities are reminding all Guyanese to adhere to the COVID-19 (No. 16) Emergency Measures protocols, which were extended for this month and would be in effect until April 30, 2021.
Among these measures is the national curfew 22: 30h (10:30 pm) to 04:00h (4am), which – recently reminded of the National Task Force COVID-19 – remains intact, warning it would Those who fail to adhere to the guidelines are prosecuted.
He also reinforced that only essential services are authorized to operate on a 24-hour basis and that other services and businesses are required to close operations by 21:30h (9:30 pm) to facilitate employees arriving home by curfew time.
Restaurants and places of worship have been approved to operate at 40 percent capacity. Gymnasiums will operate to a maximum of 50 percent while sporting events are permitted with the approval of the Health Minister only.
The order further emphasizes the need for accurate and consistent use of a face mask when leaving home, the importance of maintaining six feet of physical distance from others, and the need for good hand hygiene to help reduce the spread of COVID-19.
According to the World Health Organization (WHO), on Wednesday, there were about 142,238,073 confirmed cases worldwide along with 3,032,124 deaths.
WHO had reported on Sunday, in the American Region, that is, Latin America and the Caribbean, that the number of confirmed COVID-19 cases had increased to 60,006,538 while the death toll had increased to 1,456,405. (G8)
Read More Interesting Content