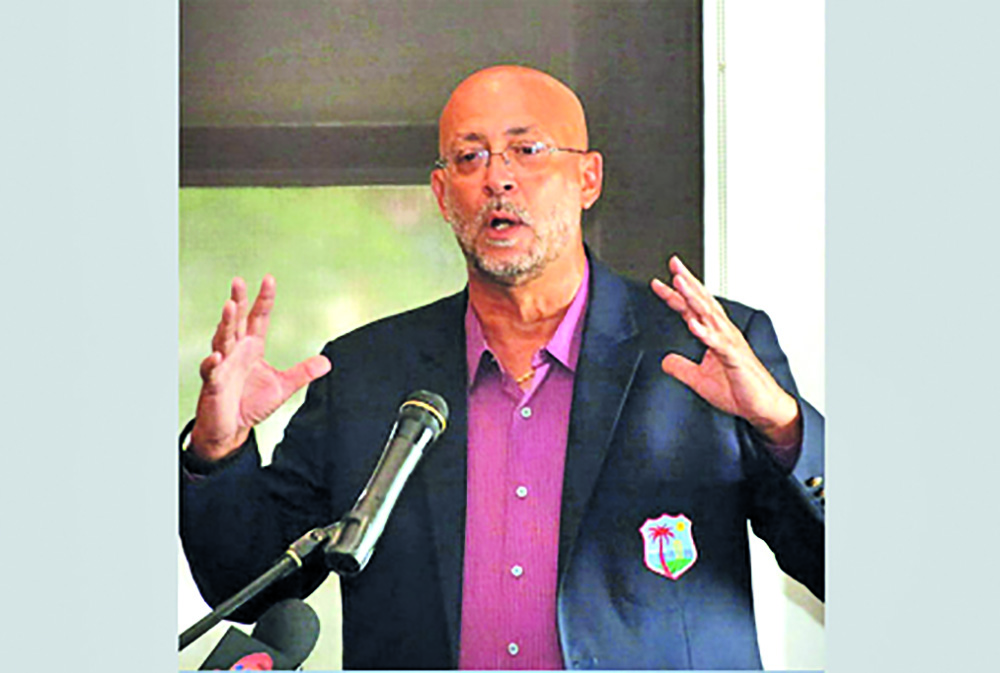 Home
Sports
"COVID-19 is a reality that some of us don't seem to understand"
– said CWI President Ricky Skerrit
– players get "the benefit of the doubt" about availability
By Brandon Corlette
The coronavirus novel continues to hit the world since its deadly rise in 2020, and has recently hit some Caribbean cricketers, with Guyana's Romario Shepherd being the first Caribbean active player to have returned a positive result to COVID-19, and Hayden Walsh Jr. the next player to have tested positive, in Bangladesh.
Barbados Pride duo Shai Hope and Kyle Hope were the other players who tested positive and were ruled out of the Regional Super50 Cup, while Guyana Jaguars opener Trevon Griffith has been the latest Caribbean player to return COVID- 19 test, and was also ruled out of next month's Super50 Regional tournament to be staged in Antigua.
In the latest Mason and Guest radio program, Cricket West Indies (CWI) President Ricky Skerrit said COVID-19 is a reality that some people don't seem to understand.
"We have to deal with the reality that players are faced with harrowing decisions about their careers, whether they participate in cricket under risky situations, although CWI and other cricket boards are doing everything to reduce it. ' risk, "Skerrit explained.
Since the onset of the pandemic, the West Indies have visited England, New Zealand, and now Bangladesh. Initially, only a few players had refused to tour, but in the most recent overseas tour, most players were reluctant to travel to Bangladesh.
The CWI boss has noted that it is difficult for the Caribbean board to get all their 'best' players at the same time, and the lack of experience was evident during the One Day International (ODI) series in Bangladesh.
"With this particular tour and the two previous tours, which were held in COVID-19, is that you couldn't get all your best players on tour at the same time, and this trip to Bangladesh was (the ) worst. We had more players than we could possibly expect to pull out, "declared Skerrit.
According to an earlier CWI statement, West Indies Test captain Jason Holder, limited-overs captain Kieron Pollard and Test vice-captain Roston Chase were among ten players who pulled out of the tour of Bangladesh, citing COVID- 19.
Darren Bravo, Shamarh Brooks, Sheldon Cottrell, Evin Lewis, Shai Hope, Shimron Hetmyer and Nicholas Pooran were the other players who declined the opportunity to participate in that tour in Bangladesh because of personal concerns or fears associated with COVID-19.
Not since 2014, West Indies have won an ODI series against Bangladesh. "We had a team that was significantly weakened in a situation where even our best teams have lost in Bangladesh over the last few years," explains Skerrit.
"Since 2014, we have not won an ODI series against Bangladesh. Let's look at the facts: We're going to play against Bangladesh, in a place where most West Indies don't like to play. We are not taking our strongest batting team, and the batting team is failing, "said the head of the CWI.
He chose the players to give their best, but it wasn't good enough.
Skerritt has also given players the benefit of the doubt over their availability to play for the West Indies at this time.
"We respect the fact that individual experiences in a health bubble environment and the fears and anxieties of COVID-19 are also very personal to the players, who benefit from no doubt," he explained.
West Indies will have a packed home season in 2021, with Sri Lanka expected to visit the Caribbean, while teams like Australia and Pakistan can visit the Caribbean as well.
Read More Interesting Content