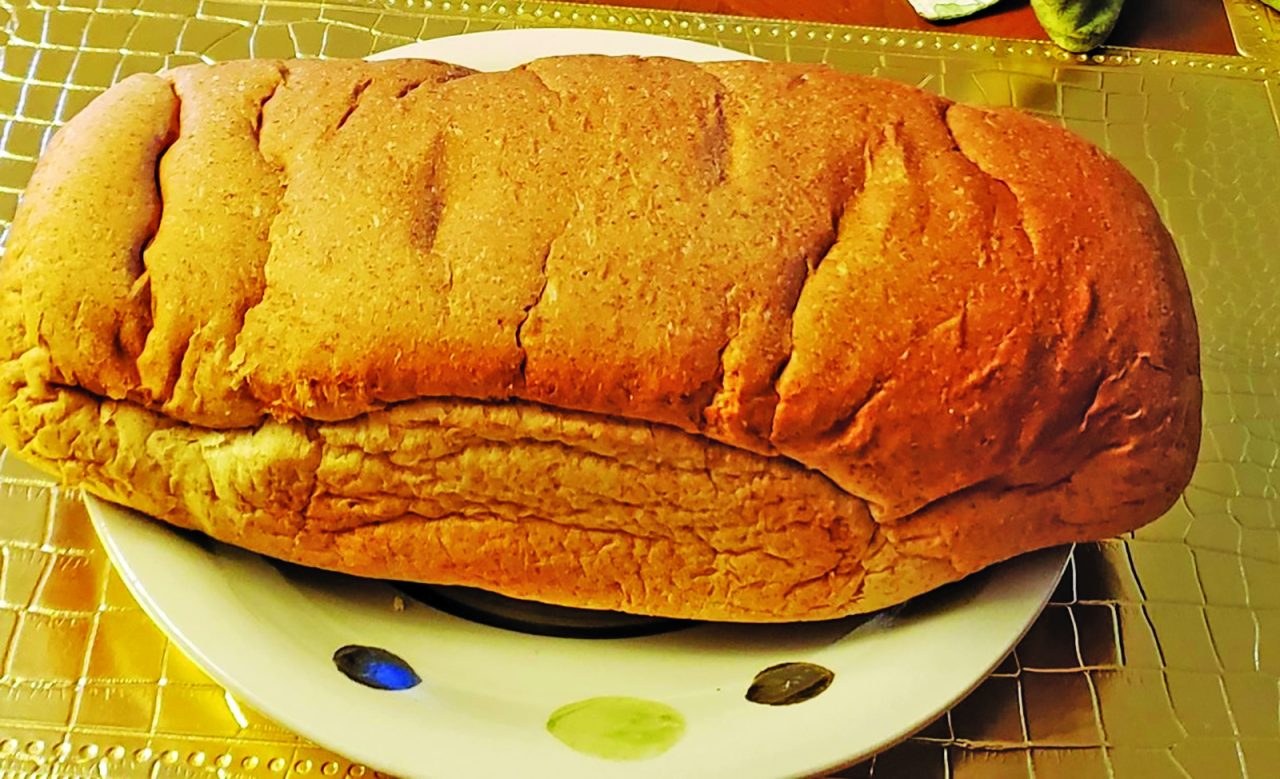 Home
Top Stories
From being homeless to owning Bartica's most popular bakery – Richard …
By Lakhram Bhagirat
Richard Yarde's story is one that encompasses elements that seem to be taken from a movie in Hollywood. It's one that many consider a quintessential rags-to-riches story but if you ask the topic itself, it will tell you that it's far from it.
Rather, he would say that his story represents the struggles of a man seeking his purpose in this world. He would say that his story represents the struggles of many Guyanese who are shaping their own destiny.
Yarde together with his wife Monica Yarde owns and operates the R&M Bakery in Second Avenue, Bartica – dubbed the most popular bakery in the gold mining town. He is perhaps one of the best known in the Bartica mining community for something as simple as bread.
However, his story is what makes his achievements even more satisfying.
The father of two, originally from South Ruimveldt in Georgetown, would have moved to Bartica just about 6 years ago to "clear" his head. The mother of her children died as a result of leukemia and she was bringing up her two sons as a single father.
He was doing very well for himself as a taxi driver and before moving to Bartica, he became involved in another relationship. However, that didn't pan out and needed a space change.
"I came here (to Bartica) because of that relationship. It was a difficult situation and at the end of it, I had nothing. Before coming here I had no idea about the place because I had never been here but one day I told my mum to look at my two sons and that I came here to clear my head, "she said.
Yarde was encouraged to venture to Bartica as an escape by a friend he met while doing taxi work in the city and because he had never visited the town, he chose to do so. Having no idea how to get to Bartica or any money in his pocket, he decided to go to his mother for "gas money" for his car and then drive to the Parika Stelling.
There, he was informed that he would have to wait a few days before the next ferry to Bartica – as he wanted to take his car with him – or that he had the option of taking a speedboat when leaving the car after. He chose the first.
"I came up here to shake my head and I started liking the place and I would say I actually lived in my car because that was my home. Yeah, I used to live in my car for a long time before I could get my own place, "explained Yarde.
When he traveled to Bartica, and being a stranger to the community, Yarde had difficulties finding a place to rent. He immediately started working a taxi from the Bartica Stelling to different parts and people started to get to know him. However, he was still homeless and would spend the nights in his car parked on Bartica beach.
He would wake up at 5 am every morning and take a dip in the river and then get ready for his day's work. When it was laundry day, he would wash up on the beach and ask the residents there to allow him to dry his clothes on their lines.
His experience alone would have been enough to force him back into the city but Yarde persisted.
"I met a girl with two children and at first she was not ready for a relationship and I showed her I was different. I don't drink or smoke or party and then after a while we got into a relationship. After that, I started working a taxi from Itaballi to Puruni because it's $ 10,000 to carry a passenger and you go with 4-5 and it's $ 50,000 and when you come out it's another $ 50,000. So sometimes in a day it's $ 100,000 and once I started that and I started making money, I saw the opportunity to start my business, "he said.
The couple then opened a joint bank account where they started saving for business.
He always knew that the bakery business was the one for him because of his talent in that arena. Prior to becoming a taxi driver, Yarde worked in virtually every commercial bakery in the city – Graham's, Humphrey's, Bakewell, Pearl's and Banks DIH – Golden Harvest.
Yarde was one of the bakers in demand because of his talent.
"After I passed all the bakery I said I don't need to work in another bakery and when I came up here I saw that Bartica has only two small bakeries and that most of the bread is from Georgetown . I tell myself that Bartica needs better quality people in their homes and if I started a bakery, it would dominate. When it comes to flour and water, it is a gift from God that I have these hands, "he said.
Slowly, Yarde started ordering items online for his bakery and when that all came in, he then started scouting. He found their current location on Second Avenue and decided that it was where he wanted to operate.
Things started to fall into place and over two years ago it opened its doors to Barticans for the first time.
The first day it opened not to sell but to introduce potential customers to its products and to say it was popular would be a gross understatement. The need for quality home-made bread for Particans led to the R&M Bakery flocking on the second day and ever since the rush diminished.
"Business was not slow. I was surprised because from the next day the rush was there. I had no hands to sell bread, "he said.
However, operating R&M Bakery is nothing less than a challenge for Yarde and his wife. He explained that while working in the bakery, Monica would look after the supply management and financial aspect of the business. It is currently the sole bread maker and employs at least 8 staff for cake making, cleaning and preparation.
His regular day starts at 2 am every morning and he would be in the bakery mixing and baking well into the night just to meet the needs of his customers.
"One problem is that a worker up here is a big problem. I have about 8 employees but for my business to move from where it is, I need workers. Because every day I finish work, most people don't get bread and they row with me a lot because they insist that I provide bread for them.
"I work really hard in my bakery. I am not like a bosman, I see myself as an employee. I come down at 2 am in the morning and I mix, mek and bake and I have people to sell, bag away and make cakes and clean. If only I could get another baker ready to learn because I will teach them to make as I mix and bake the bread because I need to defend my recipe, which is the success of the business, "said the businessman.
For the time being, Yarde continues to serve the needs of the people of Bartica and plans to expand his business as soon as he can find the right people to train for.
Read More Interesting Content