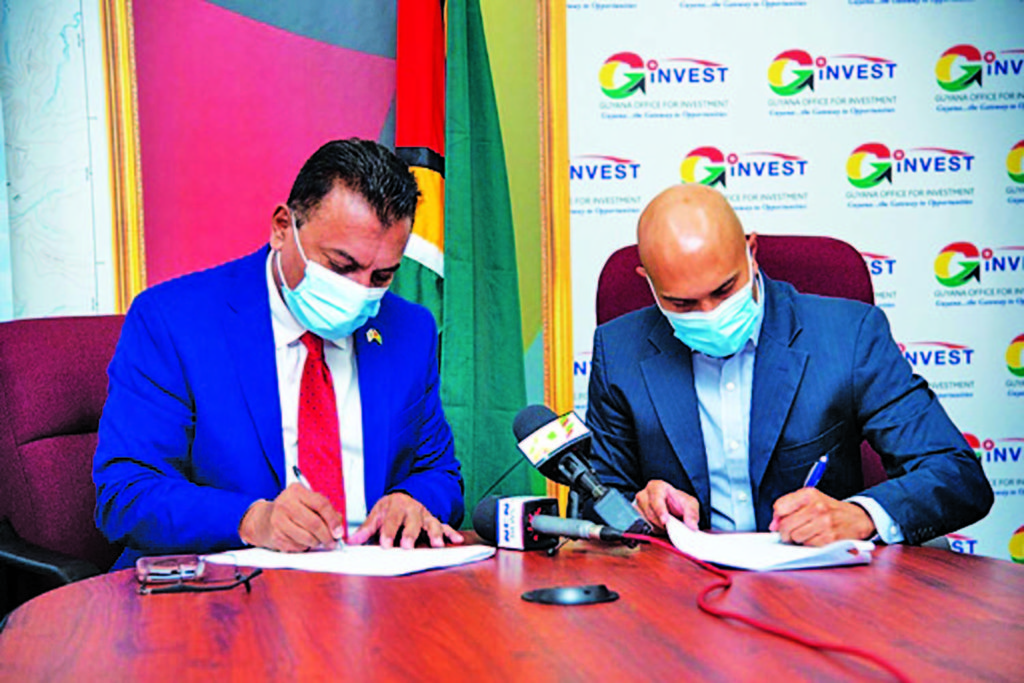 Home
News
GO-Invest, PSC signs MoU on local investments
On Friday, the Guyana Investment Office (GO-Invest) signed a Memorandum of Understanding with the Private Sector Commission (PSC) aimed at better locating local businesses to take advantage of emerging investment opportunities in the petroleum economy.
The Memorandum of Understanding was signed by GO-Invest's CEO Dr Peter Ramsaroop and PSC Chairman Nicholas Boyer at the GO-Invest office. Ramsaroop, the DPI reported, said GO-Invest was responsible for facilitating local and foreign investment.
"Our agenda is to work very closely with the local entities in Guyana to promote investments. With that, we have negotiated and partnered with the Private Sector to ensure that our local companies know what incentives Government can give to the Private Sector; how we can bring them together for the incoming international foreign direct investors; Ramsaroop is quoted as saying how we can promote joint ventures, how we can promote different activities in the Private Sector.
In the meantime, the Chair of the PSC said that signing the MoU as a Government deepened and solidified its relationship with the entity.
"Obviously what lies ahead for Guyana is significant and the Private Sector needs to work on developing itself and what better agency to work through than G.[O]-Investing. We expect a number of multinationals to be interested in our local market and similarly, we expect many local Private Sector companies to want to reinvest in Guyana and expand and as such, we are prepared to work with G[O]- Invest to do the things necessary to build that local Private Sector, "said Boyer.
GO-Invest only recently signed a Cooperation Framework Agreement with the Guyana Manufacturing and Services Association. The objective of the Agreement is to build the capacity of local businesses in the manufacturing sector and to ensure a level playing field for local and foreign investors.
Read More Interesting Content