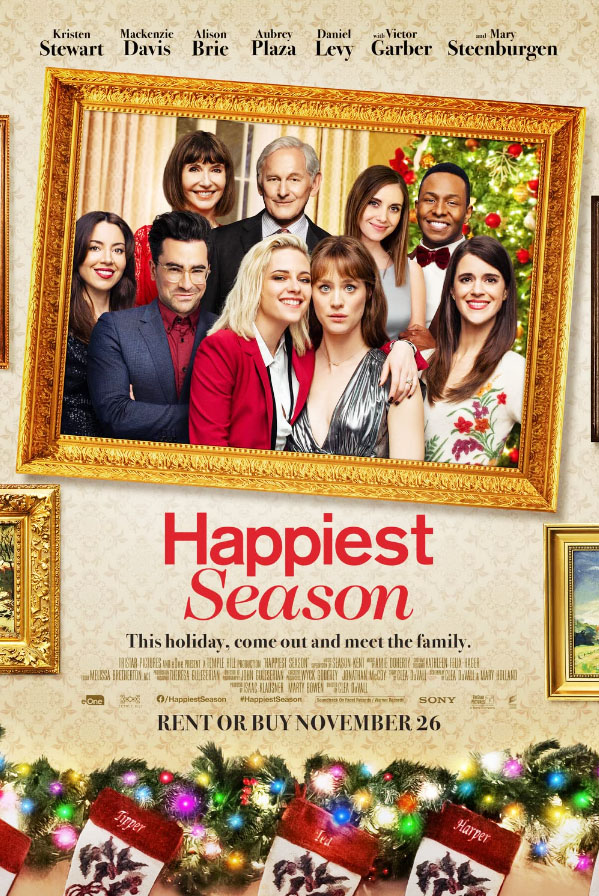 In the first fifteen minutes of Clea DuVall's romantic comedy "Happiest Season", the film has presented a series of well-worn tropics that align it with a long and storyline line of similar romantic comedies and holiday movies. It's part of the entire cadence of the film that each plot point feels telegraphed a few scenes before, and the film's ultimate warm-up (attempt) feels certain of the opening moments. It's baked into its genre, and yet the ways in which the "Happy Season" unfolds during its 100 minutes makes it feel less and less satisfying the more it goes on.
The central, familiar plot point that establishes everything is the seagulls meet the parents. Yin and yan's couple, Harper and Abby, are a couple in a young love troupe. At the opening, their biggest crisis seems to be that Harper loves Christmas, and Abby seems ambiguous. In a moment of bliss, Harper invites Abby to her parents for Christmas, instead of having the orphan Abby spend the holidays alone. Abby is warming up to the idea. In the beginning. Except, on the way to there, Harper reveals to Abby that she hasn't really come out to her parents, throwing the first of several wrenches to these planned vacations and Abby's proposed offer. The couple must fake heterosexuality while on vacation.
Ted, Harper's father, runs to his job and uses the family's Christmas Eve party to gain support from a large donor, so it's important that the whole family makes sure they don't have secrets to hide. Uh-oh. The situation is exacerbated by the dysfunctional dynamics with Harper's two sisters – a ignored and ditzy Jane, and an icy-cold Sloane. In their presence is the already harvested couple walking on egg shells. The tension is compounded by the appearance of Harper's ex-girlfriend. He and her parents feel a rapprochement is expected. And for good measure, Harper's (secret) ex-girlfriend enters the picture, as a romantic and character foil, for good measure. It's a house full of chaos.
If it all feels a bit tiring, it's because it is. "Happy Season" brings equality to toothless romantic comedies by centering a lesbian couple to show that the banal toxicity of relationships is equally present in the queer community. On some level, it feels curmudgeonly to be overly critical of the warmth of a holiday film that just wants to be easy and sweet. But as well as never making up for its title, "Happy Season" feels more tired and demanding than lively and light. It means something for representation that lesbians, so often ignored in LGBT cinema, also have their own bauble trite from a Christmas movie. But even in the superficial world that comes with holiday romance, "Happy Season" feels especially devoid of anything pervasive. The queer dynamics at play feel limited as the film's perspective of the relationship at its center feels shaken into a heteronormative notion of how relationships work. We might be prone to dispel any intense socio-cultural criticism of the situation, if at least the movie was fun. And the biggest offense is that "Happiest Season" is castrated as romance, and unmistakably as comedy.
Abby Kristen Stewart is an unlikely romantic comedy leader, largely because of the way her Abby seems more worn down by her relationship than anything else. Even if her dourness seems out of place in "comedy," she's committed to a character arc for Abby and that's the film's strongest point. Amidst a sea of ​​objects, Stewart works hard to legitimize the ridiculous of the situations around her, even managing to bravely commit to the growing line of strange things happening to her. But her performance is fitted to another film, and she feels desperate for a better – or different – romantic pairing. There are brief moments of charm from Mackenzie Davis but, as written, Harper is the character of the most constructed film. DuVall lets the actors convince us why the pair should be together, but there is nothing subjective for Davis to work with so the film leaves us either rooting for pairs every a short-paced second, or better yet for the entire Harper family to leave a narrative. But if. It is true that reliable performers like Victor Garber, Mary Steenburgen and Alison Brie find it difficult to turn their flat characters into wearable people.
There is always a series of mental gymnastics on which romantic comedies rely. We are enticed to find behaviors that would enchant in real life charming. Hypocrisy and lies are played as mere roadblocks to love. Being loved only depends on beautiful clothes, lovely homes and charming personalities but there is an overwhelming lack in the central pillar of lies that holds up "Happy Season". The film's commitments suggest a more nasty film, with characters barely tapped to their own horror, but the film seems unaware of that, instead of treating the underhand machinations as blocks build to a demanding end that feels out of place. The two strands do not mix, and as a result "Happy Season" feels incredibly fake. It is a fallacy not aided by the flatness of the visual aesthetic that projects conservative perfection, but it rarely uses the camera to mine the chaotic environment for possible moments of humor.
It's an easy watch, and it finishes before it's fully embraced but "Happy Season" has little to suggest longevity. Even as it means well. If "Happy Season" arrives to bring a wave of parity to the romantic holiday genre, it's a shame that the sound of the sled bells announcing its arrival feels so tinny and empty.
Happiest Season is a Hulu release and is available outside the US on Prime Video and iTunes.