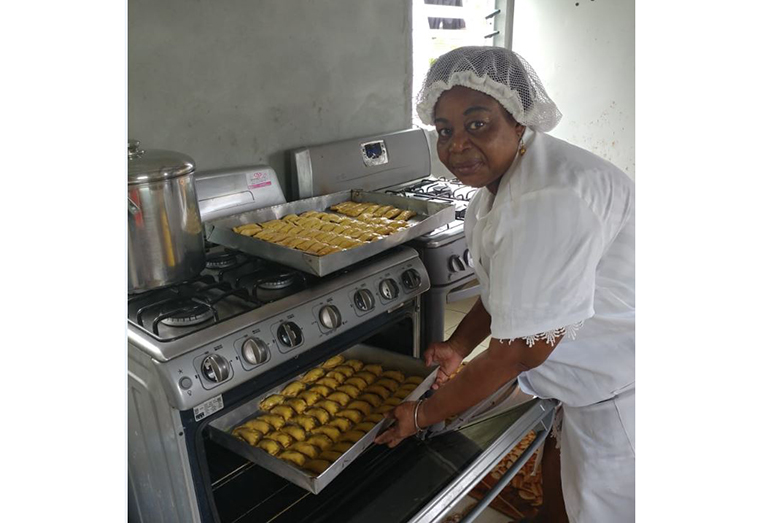 By Jeune Van Keric
A RETIRED teacher, now a caterer, who once served in Botswana classrooms, is expected to release a stack of recipes soon.
Included in her book are "steamed Cassava and meat pie" and "Sweet potato custard pudding", the recipes for two dishes that took first and second place in two consecutive national root vegetable competitions sponsored by the Food and Agriculture Organization (FAO).
Trained as a (senior) Home Economics teacher at Lilian Dewar College of Education (now Cyril Potter College of Education), Roxanne Warde returned to her alma mater – Berbice High School – where she served for 15 years. There, he served as Head of Department and Deputy Head Mistress.
It was during 1999 that an opportunity arose for local teachers to serve in Botswana, a country on the African continent.
"I took the opportunity to serve, because I wanted to experience something different. And it was really different … Initially, I was struck by the culture shock, but I had to compose myself quickly, as my daughter, Lizanne, was with me. But it's a decision I don't regret until today, "she reflected with a smile while sitting at her home in Glasgow Village, East Bank Berbice.
"I spent six years at Semane Community Junior High School, in Serowe Village, the birthplace of many presidents, and I got to experience a lot, especially in teaching Home Economics.
"Only when they (the children) started work were they allowed to eat a boiled egg back. So when they came to the Home Economics class, they had to prepare various dishes; I'd give them the foods. Their response was as if I had been sent from heaven; they would quickly put the food items in their pockets. Previously, their teachers would share it with each other, "Warde recalled.
In Botswana, the main dish is Seawaa, which is made into a thick porridge semblance of white corn. It is referred to as 'polenta' or 'pap'; it is served with meat stew.
During her tour of duty, Warde visited Libya and South Africa, where the last country's lemon grass (medicinal bush) is combined with masala and other ingredients and added to curry to give it a unique flavor. However, the taste is strange to the Guyanese palate.
After her six-year tour of duty, in 2006, she returned to her homeland and began teaching at New Amsterdam High School, where, again, she took up the position of Head of the Department of Home Economics. It was during this tenure that he guided students to the FAO national awards, which focused on root vegetables, or what is locally referred to as "ground provision".
Students were able to secure a first placement with a dish called "Stemed cassava pie", which was included in the FAO's international recipe book. The following year, the students took second place with a dish called "Sweet potato custard pudding".
"I love cooking; I would mix things up and tell my relatives for a taste, which often scares the palate … Now, having retired since 2016, I continue to cater, having done that for organizations and various functions over the years. Here's what keeps me going … I've also taught students in the Citizen Empowerment Program, which has led to some people being employed within agencies. And I'm working on my own recipe book, "said Ms Warde.