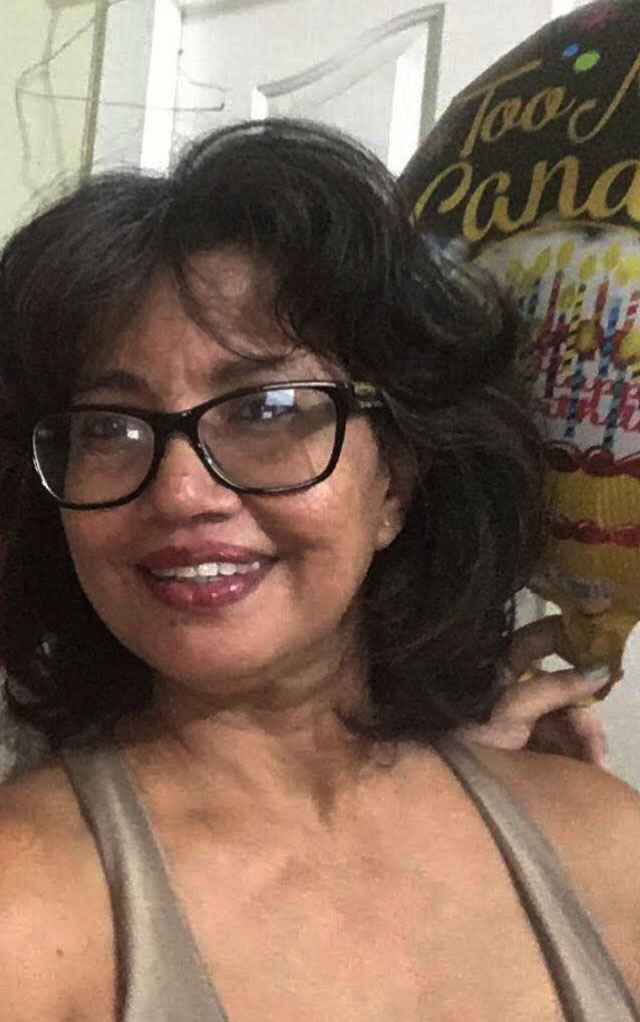 After nearly 30 years of craft making, craftsman Cheryl Sawh has become quite an expert in her field. Although her craft extends to jewelery, pen holders, belts among other things, Cheryl is best known for her creative handbags and purses.
After the birth of her first son, Cheryl, affectionately known as 'Sherry', chose to be a stay-at-home mom. She spent a lot of time browsing home magazines, always eyeing all the creative pieces until she saw something she loved so much, she decided to do it. "My first request was to cover a photo frame with no instructions to follow. So I got the necessary materials and got to work looking at the picture as my guide. I did and it was just as beautiful as in the magazine. I realized my hands were gifted, "recalled Sherry. That was the first of many artistic pieces to follow.
That led her to gather twigs, dried flowers and silk to, or basically anything along the side of the road that looked like it could be recycled, to start making flowers. Her floral creations were a little hit with friends and family who placed orders.
This couldn't have worked out better for the mother to stay home and realized she didn't need to leave the house to get her business going. It was perfect really, Sherry said as she remembered setting up a table in the corner of her house with all her beautiful flowers and other crafts. Her friends told their friends and so on and before she knew it, she had built her own client.
Business was so great that word reached the then president of the Arts and Crafts Association, Austin Chung. The two met and Sherry later joined the association. "It was a great move because I was blessed to own one of the craft shops outside the General Post Office (GPO)," said the craftsman. For the artist, this was by no means a coincidence, as there was only one craft shop left that she truly believed was waiting for her. Her business is called Crafty Expressions.
After starting her business, Sherry realized that making flowers was seasonal and that she needed to provide other pieces for her to stay on the water.
A visit to Crafty Expressions outside the GPO today would reveal a variety of neatly decked items. Apart from those mentioned before, Sherry also has in his shop, fridge magnets, key rings, wreaths, dream catchers, jewelry boxes, wallets, slippers, calabash bowls, and colorful hetresses made from blu macaw. She also sells other pieces of art created by local artists.
When The Scene stopped by her shop, Sherry was making a belt of anaconda skin. There were holes punched on the skin along the sides through which he was weaving leather. It was a piece that had been ordered.
According to the craftsman, when she first opened her shop, all her bags were made by other local artists, but she thought that if she could learn to make a picture frame and flowers, she could certainly make her own handbags, and that's what she specializes in today. She further explained that most of the bags she sold were of similar designs and she wanted to have more one-of-a-kind pieces available. Today Sherry bags are certainly different in design. Although it was the most challenging thing to learn, it became her favorite to create. "No more fancy nails," she said, adding that it's a small sacrifice for where she is in life today.
Making luggage, even though it started for business only, became a hobby for the artist, a thrill of a job, he explained, which cares for his livelihood. "I always advise doing what you love because you never get tired of doing it, even in the difficult times," Sherry was adamant.
Many of her pieces are souvenir items that attract foreigners hoping to take a piece of Guyana back with them. Their pieces can be found throughout Guyana and beyond in various countries of the world. The peak time for business is during the Christmas season and in the summer when locals travel abroad.
With foreigners contributing to a large segment of the market, the pandemic has resulted in a poor year for the craft industry. However, with the Christmas season approaching, Sherry is catching up with orders. With no distractions, Sherry can make one of her luggage in a day. However, as a grandmother who guards her granddaughter in the shop among her other duties, she makes three to four bags a week, depending on the design. Once she made five clutch purse in a day.
Although the work of artisans is not as highly valued in Guyana as it should be, the passion for what it does is undeniable by the way the ordinary Guyanese see its value.
Sherry guarantees that the work she produces is not only one-of-a-kind but also quality work that is durable for many years to come.
Skilled Expressions can be found at Hibiscus Craft Park outside GPO or reach them at 675-2551.