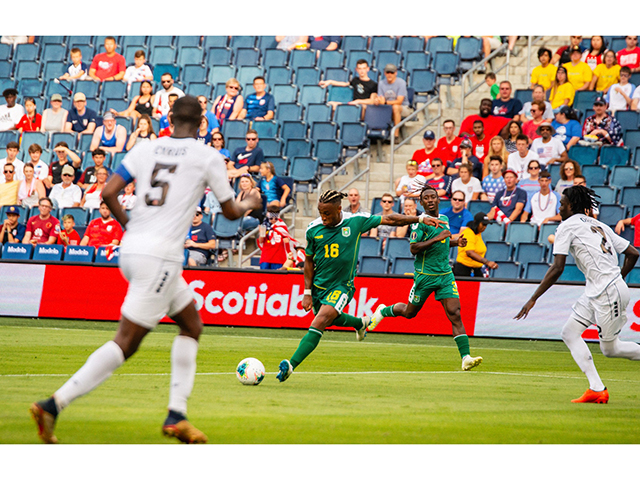 … Head coach hoping for a negative comeback
GOLDEN Jaguars head coach Marcio Maximo hopes all 32 shortlisted, local players can return a negative COVID-19 Test as the Guyana Football Federation (GFF) moves into gear first, preparing the nation's Senior Men's National football team for their busy 2021 on the international schedule.
First up for the Golden Jaguars is a trip to the Twin Island Republic for a clash on March 25 with regional nemesis Trinidad and Tobago in their first game of four at the Qatar CONCACAF World Cup Qualifiers.
This week, GFF announced that all local players and staff of the Golden Jaguars have been tested for COVID-19, following approval for the resumption of national team activities by the COVID-19 National Task Force.
"I would like to reinforce the importance of testing for everyone's safety. All players were present with no absences, which proved that they were aware of this issue. They represent the nation. We hope the results are good and that we can continue our work, "said Maximo.
Following a clear explanation from the Ministry of Health, after a negative return to players and staff, the squad will then be free to take part in initial physical evaluations, scheduled for today and tomorrow at the Training Center National.
According to GFF, once those evaluations are complete, the cohort will begin training under strict health and safety protocols. Ten members of the national team's backroom staff were also tested.
GFF president Wayne Forde said, "This is an exciting moment for players and staff as we make progress in implementing our 100-day 'Bounceback' plan, following our engagement with the UEFA Assist program."
Forde noted that GFF is "extremely grateful for the support and guidance of the COVID-19 National Task Force in approving our plans and the Ministry of Health in conducting these tests. We take every possible step to provide a safe COVID environment so that the cohort and staff stay safe during training. "
"With many important games on the horizon, it is important that we begin our preparations as soon as possible, as long as conditions permit, to give Guyana the best chance of success in the FIFA 2020 World Cup qualifying games in in March and June, and then through our historic return to the CONCACAF Gold Cup stage in July, "said Forde.
The national cohort will be split into two groups of 16 for its physical evaluation today and tomorrow, with weekly COVID-19 testing underway to monitor the group's well-being as it progresses through its training schedule.
Golden Jaguars were drawn in Group F alongside Trinidad and Tobago, The Bahamas, Puerto Rico and St Kitts & Nevis.
Following their March 25 clash with Soca Warriors, the Golden Jaguars will return home to defeat against the Bahamas on Tuesday, March 30.
On Friday, June 4 Guyana will travel to St. Kitts & Nevis for their third game and then host Puerto Rico on Tuesday, June 8.
The Golden Jaguars' best run came in the FIFA World Cup qualifying games in the run-up to the 2014 tournament in Brazil, where they reached the penultimate round of the CONCACAF zone.
During that run they had a memorable showing against Trinidad and Tobago on November 11, 2011 at the Guyana National Stadium where Guyana had won 2-1, thanks to goals from Ricky Shakes and former English Premier League player Leon Cort.
Trinidad and Tobago's Guyana last faced off during the 2019 CONCACAF Gold Cup, where, despite a formidable goal scored by Neil Dance, both sides ended the match with a 1-1 draw.
Guyana Puerto Rico only played at the senior level twice, with the US territory winning 2-0 in 1993, and the Golden Jaguars, with a goal from defender King Solomon Austin, winning 1-0. The clash against St Kitts and Nevis will mark Guyana's third meeting, but it will also be the first time the two countries have met during a World Cup qualification tournament.