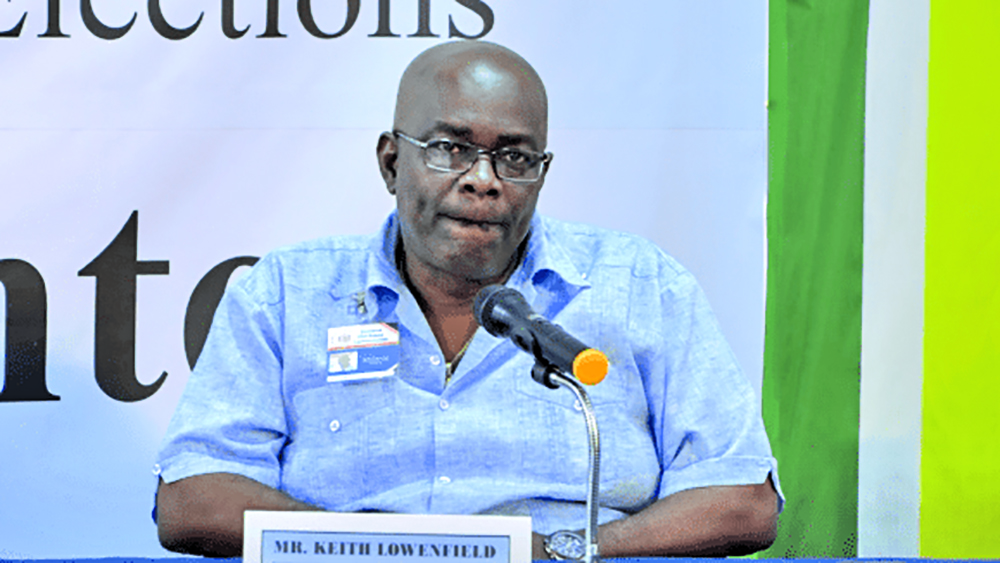 Order CJ
Chief Returning Officer Keith Lowenfield on Wednesday handed over the original copies of the Voting Statements (SOPs) of March 2, 2020 General and Regional Elections, as well as the Recount Statements (SORs), to the Supreme Registrar Lys.
This was in line with a court order made by Chief Justice (s) Roxane George last week, directing the Guyana Elections Commission (GECOM) to have all SOPs and SORs submitted to the Registrar to "keep safe "before January 29.
On Wednesday, Lowenfield came up in the High Court in the company of heavy security and handed over the controversial documents to Registrar Sueanna Lovell.
Also present at the High Court for transfer were retired GECOM Chairman Justice Claudette Singh, along with Commissioners Sase Gunraj, Vincent Alexander and Desmond Trotman.
The accommodation process was a tedious one that lasted all day into the evening. A further 2339 SOPs and 2339 SORs had to be recorded individually.
Lowenfield told reporters he was there to hand over all the SOPs sent to him following ballot tables at every polling station nationwide, and also the SORs that resulted from the subsequent 33-day national recount exercise.
The Chief Returning Officer, who had become absorbed in it, further revealed that when he transmitted the original documents, he also kept copies as a matter of record.
Guyana Times spoke with Supreme Court Registrar Sueanna Lovell throughout Wednesday, when she noted that they are still processing the documents.
When contacted around 18:30h, Lovell told this newspaper that they had about 30 minutes more before they wrapped up the exercise.
Later that evening, he told Guyana Times, "Yes, the process was completed". When asked if there were any glitches, Lovell responded, "Nothing of the sort."
The order was made for GECOM to hand over the documents for safekeeping at the hearing of one of the two election petitions filed by the APNU / AFC, which seeks to enliven the March 2020 election results.
PPP / C Attorney Senior Trinidadian Counsel Douglas Mendes reminded the Court that the Representation of the People Act allows the CEO to destroy all election documents after a period of 12 months has elapsed. That 12 month period would end on March 2, 2021.
This post was supported by Attorney Kashir Khan, who represents two of the minor parties. It had also requested that the controversial SOPs and SORs – equivalent to just over 5000 pages – be placed in the care of the Registrar, as a guaranteed safe place.
At that hearing last week, the Chief Justice rejected one of the Coalition's election petitions on the grounds of improper service.
A 99 of 2020 petition, filed on September 15, 2020 by APNU / AFC agents Monica Thomas and Nurse Brennan, had asked the court to order GECOM Chairman Retired Justice Claudette Singh to declare David Granger President.
However, Justice George dismissed the petition on the grounds that it had not been properly presented to former President Granger.
Granger, who is also the leader of the APNU / AFC Candidate List and named as the second respondent, served September 25, ten days after the filing of petition 99 of 2020 on September 15 and five days outside the legal schedule set out in the National Assembly Elections Validity Act.
Petitioners' lawyers had argued that Granger is not a necessary party to the case and that late service cannot be grounds for dismissing the petition. In fact, Granger had given the court a notice of intent not to oppose the petition.
But the Chief Justice found that Granger was properly named and a necessary party, as he not only represented himself but also everyone on the list he leads. He added that by filing the notice of no contention, although made prematurely, Granger accepted himself as a proper party but also noted that while respondents may conclude that they were right parties, the the court may disagree.
However, since then APNU / AFC has indicated its intention to appeal against this decision.
During a virtual press conference on Monday, Opposition Leader Joseph Harmon stated that the party believed it had sound grounds for the petition, and would therefore appeal the dismissal.
"I would appeal against the Chief Justice's decision in relation to petition 99, which he ruled was not permissible. We do not agree with her ruling, and as the law provides, we will appeal against that decision, "said the Leader of the Opposition.
According to Harmon, the petitions address key questions related to the March 2 General and Regional Elections.
However, in the meantime, he indicated that they would make submissions to the court on the surviving petition in time for the April 7th hearing.
"While they are addressing separate issues, they will establish that fraud is commonplace in the March 2020 elections… With regard to petition 88, we expect a hearing of that petition in the courts in early April. In the meantime, the parties will provide fortnightly court submissions, leading up to that date. So, we already have a timeline. "(G8)
Read More Interesting Content