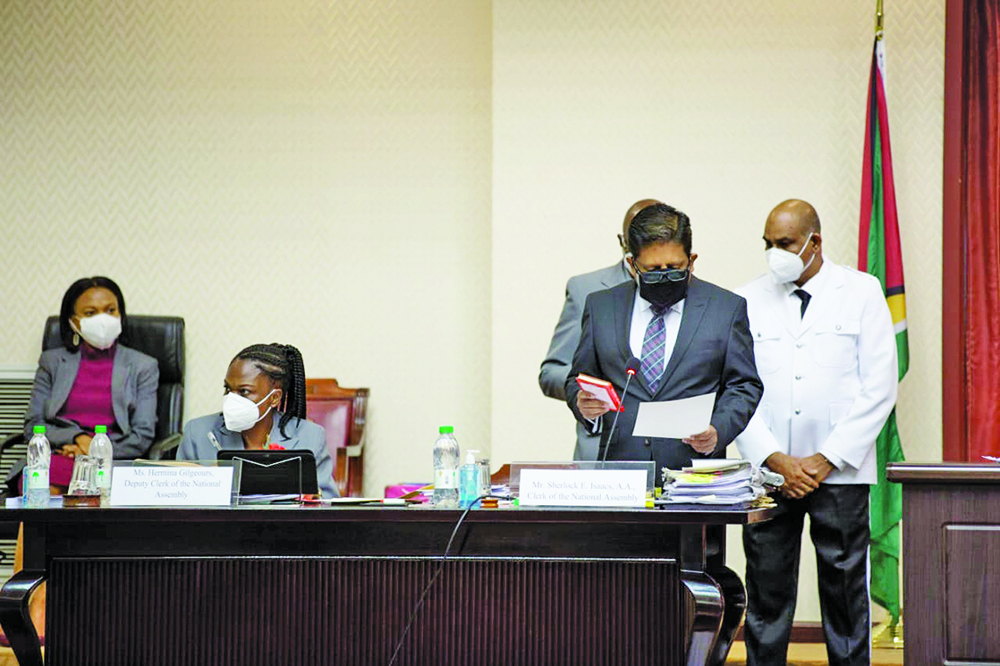 Home
News
Ministers Ashni Singh, Oneidge Walrond signed in as MPs
Senior Minister in the Office of the President with responsibility for Finance, Dr Ashni Singh, was sworn in Wednesday morning as a Member of Parliament (MP).
That was his first appearance in the 12th Parliament since his appointment on November 5, 2020.
President Dr Irfaan Ali sworn in as Minister. He had previously served as Minister of Finance under the People's Progressive Party / Civic Administration (PPP / C).
The Finance Minister is currently preparing to present the first full-year National Budget of the Ali-led Government in the first quarter of 2020.
In a statement on Wednesday, Dr Singh asked that the 2021 Budget outline the Government's medium and long-term priorities including its vision for the country over its five-year term.
"The manifesto outlines many of our major initiatives and major projects will be our main departure points. In addition, we also hope to try to simplify the Budget so that the expenditure we face is also more efficient. We have highlighted that our predecessors in office are far more extravagant in spending in some areas and hope to streamline some of that spending, not necessarily eliminate it, but channel it into more productive areas … which will contribute to a more meaningful and direct way of stimulating economic growth and improving people's lives, "Minister Singh elaborated.
Meanwhile, Minister for Tourism, Industry and Commerce Oneidge Walrond was also sworn in as a Government MP at the National Assembly sitting on Wednesday.
This was after interim Chief Justice Roxane George declared earlier this month that Walrond's previous appointment in August was unlawful and that he was not a legitimate member of Guyana's 12th Parliament because of his dual citizenship status.
Attorney General Anil Nandlall had admitted that the Government acknowledged that Minister Walrond's appointment could have been in conflict with the Constitution as she was still a US citizen at the time she was sworn in as Minister and senator in August .
Nevertheless, Nandlall had revealed that the Government had already taken steps to remedy this constitutional breach by having Walrond re-sworn in as Minister on December 1, 2020. (G8)
557624
Read More Interesting Content