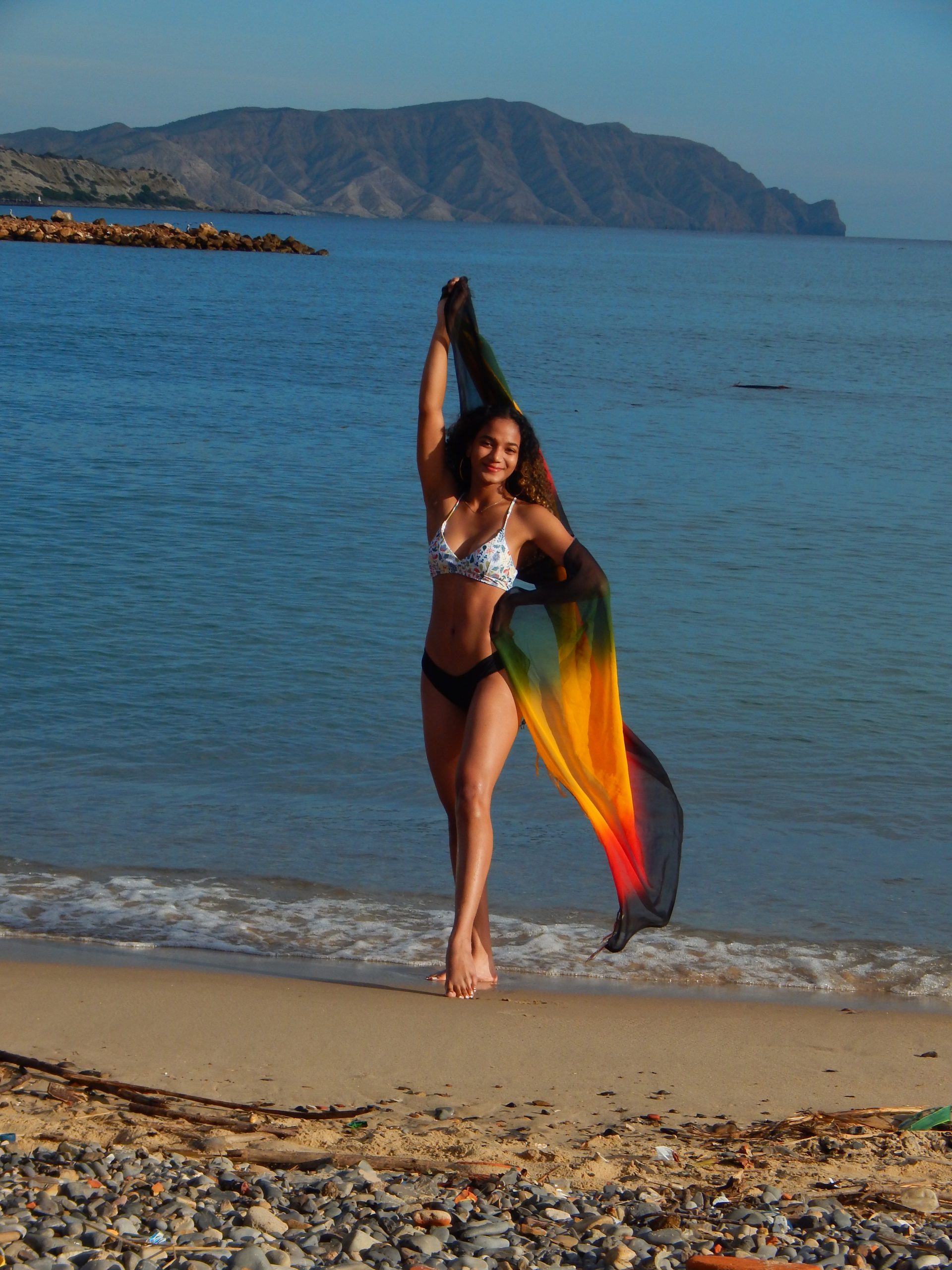 Shaneeza Persaud, a Venezuelan of Guyanese descent, was crowned Miss Caricom 2020 in October at the 16th annual Miss Caricom International Beauty Pageant. "It was a little unbelievable at first … It's a great opportunity," said the new queen.
A little more than a month ago, The Scene featured Berbician Ederle Stephen who was crowned queen for the pageant's online category. The pageant presented six winning categories with Miss Caricom 2020 in the top category. As such, Shaneeza will represent the Miss Caricom International Organization at the United Nations next year.
"Ever since I was a young girl, I have loved watching pageants and beauty competitions like Miss Venezuela, Miss Universe, etc.," said Shaneeza. "I loved seeing the participants showcase their talents, talk about their lives and what inspired them, and the joy on their faces when they won. I also loved learning about the activities and projects they participated in after the pageant, [as well] such as how they used the platform and the resources provided to them. It's always an interesting world for me. "
Now 17, Shaneeza has always been outgoing with a cheerful demeanor. She loves to dance and spent much of her life in a dance academy. She is also disciplined and committed to school work, and an animal lover.
During the first decade of her life, Shaneeza lived in Guyana where she attended St Gabriel's Primary School until the fifth grade before returning to the country of her birth where she studied at EU Anzoátegui and later at the Liceo Nacional Cajigal where she graduated r high school. .
She learned about the pageant last year while modeling at an event in Guyana. The founder, Guyanese Dr Monica Sanchez from the United States, approached her as she believed she was fit to compete in the pageant and encouraged her to enter.
Shaneeza recalled that she started training weeks before the pageant, but because of the pandemic, the competition was stalled. She, like all the other contestants competing for the various categories, was required to send photos dressed in evening dress, swimwear and business clothing. Shaneeza explained that she made a special effort to see that there was a different background for each photo session. She was also required to send a video detailing how the pandemic has affected her life. The young woman added that she had spent extra time writing a script for her video before filming. She admitted she had done several takes before she could perfect it.
In his video, he said: "The COVID-19 pandemic has brought a lot of change to the world. We are affected by quarantine and social distance in so many ways. Education is different, homes have become a workplace for millions, [and] Saturday night reunions have turned into Saturday night Zoom meetings or Skype calls. "
He went on to talk about wearing face masks and social distance becoming the new norm and about the negative impact the pandemic has had on society. Shaneeza noted that according to studies, the effects of quarantine have affected many people psychologically including symptoms of post-traumatic stress, confusion and anger. He further listed other effects such as financial loss, frustration, misery and inadequate supplies, among others.
However, his video also highlights in the end how many people have made a positive impact. "Amid all the chaos of the COVID-19 pandemic, we can also appreciate what we have learned during the time spent at home in quarantine. In recent months, we have had the time to grow and learn, create and discover, analyze and reflect. We are immersed in new hobbies and set aside time to learn new things. During this quarantine we have become bakers, artists, fitness experts, business owners, and so much more. We took this time to do things we never thought we'd do, and we've learned so much. The time we've spent in quarantining and practicing social isolation has shown us to value ourselves a bigger deal, cherish the time we have with our loved ones, and to take care of ourselves and ourselves health. Our day-to-day lives have changed, and we have adapted to change, "he said.
One concern she has is that the pandemic did not allow bonding among competitors. They all trained individually and didn't see each other until the day of the pass.
Despite its online location, Shaneeza shared that she was still able to draw other important lessons from the competition. She noted that the pageant had taught her that technology helps us do almost anything and even at a time like this, people can still connect, participate in various activities, and share their talents and abilities while being in different countries and sit in comfort. from their homes.
When asked if she has her eyes set on any other pageants, she said that for the time being she doesn't but if the opportunity provides herself, she won't let it pass.
Shaneeza aspiring for a career in digital or international marketing is currently a first year Marketing student at the University of Guyana. She is currently doing online classes from the comfort of her home in Barcelona, ​​Venezuela but plans to return to Guyana next year to continue her studies.
Like the new Miss Caricom, she has several projects in mind that she hopes to undertake during her reign that she will implement with the support of the organization. They are currently working on a project that will help young entrepreneurs in her province, Anzoátegui.
The Miss Caricom Foundation was not able to physically crown the new queen but sent the money to buy her crown and trophy.
Other winning entries in the pageant were Little Miss Caricom Queen won by Guyanese Emma Mohammed; Mr. Caricom King, also won by Guyanese Rondal Calender, Miss Teen Caricom won by Nasvaeh Benoit of Saint Vincent, and Miss Caricom Bilingual won by Laura Sanchez of Panama.
The Miss Caricom Foundation is well known for representing a platform that promotes the empowerment of young people. Winners are selected on the basis of their physical attributes as well as their talent disposition.