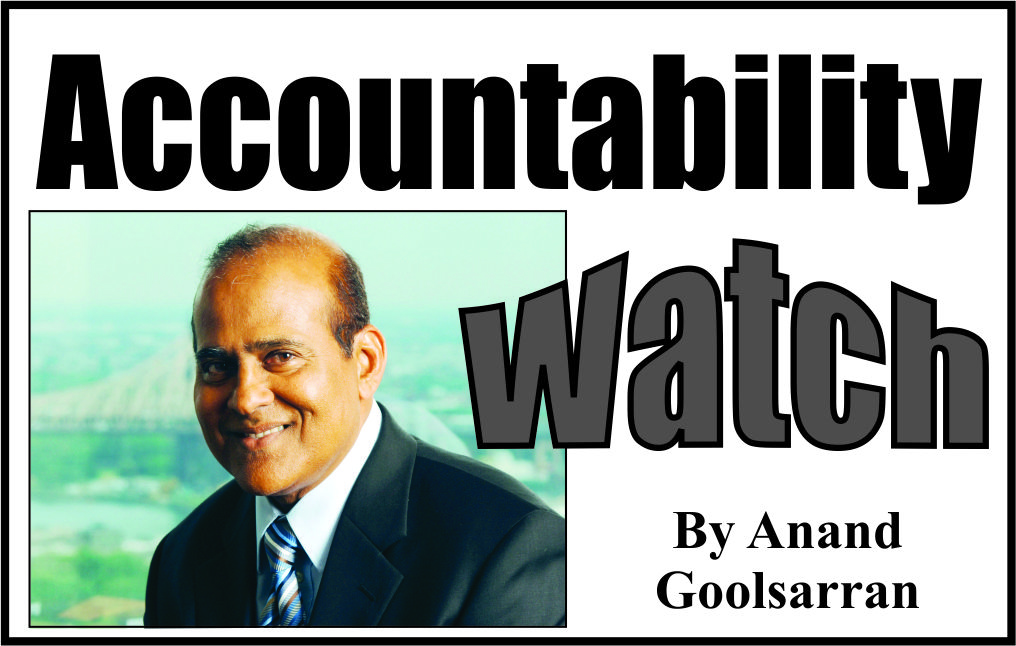 In last week's article, we began a discussion on the operations of National Industrial and Commercial Investments Ltd (NICIL) in light of the controversy surrounding its role in leasing and disposing of State lands in questionable circumstances. This was at a time when Government status was temporary Administration status, following a no-confidence vote on 21 December 2018. The Caribbean Court of Justice had advised that, given its carer status, the Government should restrain in its legal authority, suggesting that no major decisions should be made, such as the disposal of State assets.
Clarification required. Just as NICIL was incorporated as a private limited liability company, it is in fact a government company and therefore comes under parliamentary oversight. Section 344 of the Companies Act 1991 defines a government company as one in which 'not less than 51 per cent of the paid up share capital is held by the Government and includes a company which is a subsidiary of a Government company'. In addition, since its incorporation until 2002, NICIL has received an annual subsidy approved by Parliament to meet its operating costs. In addition, by Section 345, NICIL is required to audit its accounts annually and submit the related reports to the Assembly within nine months at the end of the financial year.
The authorized and paid-up capital of NICIL is $ 100,000, all fully owned by the Government. The word 'private' merely indicates that, unlike the case of a public company, such as Banks DIH Ltd, there are restrictions on the transfer of shares. It does not imply that the Government has no role in the affairs of the company. Indeed, the Minister for Finance is responsible for appointing board members. During the period 2002 to 2015, the Minister for Finance chaired the board which also included other key Government officials as well as the former Head of the Presidency Secretariat.
Repeat last week's article
We traced the history of NICIL's operations since its incorporation in July 1990 to take over the functions of the Secretariat of Public Corporations whose existence ceased by virtue of the dissolution of the Guyana State Corporation. To date, we have discussed the circumstances in which NICIL was incorporated and its operations up to the end of 2001. During this time, NICIL paid to the Treasury all dividends from public corporations and other Government interest companies as well all the proceeds from the Government's privatization program as outlined in the Privatization Policy Framework Paper laid in the National Assembly in 1993. The Paper listed 15 state-owned / controlled entities, or interests in them have already been diverted, and additional entities 20 are still being diverted.
We also looked at NICIL operations after 2001. By virtue of a Management Cooperation Agreement entered into by NICIL, the Ministry of Finance and Government Privatization Unit, the NICIL operations and the Privatization Unit were merged. The Agreement was to remain in force unless Cabinet decided otherwise, an indicator that the Agreement would terminate once all entities set out in the Privatization Policy Framework Paper had been fully diverted.
With effect from 1 January 2002, NICIL ceased to pay over the Treasury dividends received as well as privatization proceeds and used such funds to fund various projects, such as the Marriott Hotel, Sparendaam Housing Scheme, Berbice River Bridge and the Amaila Falls. This was contrary to the 2017 and 2018 Articles of the Constitution which require not only all such profits to be paid into the Consolidated Fund but also parliamentary approval through the national budget to go to expenditure on government projects.
NICIL also took on the role of Project Delivery Unit. It received funds from various State agencies to undertake several projects and pay such funds either as advance payment or upon presentation of bills / receipts and other supporting documents. NICIL, in effect, became a 'parallel' Treasury. However, given NICIL's limited ability to effectively monitor the implementation of these projects, it was not surprising that there was a lack of proper accountability for the funds distributed.
In today's article, we continue our discussion of the changing role of NICIL over the years.
State property vested in NICIL
Although NICIL is not a public corporation, according to Section 66 (1) of the Public Corporations Act, the Minister may, by notice in the Gazette, apply any provision of the Act, with modifications, or any modifications specified in the notice to any one body corporate, which is not a corporation, owned by the State or in which the control of an interest vests in the State or in any agency on behalf of the State. A notice was made dated 18 July 2000 to the effect that Section 5 of the Act will apply to NICIL. That section provides for the vesting of immovable and immovable property through a public corporation upon its establishment. This is to facilitate the commencement of new corporation operations. As NICIL was incorporated in 1990, it is not a new State entity. Therefore, it is unclear how Section 5 could be applied to NICIL.
During the period 1991 to 1997, Government investments in 19 public corporations were vested in NICIL with nominal assigned values ​​ranging from $ 0 to $ 10, except in the case of Guyana Stores Ltd. shown at a valuation of $ 3.2 million at the end of 2001, in accordance with Table I: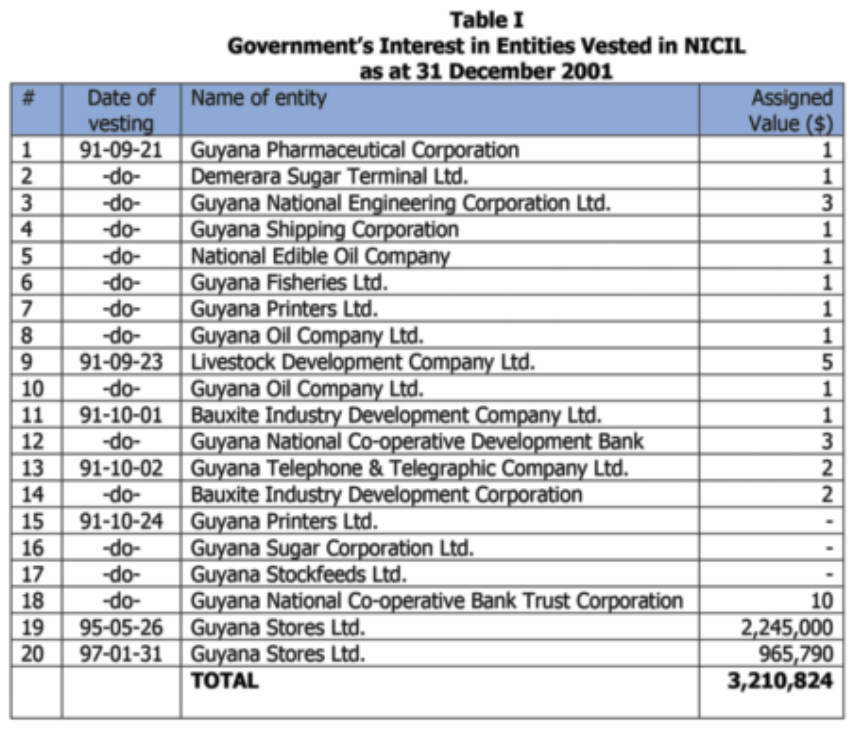 During the period 2002-2014, 35 orders for vesting of State property / assets were issued in NICIL. By Order No. 45 of 2008 dated 29 December 2008, 209.343 acres of land in LPT Block with letter XXX of GUYSUCO was transferred to the Government of Guyana. Of this amount, 103.88 acres was transferred to NICIL by Order No. 4/2010 dated 12 March 2010, at no cost. Similarly, on December 29, 2008, 400.340 acres of land at Cummings Lodge, Industry and Ogle was transferred from GUYSUCO to the Government of Guyana, but it is unclear whether any of these lands were formally vested in NICIL.
NICIL acts as agent for GUYSUCO properties
NICIL acted as agent for the sale of GUYSUCO properties. A total of 21 properties were sold primarily in Georgetown, East Bank Demerara and West Coast Demerara, to individuals and agencies, including Demerara Bank, Republic Bank, Guyana Bank of Trade and Industry, and Mines Services Ltd.
Disposal of State property by NICIL
During the period 1995 to 2011, NICIL sold 65 State assets / property, and transferred their titles through vesting orders signed by the Minister of Finance, including Sanata Textiles Ltd., Guyana Pharmaceutical Corporation, and certain GUYSUCO lands on the East Coast Demerara vested in it. The authority quoted for doing so was Section 8 of the Public Corporations Act which reads as follows:
The Minister may by order transfer to a corporation or any other person, or let all or part of – (a) any undertaking or other property to any other corporation or other person or body corporate owned by him by the State or where a controlling interest is vested in the State or any agency on behalf of the State; (b) any commercial, manufacturing or research undertaking in the State.
However, the notice of 18 July 2000 refers only to Section 5 of the Act dealing with the vesting of State assets / property in NICIL.
Vesting of closed sugar estate assets in NICIL
In mid-2017, the Special Purpose Unit was established at NICIL, by a Cabinet decision with responsibility for the disposal of all GUYSUCO assets, except those of Albion, Blairmont, and Uitvlugt Estates. By an order dated 29 December 2017 signed by the Minister of Finance, these assets were vested in NICIL 'absolutely, free and clear of all claims and liabilities'. The order cites Sections 8 and 11 of the Public Corporations Act as the Minister's authority to do so. Section 8 has already been discussed. Section 11 deals with the reconstitution of any public or other body corporate; the merger of two or more corporations; transfer to a corporation or give all or part of an undertaking; and dissolve a corporation. Although the notice of 18 July 2000 refers to Section 5, Sections 6 and 11 appear to apply. Section 6 (2) sets out:
Any State-owned corporate body or controlling interest vested in the State or any agency of the State may be reconstituted under this Act by the Minister by order and there on the a reconstituted body corporate is deemed to have been established as a corporation under this Act…
In mid-2018, NICIL secured a $ 30 billion bond organized by the Republic Bank to recapitalize GUYSUCO and bring it back to profitability, based on GUYSUCO's strategic plan. The lending rate is 4.75 percent and the bond is for five years. However, there is disagreement between the two entities as to how the funds should be used. With the Government guaranteeing the bond repayment, the public debt to GDP ratio is likely to have an adverse effect.
To be continued –