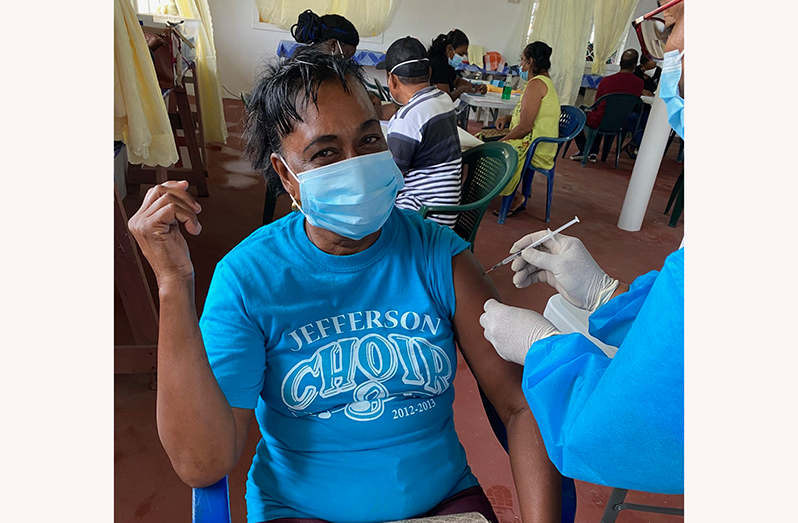 Hundreds of chronically ill people in the Pomeroon-Supenaam region on Sunday turned up at the Anna Regina Mandir Complex to receive their Sputnik-V vaccine. The massive vaccination campaign was organized by the Ministry of Health in cooperation with Guyana Hindu Dharmic Sabha and other interfaith organizations. The vaccines were administered by midwife Diane Sandy and Community Health Worker Lashana Peters. The vaccination drive started at 09:00 hours and ended around 15:00 hours.
The Sputnik-V is used to protect people aged 18 and over against COVID-19, the virus that has claimed the lives of over 250 Guyanese. The Sputnik-V vaccine stimulates the body's natural defenses (immune system) and causes it to produce its own defense (antibodies) against the virus. The Sputnik-V vaccine was recorded as the first registered COVID-19 vaccine in the world on August, 11, 2020. It is manufactured by the Russian Direct Investment Fund (RDIF) in cooperation with the Gamaleya Center.
Dhanraj Iswarlall, 56, said he chose to take the COVID-19 vaccine because he wanted to protect himself from the terrible virus. Iswarlall also used the opportunity to encourage others to come forward and take the vaccine. Another recipient of the Sputnik-V vaccine was Sohodra Jaikarran. Jaikarran said she has been suffering from asthma, and as such, is happy to take the vaccine.
Tara Changirka of Anna Regina thanked the Regional Health Officer, Dr. Ranjeev Singh and the team for making the vaccines available to the people. Chandrika said after taking the vaccine, she felt more confident in health. Lall Gobindan from Lima also thanked the Ministry of Health. Gobindan, 44, said when he heard he was in the category of those eligible for the vaccines he was delighted. According to Dr. Singh, it is important for people to take the vaccine to protect themselves from COVID-19.
There are permanent vaccination sites at Suddie, Huis'T Dieren, Queenstown, Anna Regina and Charity health centers. So far, about 3,000 people in the region received their vaccine. Dr Singh said that while the vaccine protects people from the virus, they must also continue to wear a face mask, avoid crowds, clean hands and surfaces regularly and maintain social distance. The vaccination team will visit the Pomeroon River next week to give vaccines to the Amerindians.