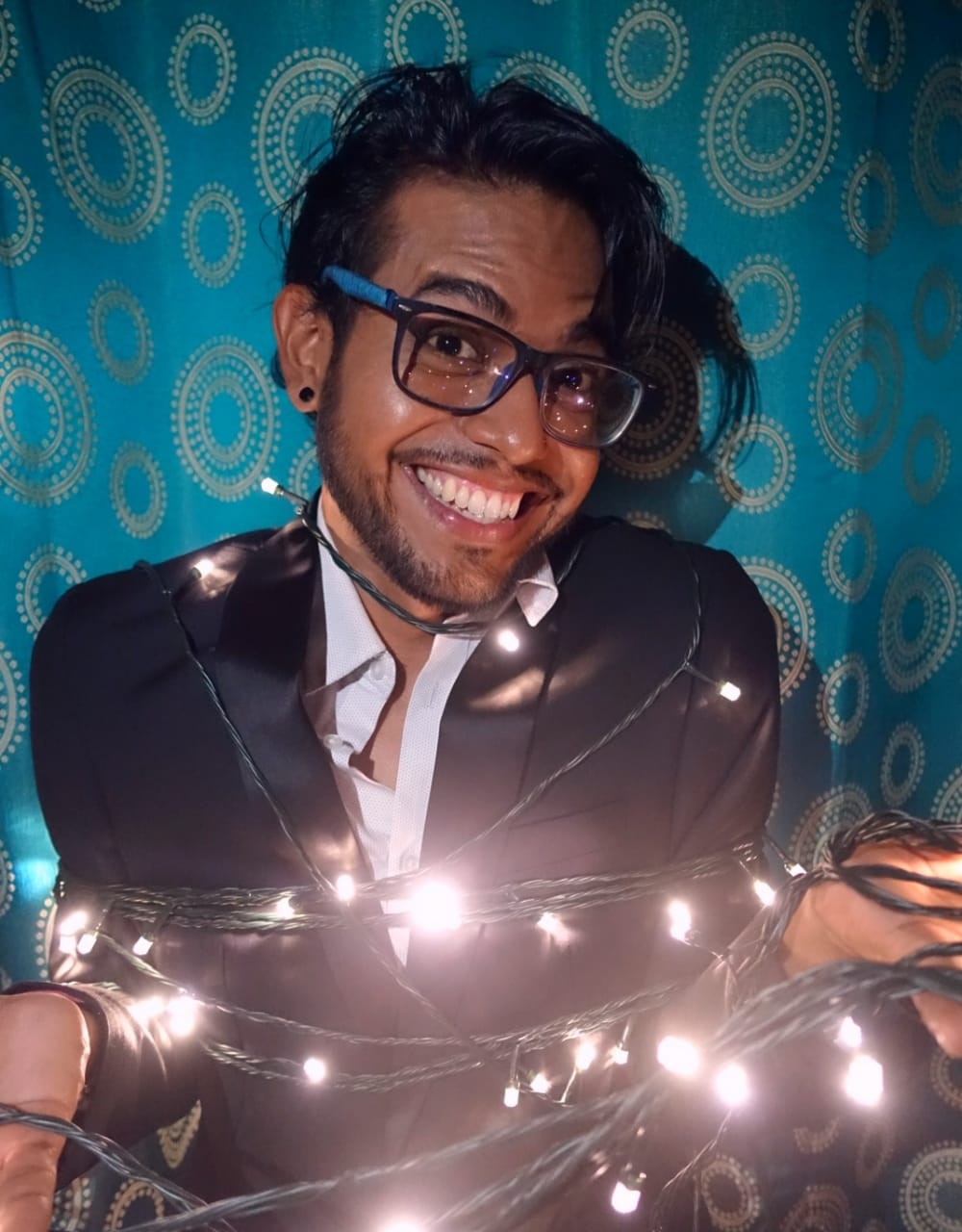 It may not be a household name yet but you've probably seen Randy Fredericks' work. Fredericks, 33, a Visual Arts teacher at Mahdia High School, is currently doing freelance work designing and decorating businesses and homes for the Christmas season.
He is the artist behind the Giftland Mall Christmas lights and decorations. He said he had offered quite a few designs before choosing and implementing the design in Giftland, while also stating that his client also had a role to play as the design needed to be to the customer's satisfaction.
But while he's decorated several businesses and homes and has several others he needs to complete before Christmas, Fredericks already has his sights set on the future and a bigger goal – to do his bit to foster a deeper appreciation for all kinds of Guyanese artists and works of art. It plans to launch a business next year where it will be able to do so.
In an interview, Fredericks said he believes his love of art has grown as a result of being around many artists as a child. He mentioned one in particular, Kathleen Thompson-Henriquo, who, he said, was his grandmother and inspired him to involve himself in arts and crafts. "I'm an artist. Been one all my life and I choose to decorate mainly because that's what people have been asking for. But, whenever I get the chance, I still do my art. I paint, draw, sculpt, interior designs, I do a lot of this. I'm also interested in culinary arts, performing arts. I'm done directing. I've directed music videos before. I've written songs before. I love art and animals, also nature, "he said.
According to Fredericks, upon returning to Guyana from abroad, he launched a business called Velvet and ran it for about eight to nine years before deciding to shut it down to travel.
Now, he says, he plans to restart his business, but this time he hopes it will allow Guyanese to see just how talented artists in Guyana really are.
"I discovered that art is not really respected in Guyana and many times Guyanese like to label or put an artist in a box. If you are an artist, you are an artist and make drawings. So with me, I see art as more than painting on canvas and just doing drawing to frame it, "Fredericks said. "It's a broader spectrum and there are many artists practicing here in Guyana who don't get the recognition they need. As an artist he may want to work with bamboo or glass; these are not painters, but they are artists too, so I am trying to create a space where these artists could be recognized, and their work can be appreciated in Guyana. I want to show that Guyanese can do much more than just what society could have called art. "
He explained that the business will be launched by May next year and will feature a number of young Guyanese artists, each specializing in their own art form. He added that with their skills, they hope to create unique pieces that may be of interest to hotels and other businesses in need of decoration.
"I'm going to be attracting a lot of young local artists, from sculptors, to painters, to it all. And so whenever a company wants a mural done we would have the task force to accomplish that. We want to create art that goes up in shops, hotels and things that you wouldn't normally get from other interior designers. Like real art, "he says.
While months are yet to go before the official launch of the business, Fredericks said they are already working on some pieces that will be featured at the opening.
"I really like sculpting. I love doing unique things and so we're working on getting samples to show the public what we can do by May next year, "he said.