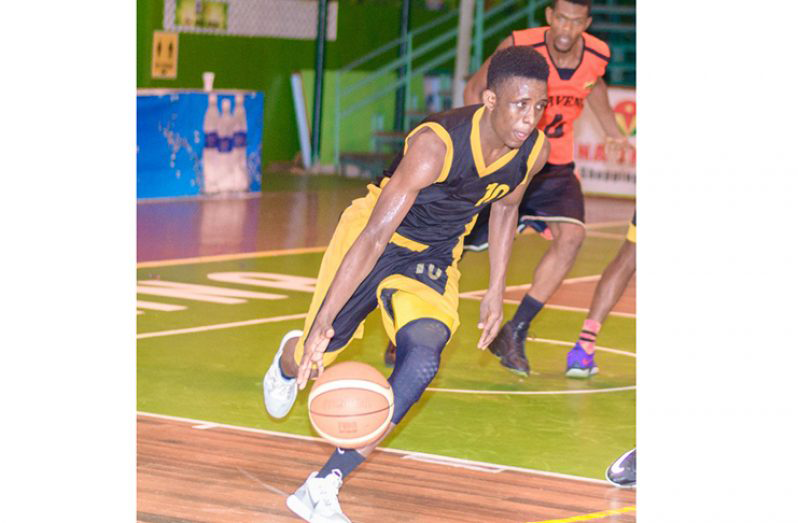 By Charwayne Walker
PROBABLY only three players in Caribbean basketball could boast of scoring 40 points or more in a CARICOM Championship game.
The players with that distinction are Jamaicans – former NBA pros Andrew Kennedy and Rumeal Robinson. The other is not known in international basketball circles. His name is Stanton Rose Jr. of Guyana Region 10, the same region that produced two-time CARICOM All Star guard Auric Tappin. Unlike his two more prominent 40-point colleagues, Rose's rise to stardom was without international exposure.
Andrew Kennedy was the first to register a 40-point game at CARICOM Championship level when he scored 45 points against Martinique at the YMCA Hard Court in Bridgetown, Barbados in 1985.
Andrew Kennedy studied at the University of Virginia and was drafted by the Dallas Mavericks in 1987. He was the 43rd pick. He also played professionally in Israel for 12 years, Spain and Italy.
His compatriot Rumeal Robinson scored 40 points against Trinidad & Tobago in the final of the 1996 CARICOM Championship at St Paul's Gym in Port of Spain, Trinidad. Robinson went to the University of Michigan and was drafted by the Atlanta Hawks in 1990 with the 10th pick.
He also played for the New Jersey Nets, Charlotte Hornets, Portland Trail Blazers, Phoenix Suns and Los Angeles Lakers.
Stanton Rose scored 41 points against St Vincent and the Grenadines at the 2018 Anthony Nesty Sports Hall in Paramaribo, Suriname.
Oddly enough, unlike his predecessors, Rose, the youngest at the Caribbean Basketball Championship, was only 18 to achieve this feat.
Here are some other solo performances for Guyana in FIBA-sponsored tournaments.
Keron McKenzie – 38 points against St Vincent & the Grenadines, Isaacs Kennedy Gymnasium, Nassau, Bahamas (2011)
Stanislaus Hadmon – 34 points against Barbados – Sports Hall, Georgetown, Guyana (1981)
Gordon Klaiber – 34 points against Antigua and Barbuda, Puerto Rico (2007)
Ray Victor – 28 points against Suriname, Anthony Nesty Sports Hall, Paramaribo, Suriname (2018)
Auric Tappin – 27 points against Jamaica, National Arena, Kingston, Jamaica (1991)
Nurse Steven – 27 points against Trinidad and Tobago, Cliff Anderson Sports Hall, Georgetown, Guyana (1994)
Lorenzo Withrite – 27 points against Jamaica, St Paul's Gymnasium, Port of Spain, Trinidad & Tobago (1996)
Rawle Marshall -28 points against St Vincent & the Grenadines, Multipurpose Gymnasium, Tortola, US Virgin Islands (2014)
Lugard Mohan – 26 points against US Virgin Islands, St Garfield Sobers Gymnasium, Bridgetown, Barbados (2000)
Lugard Mohan – 26 points against Belize, Sir Garfield Sobers Gymnasium, Bridgetown, Barbados (2000)
Nigel Hinds – 25 points on Debut vs Barbados, YMCA Hard Court, Bridgetown, Barbados (1985)
Auric Tappin – 25 points against Antigua and Barbuda, National Sports Hall, Georgetown, Guyana (1988)
Keron McKenzie – 25 points against US Virgin Islands, Isaacs Kennedy Gymnasium, Nassau, Bahamas (2011)
Ray Victor – 25 points against Barbados, Anthony Nesty Sports Hall, Paramaribo, Suriname (2018)
Leon Christian – 24 points against Suriname, Cliff Anderson Sports Hall, Georgetown, Guyana (1994)
Lugard Mohan – 24 points against Jamaica, Sir Garfield Sobers Gymnasium, Bridgetown, Barbados (2000)
Gordon Klaiber – 24 points against US Virgin Islands, Puerto Rico (2007)
Kevon Creppy – 24 points against Bahamas, Puerto Rico (2007)
Gordon Klaiber – 24 points against Bahamas, Puerto Rico (2007)