On Wednesday, a KENFORD Downer named "Tallman" was jailed for the murders of his wife and two young children who died in a fire he allegedly started.
Downer, 36, appeared before Magistrate Crystal Lambert at Vreed-en-Hoop Magistrates' Court on three counts of the indictable charge and was remanded in prison until January 27.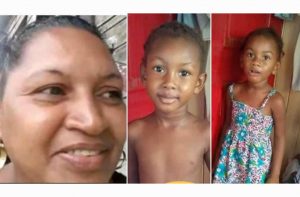 Details of the crime alleged that on December 12 in the Four Miles Squatting Area, Bartica, Downer had killed 48-year-old Caroline Kennedy and their two daughters, 5-year-old Mariana Downer and 3-year-old Gabriella Kennedy. According to a police statement, at approximately 21:30 hours on the day in question, an unknown person telephoned Bartica Police Station and reported a house fire.
The water tender was unable to reach the location and as a result, a bucket brigade was formed. When the fire was extinguished, what appeared to be the lost remains of three human beings were found in the southeast corner of the house at one point, police said. The victims' bodies were subsequently removed from the scene and taken to Bartica Hospital Mortuary, where a post mortem examination of the remains was carried out confirming that they had been burnt to death. According to reports, Downer allegedly admitted to police that he threw the structure with gasoline and set it up long before running into the bushes. This was done after he arrived home and heard the woman talking on the phone with one "Fatman", whom he suspected she had had an affair with.