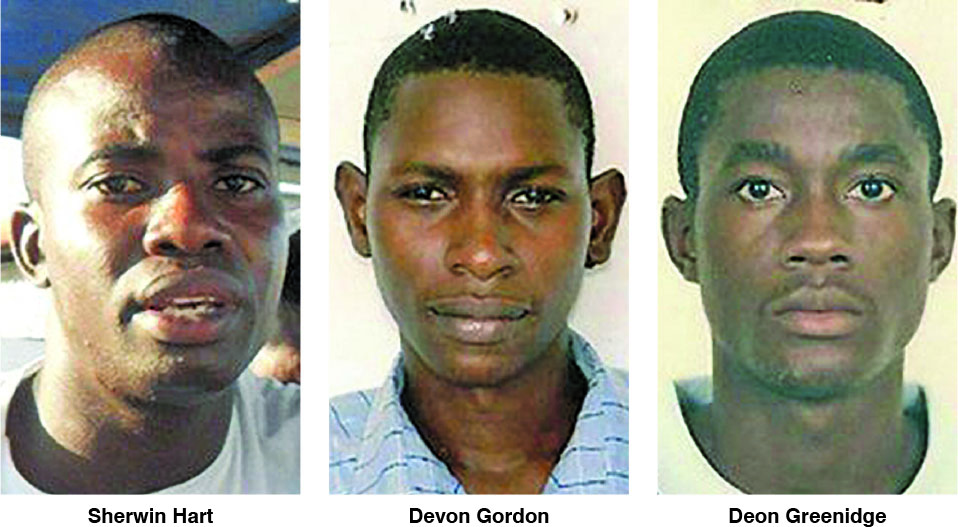 Home
News
Court of Appeal sets March 15 to hear arguments on capital legality …
Veterans on death row for murder
Three Guyana Defense Force Coast Guard (GDF) convicted of murder since 2013 and who remain on death row for execution have moved to the Guyana Court of Appeal challenging the legality of capital punishment.
The murder convicts – Sherwin Hart, Devon Gordon and Deon Greenidge – were found in 2013 convicted of the August 20, 2009, murder of Bartica gold miner Dwieve Kant Ramdass. They were subsequently sentenced to death by hanging by High Court Judge Franklin Holder.
Following a Case Management Conference (CMC) on Monday, Chancellor of the Judiciary Justice Yonette Cummings-Edwards and Appeal Magistrates Dawn Gregory-Barnes and Rishi Persaud announced that they would begin hearing full arguments in the case on March 15, 2021.
The Court of Appeal initially set aside Monday, January 11, 2021, to hear the matter but lawyers for the murder convictions asked for extra time to file further submissions. These will include debates on the legality of the death penalty.
Appearing on behalf of the appellants are Attorneys-in-law Nigel Hughes, Latchmie Rahamat and Ronald Daniels. Hughes has also informed the court that he will be leading new evidence on this issue and will be calling two witnesses – a professor at Middlesex University and a Professor from Columbia Law School.
Assistant Director of Public Prosecutions (DPP), Dionne McCammon will lead the case for the State.
It was reported that on the day in question, at Caiman Hole in the Essequibo River, the trio forced Ramdass to their boat and released him $ 17 million, which he was carrying in a box for his employer. Then they left Ramdass all over.
During the trial, the prosecution called 16 witnesses during the three-month case. The court admitted warning statements issued by former GDF coast guards. Based on a previous report, Gordon said in his statement that he had only been a soldier for about a year and a half. He said he was based in the Coastguard department and did patrol work, which was mainly "stop and search ships".
Between 13:00 and 14:00 on August 20, 2009, Gordon, Hart and Greenidge were on patrol. Gordon said they were searching with the Coastguard boat. He had indicated that Hart had driven the boat to Parika. He said he observed Hart talking to a man from East India while in Parika. The man later joined them on the Coastguard boat and moved away from Parika. Gordon's statement stated that the man was carrying a "brown box".
Gordon also said when they were in the middle of the river; Hart stopped the boat and told them the man had "nuff money" in the box. Gordon said in his statement that the three of them had decided to "kill the man" and "tek de money". Gordon also said he didn't see who threw Ramdass's body overboard, but only heard a splash in the water. He said they were sharing the money and called on his sister to get his share. Gordon said he gave the money to a "canter man" to give to his sister.
However, soon after they were all arrested, including his sister.
Greenidge, meanwhile, said in his statement that Hart pushed Ramdass all over the place. He said that after Hart pushed Ramdass over, he (Hart) had given him several million dollars along with Gordon to "shut up".
During the trial, defense counsel raised challenges to volunteering the warning statements. Counsel had submitted that their clients had been beaten while in Police custody. All Police witnesses denied those allegations. The men in their defense all said they did not write the warning statements and that the documents were written by Police detectives.
Read More Interesting Content