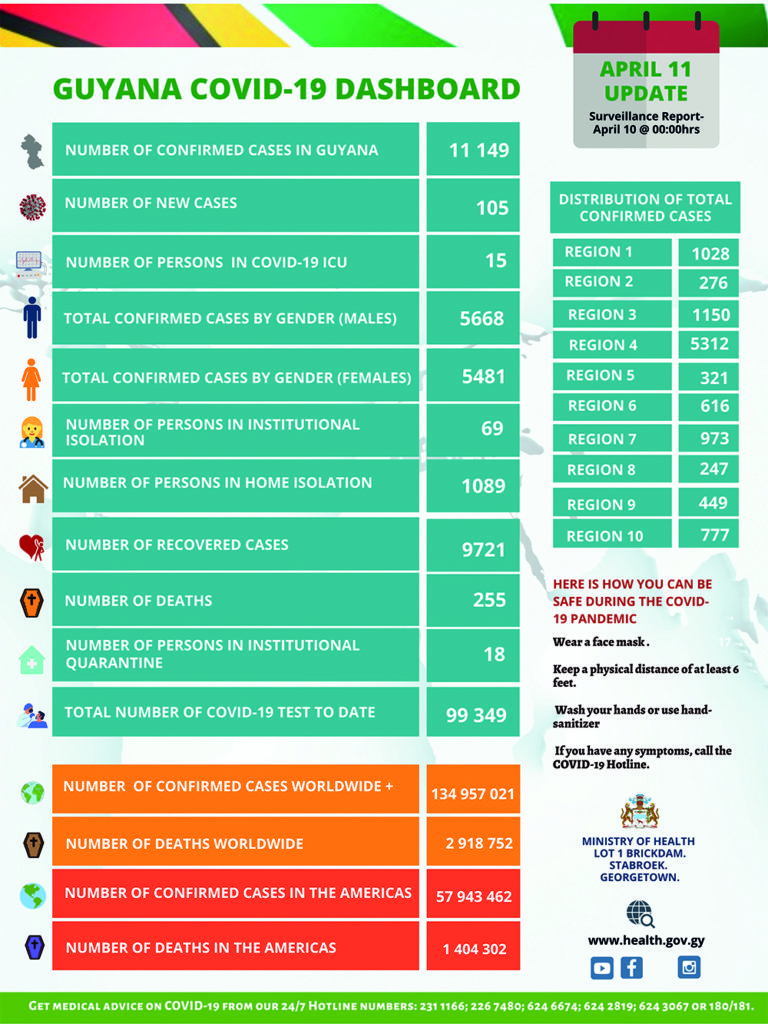 —105 new cases recorded; 15 in ICU
The deaths of Guyana COVID-19 have increased further following the deaths of three women who tested positive for the new coronavirus.
These latest deaths are a 41-year-old woman from Region Six (East Berbice-Corentyne); and a 63-year-old woman and a 65-year-old woman – both from Region Four (Demerara-Mahaica). These three women died Saturday while being cared for in medical facilities, the Health Ministry said Sunday.
With these, the total deaths from the pandemic in Guyana have risen to 255. This now takes the COVID-19 death toll for April to 22, with 12 deaths recorded in the past week only. The deaths were last recorded last Wednesday when a 59-year-old man from Region Six and a 73-year-old man from Region Seven (Cuyuni-Mazaruni) died.
Meanwhile, the Health Ministry also reported on Sunday that a shocking 105 new cases had been discovered in Guyana.
According to the updated COVID-19 dashboard, the total country of confirmed cases is now 11,149 – 5668 men and 5481 women.
However, only 1173 of these cases are currently active. This includes 15 patients in the COVID-19 Intensive Care Unit (ICU) – one more than Saturday's figure, and the remaining 1158 people separately, that is, 69 in institutional isolation and the 1089 other than home.
In addition, there are 18 people in institutional quarantine.
About 9721 people have recovered from the life-threatening virus in the country so far – 33 more recoveries than the figure reported the previous day.
A total of 99,349 people have been tested to date for the new coronavirus in Guyana.
Of the 105 new cases recorded on Sunday, four were found in Region Two (Pomeroon-Supenaam); 20 in Region Three (Essequibo-West Demerara Islands); 46 cases in the Demerara-Mahaica region; six in Region Five (Mahaica-Berbice); 11 in Region Six (East Berbice-Corentyne); seven cases in the Cuyuni-Mazaruni region, and the remaining 11 cases in Region 10 (Upper Demerara-Berbice).
The figures in the other three regions – Region One (Barima-Waini), Region Eight (Potaro-Siparuni) and Region Nine (Upper Takutu-Upper Essequibo) – remained the same.
To curb the spread of the virus and reduce the country's death toll from the pandemic, Guyana launched its vaccination campaign in February and has so far vaccinated more than 52,000 people. In addition, hundreds of people have also received their second-dose shootings.
Currently, COVID-19 vaccines are given to everyone aged 40 and over along with all frontline healthcare workers as well as members of Joint Services.
However, even as the vaccination campaign is proving successful after exceeding last week's target of 40,000, Guyana is seeing a rapid increase in the number of COVID-19 cases. This new wave of the virus is affecting many young people and making infected people sick so hospital admission is necessary.
"Over the last month, we've started to see an increase in cases … We've also seen younger people also affected and that's quite worrying … And out of seeing more cases, we've start to see more hospitalization. Of those who have been in hospital, a percentage of them are very ill so they will have to have ICU care, "Health Minister Dr Frank Anthony explained last week.
However, the Health Minister was unable to say whether there is a new COVID-19 variant in the country that is leading to these people becoming ill and more younger people becoming infected.
"We still don't know what variants we have in Guyana and we can only know if it is confirmed by genetic sequencing … It's hard to decide which one we have or if we have some because we don't have any but progression would you know if you have a sequence, "Dr Anthony had noted.
Previously, Guyana had sent 10 samples to the Caribbean Public Health Agency (CARPHA) and upon completion of the gene sequencing in February this year, the results showed that there were no traces of new variants of COVID-19.
However, since then no further tests have been carried out but Minister Anthony said they are hoping to send another set of samples for genetic sequencing.
Meanwhile, health authorities are reminding all Guyanese to adhere to the COVID-19 (No. 16) Emergency Measures protocols, which were extended for this month and will be in effect until April 30, 2021.
These measures include the national curfew 22: 30h (10 pm) to 04: 00h (4 am) which remains intact. Restaurants and places of worship continue to operate at 40 percent capacity. Gymnasiums will operate to a maximum of 50 percent while sporting events are permitted with the approval of the Health Minister only.
The order further emphasizes the need to use a face mask correctly and consistently when leaving your home; the importance of maintaining the six-foot physical distance from others, and the need for good hand hygiene to help reduce the spread of COVID-19.
According to the World Health Organization (WHO), on Sunday, there were about 134,957,021 confirmed cases worldwide along with 2,918,752 deaths.
WHO also reported on Sunday, in the American Region, that is, Latin America and the Caribbean, that the number of confirmed COVID-19 cases has increased to 57,943,462 while the death toll in the region has increased to 1,404,302.
Read More Interesting Content