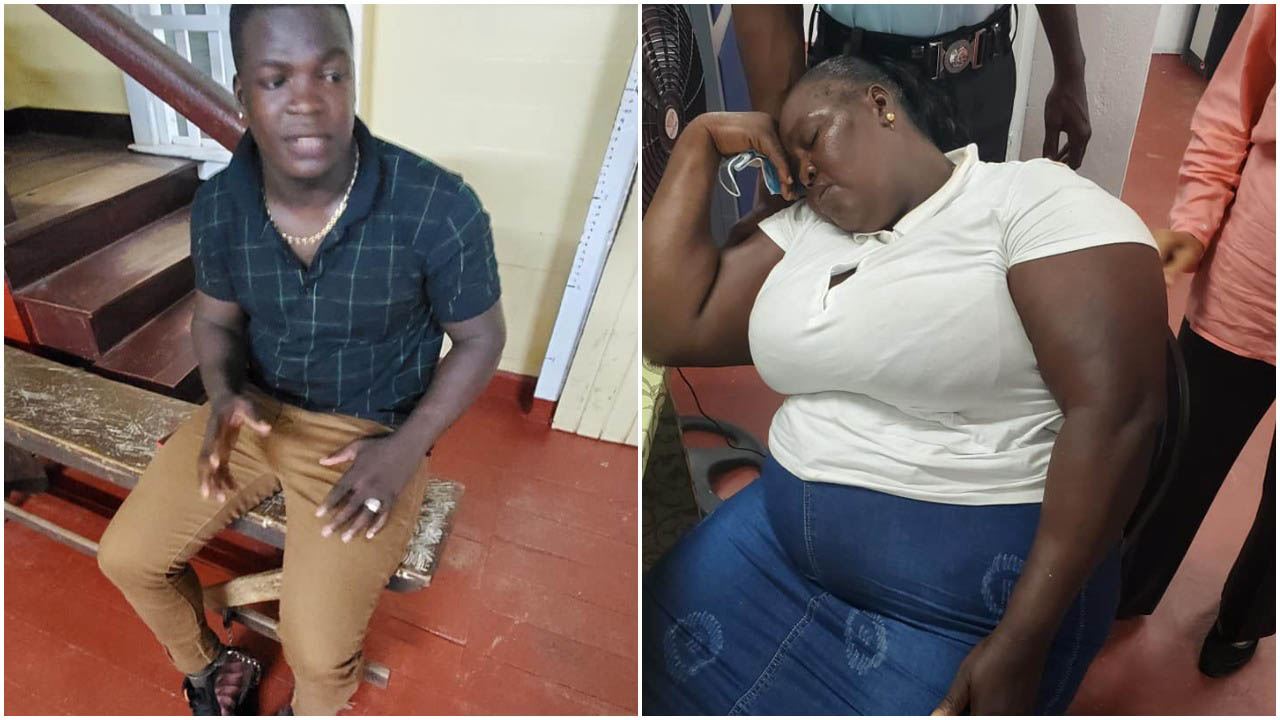 Two relatives of the teenage murdered cousins, Joel and Isaiah Henry, on Friday faced five charges in connection with clashes with Guyana Police ranks at Sparendaam Police Station.
Gail Johnson and her son, Colwyn Henry, mother and brother of Joel Henry, were jointly charged with two charges of assaulting a peace officer, and one count of disorderly conduct. Johnson was also charged separately with resisting a police officer and obstructing a peace officer, while Henry was separately charged with failing to produce a driver's license, and resisting a peace officer. Johnson and Henry, of Cotton Tree, West Coast Berbice, were released on a total of $ 30,000 bail for three of their charges and self-bail for the rest.
Police said all issues are set to continue on January 28th, 2021.
A confrontation occurred at the station last Tuesday night after the vehicle in which Johnson and Henry were traveling was stopped at a police roadblock in front of the station. Henry, who had been driving, was unable to produce his license, which led to controversy and ranks tried to arrest him.
Guyana Police have said Henry rammed profanities into ranks and pushed two of them off during subsequent attempts to arrest him. He has also allegedly dealt with several constables and also bitten him during a later turmoil at the station. Johnson, police said, also abused the police with weaknesses and seized his rank and ripped his clothes.
The Guyana Human Rights Association (GHRA), which Henry's family invited to Georgetown last Tuesday, subsequently called the police's account of what happened "self-serving" and accused him of "chaotic cruelty" on Johnson and her son.
The GHRA has said it was witnessing a chaotic scene with "Colwyn chained to the ground, family lawyer Nigel Hughes protesting his client's treatment, many policemen milling around for no apparent purpose, mum Colwyn steps in and out of consciousness as the result of high blood pressure as a result of being treated manually by the police. "
A video released by journalist Leroy Smith showed a rebellion between Johnson and several police officers at Sparendaam Police Station compound. Johnson can be seen screaming at the officers to stop "attacking my son".
"My son gives. Colwyn, Colwyn, Colwyn, "he screamed while clinging to him.
It took at least four officers to separate the two and at that moment Johnson started screaming.
Henry can be heard calling out to his mother as the camera briefly roams for policemen who were dealing with several body cuffs.
The Henrys family had traveled to Georgetown to attend a lecture by the Argentine expert, Dr. Luis Fondebrider, who was invited to Guyana to determine whether his organization, the Argentine Forensic Anthropologists Team (EAAF), could assist police efforts to resolve. the murders.