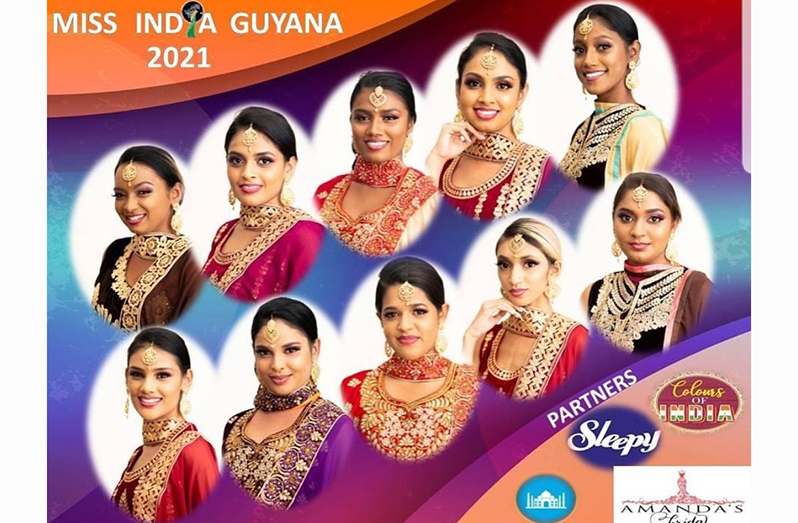 Ten contestants competing for the title
THE Race to the throne of Miss India Worldwide Guyana has started with 10 competing for the title. While the COVID-19 pandemic has set a new approach for the pageant, Miss India Guyana director Hashim Ali has revealed that the pageant can go ahead. Ten talented delegates compete for the crown and title of Miss India Worldwide Guyana.
In an interview with the Buzz, Ali noted that while no date has been set for the pageant winner to be crowned, consultations with the Ministry of Health as it relates to guidelines are still ongoing.
He said the pageant that was created as a way to not only connect Guyanese with their Indian heritage, but also to equip people with the training, skills and platform needed to achieve their diverse goals, is a very important part of Guyana entertainment scene.
"Miss India Worldwide pageant celebrates its 35th year this year and is considered one of the most prestigious pageants for Indian women, outside India, so the pageant itself dominates the traditional values and the customs are outside India, "explains Ali. "This year, like the previous two years, under my directorate would be no different … all participants will be involved in aspects of Indian culture such as dance and music, yoga, Sari draping and learning more traditional clothing. It is a very detailed training session in which participants take part. "
He noted that over the years the platform has had a positive impact on the lives of winners as well as pageant participants. He said there have been several successes including the opportunity to gain recognition in Bollywood.
Ali highlighted that the reigning Mrs India Guyana has already received some recognition in Bollywood as she is approached by two Bollywood directors and is making plans to venture back to India to pursue her dreams. In addition to this milestone, Miss and Mrs. India's reigning Guyana is also one of India's top talk shows in 2020.
"Recently, Miss and Mrs. India 2019 Rasheen Haniff and Kristal Inshan were the first Guyanese to feature in Kapil Sharma's show in India. It is actually one of the flagship talk shows where all Bollywood usually start for the first time their films or any major aspect or event they are working on. On the show, the two appeared alongside Bollywood icons, such as Dharmendra Deol, and his son Sunny Deol on their latest film back in 2019 so there are lots of tracks, "says Ali.
He noted that in addition to this, there are many opportunities not only for recognition but also for pageant participants to give back to their communities and various charities. During the pandemic, Miss, Mrs. and the reigning Teen India Guyana have all played their part in the distribution of COVID-19 relief supplies and packages.
Meanwhile, Ali revealed that the first India Mr. Guyana Worldwide is also being held this year. Ali told the Buzz that, following the consultation with the Ministry of Health, a decision will be made as it relates to the date and mode of the pageant, which will take place more or would Guyanese people be able to enjoy the pageant safely in accordance with the guidelines.