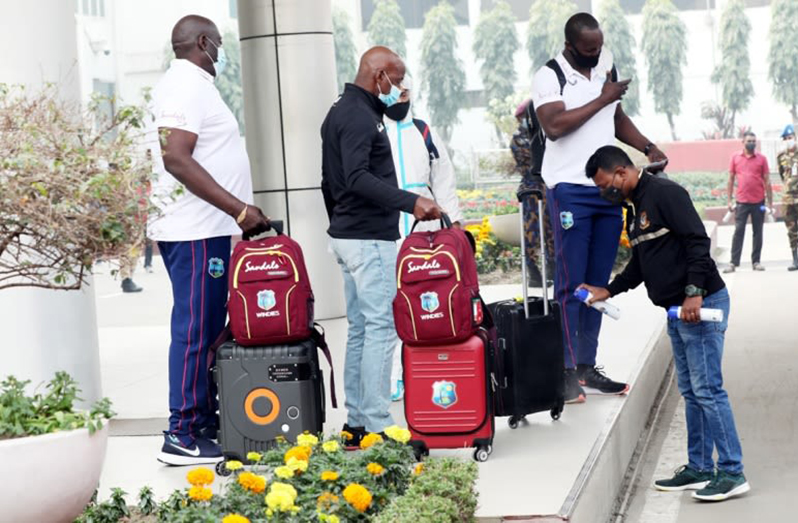 (BBC) – The West Indies' 38-member contingent arrived in Dhaka on Sunday morning to become the first international side to reach Bangladesh since the Covid-19 outbreak.
The pandemic has already had a direct impact on the trip after fast bowler Romario Shepherd, who was part of the tourist ODI squad, returned a positive result in Guyana before they left.
Barbados fast bowler Keon Harding, 24, has been named Shepherd's substitute, making him nine uncapped players in the 15-man ODI squad. Because of the pandemic, many senior West Indies cricketers have opted out of the tour for the ODIs and Tests.
Those arriving on Sunday will undergo Covid-19 testing, after which they will isolate themselves in their hotel rooms for the first three days before being tested again; if they test negative on both tests, they are allowed to train from the fourth day.
West Indies will play warm-up one day, on January 18, on BKSP land in Savar, some 40km from Dhaka, before the first ODI on January 20.
A third round of testing will take place after day seven of the tour and also once before the start of the ODI series. The Bangladesh board will reportedly also provide local 'net' bowlers, who will be housed in a "mirror bubble" alongside other service providers and ground staff, in accommodation facilities inside Shela Bangla National Stadium . Both sides will also be tested on arrival at Chattogram (Chittagong's official name) for the third ODI on January 23, and there will be more tests before and during the Test series, which is scheduled for next month.
BCB media committee chairman Jalal Yunus said they had taken all contingencies into account when planning the bio-safe bubble for the trip. He said the BCB President's Cup and Bangabandhu T20 Cup in October and November gave them a clear idea of ​​what to expect.
"We are very happy to return to international cricket after a long time," said Yunus. "It's a challenge to run a series during a pandemic. We are very confident that we can complete this series without any obstacle. We are prepared to deal with any type of emergency at both locations. We have gained experience of bio-bubble having held two domestic tournaments. Hopefully it will be a very smooth ride.
"They are [West Indies] has agreed to comply. The agreement includes all the things to do and not do. We will be strict about the whole trip. The biggest thing is that there will be multiple tests. All hotel attendees and catering staff have been tested, and the same applies to any service provider, including 'net' bowlers and the board photographer. "
This upcoming ODI series will be Bangladesh's first international assignment since Zimbabwe toured the country in February and March last year, when the T20I series had limited access with Bangladesh not yet feeling the full power of Covid-19 . Since then, Bangladesh has had flights to Ireland, England (for Irish ODIs), Sri Lanka and New Zealand postponed, apart from home flights against Australia and New Zealand.