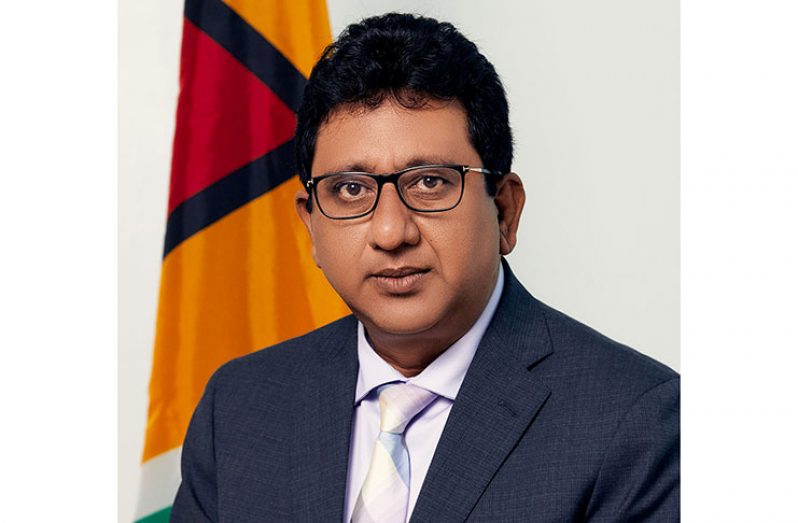 Home
News
Trading account for alleged operators of Ponzi scheme in default – lawyer
… Laws will be tightened to tackle other fraudulent investments, PE
The trading account is currently for Accelerated Capital Firm Inc., the company accused of fleeing millions of Guyanese for millions of dollars in a large Ponzi scheme. This was recently revealed by one of the firm's representing attorneys, Cuban nationalist Yuri Garcia Dominguez and his wife, Ateeka Ishmael.
At a recent press conference, the solicitor said, "The account has been in deficit, [Garcia-Dominquez] has to bring it to profitability. Only then when it comes to profitability will people be able to get their money in a shorter time because of its [Garcia-Dominguez] the ability to withdraw will be greater and the amount of money to withdraw will be greater. "
Garcia-Dominguez had offered to repay its 17,000 Guyanese investors using cryptocurrency, the most widely used of which are bitcoins. But Attorney General Anil Nandlall has made it clear that this is not a legal tender in Guyana. The lawyer said that given the current state of the trading account, the broker will limit the amount of money his client can withdraw.
The lawyer claimed that if his client tries to close the account and get all the money back, he will face a penalty where he will have to pay about 68.5 per cent of the capital investment. He added that the trading account's profitability had hit twelve while his clients were jailed after being slapped with over 70 charges for allegedly obtaining money by false pretense.
Together, Garcia-Dominquez and his wife have been released on over $ 30 million bail with instructions to submit their passports and report to Criminal Investigation Department Headquarters, Eve Leary, Georgetown. However, the lawyer said that since Garcia-Dominguez was released on bail "he has been trying to bring the account to profitability."
The solicitor estimated that there should be a "significant turnaround" with the account in the next four to five weeks. This, he added, will enable the company to close some float trades and withdraw larger amounts to prevent a chaotic situation for repayments. Once this happens, he promised that every investor will get his capital repaid within four to five months.
Asked specifically how many investors have been repaid so far, the solicitor said, "I do not have those statistics at the moment because I have not been monitoring the payments on a daily basis at all. What I can say is that people have been repaid and millions of dollars have been repaid. I do not have the figures at the moment. The rest of the people to be repaid are still very significant … "
Tighten
As more and more people, especially the poor, become victims of Ponzi schemes, Attorney General Anil Nandlall announced last Thursday that the Government will have to tighten laws to protect Guyanese to ensure strong sanctions for achievers.
"We certainly need to look back at our laws to tighten them to make Ponzi schemes and devices of this kind a criminal offense and to have very strong penalties attached to them when they are committed. At the moment, we have no laws that specifically address this issue. And that's why we have to turn to the common criminal law and the common law for crimes to charge these people with. "
Nandlall said this situation must "change rapidly" as Ponzi schemes and other fraudulent investments have become a new phenomenon, which has not only manifested itself in Guyana but across the Caribbean region. Against this background, he added that the region as a whole will have to prepare itself for further proliferation of these schemes and similar fraudulent devices.
According to the Attorney General, one of the lawyers representing alleged activists of the Ponzi scheme had reached out to him seeking help. As such, he said he had instructed the solicitors to write their applications in a letter and the Government will make every effort to assist, provided that what they ask for is legal and permissive.
"I never heard a word back …," informed Nandlall. In light of this, the Attorney General noted that this showed that this was just a fraudulent design executed with great precision and skill and which has been illegally extracted from thousands of millions of Guyanese dollars.
"I hope that every effort will be made to speed up these prosecutions so that at the end of the day, the deceived people will feel some satisfaction that justice has been defeated. We must hope that both operators do not flee the country. Of course, they're listed on the list and the Police have their passports, but you know we have permeable boundaries. "
Taking this into account, Nandlall said he hopes the Police will continue to get Dominguez and his wife under constant scrutiny so they won't be able to get away.
The Attorney General pointed out that this Ponzi scheme had brought great success to the fraudsters, and led to similar schemes throughout the country. "They are [defrauders] take their [investors] life savings, they take capital from their businesses … I know people who have mortgaged their homes and taken the profits and invested in these schemes and they have lost it all. "
617667
Read More Interesting Content