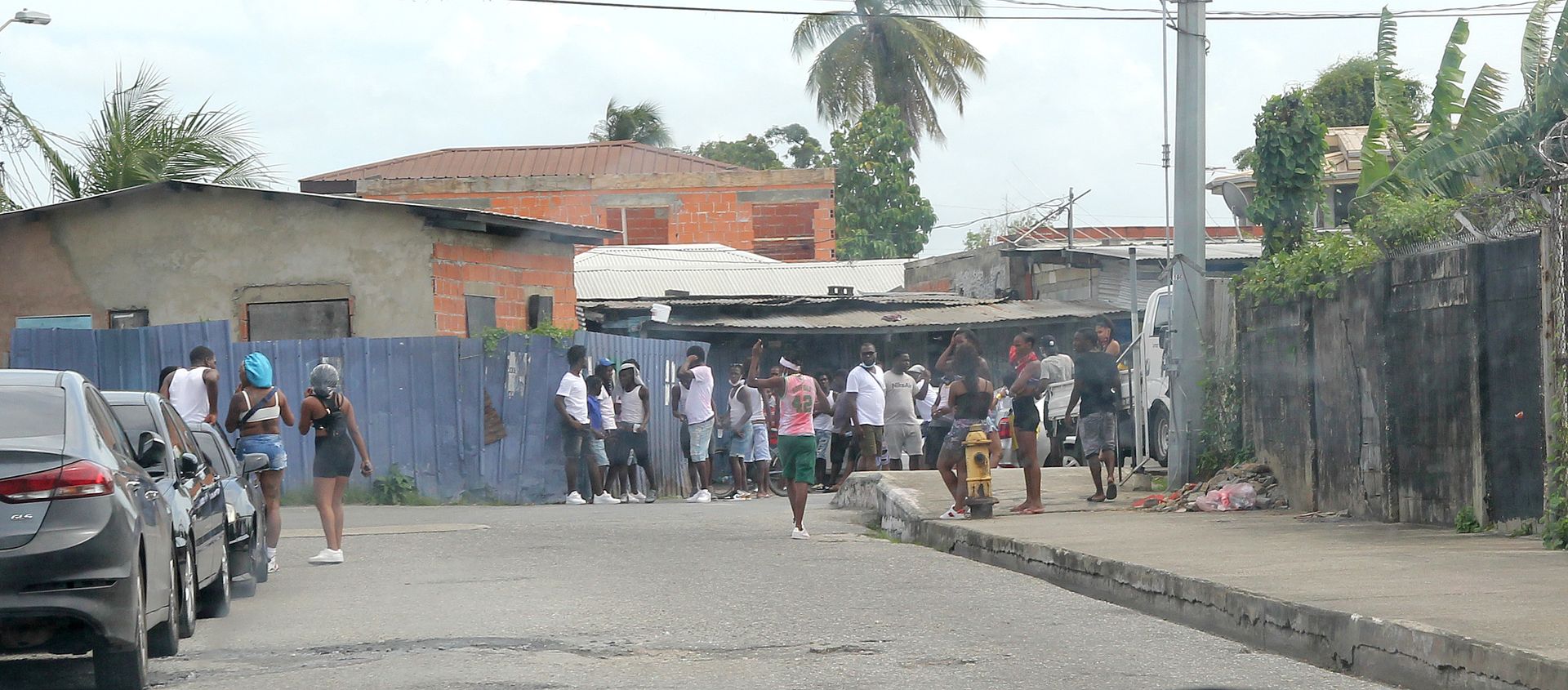 (Guardian of Trinidad) Even in the face of numerous warnings from Prime Minister Dr Keith Rowley, Health Minister Terrence Deyalsingh and the T&T Police Service not to gather, especially over the Easter long weekend, some citizens continued to ignore the call that yesterday and ended with legislators and parties facing off in Sea Lots, Port-of-Spain.
Responding to reports that a private party was underway at Production Drive just after 10 am yesterday, Port-of-Spain Regional Task Force officials, overseen by PC Bacchus, attempted to shut it down and disperse the crowd, which was estimated to be over 300 strongly.
Arriving at the home of a deceased gang leader to find music blasting and individuals partying in a touching atmosphere, the handful of officers tried to warn people of violating public health regulations but the crowd, many of them covered with body paint and colored powder, he allegedly became angry and started to move on the officers.
Although the disc jockey had complied with instructions from Bacchus and Aguillera PCs to turn off the loud music, attendees were said to have been prompted by one man known to the police, who told them not to listen and instead order them to curse and chase after the officers.
Fearing for their safety, the officers called for assistance, which resulted in units from the Port of Spain Task Force, the Interagency Task Force and the Emergency Response Patrol responding.
As more law enforcement agents arrived, the crowd dispersed quickly.
However, the resident who provoked the crowd was arrested and transported to Besson Street Police Station, where he was charged with violating the Public Health Regulations, using abusive language and resisting arrest.
When Guardian Media Limited visited the area yesterday, angry residents stayed in groups along the way but refused to talk about the incident.
Meanwhile, there was a heavy police presence at several beaches on the north coast yesterday, as officers ensured that people complied with instructions not to collect, to wear masks in public and also refrain from parking along the North Coast Road. n leads to the Maracas, Tyrico, Las Cuevas Beaches and Blanchisseuse.
Visitors who stopped to buy popular delicacies during Maracas surveillance were surprised to hear a female officer on a loud speaker warning people to get their masks on and issuing directions to social distance, as she encouraged them to buy fast and move on.
Although the crowds in Maracas and Las Cuevas were smaller yesterday compared to Sunday, many beachgoers said they ventured out for a last-minute sea bath as work resumed today.
On Tyrico beach, beachgoers have seen an increase in numbers although it has been closed to vehicular traffic for the past two months following a party back in January.
It has been reported that nearly 10,000 visitors have been taken to Tobago in the past week and this week, prompting concerns that the virus may have a spike.