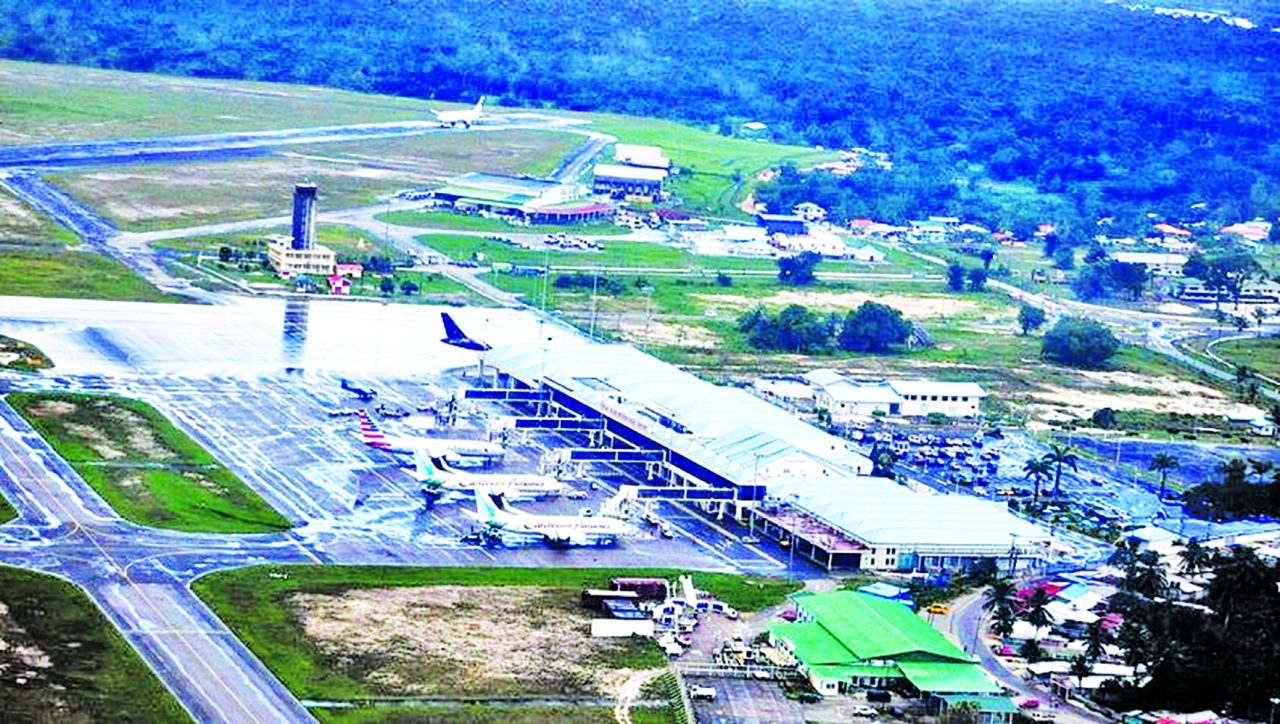 Home
Top Stories
US $ 9M in additional work for CJIA, at contractor's expense
The Ministry of Public Works on Tuesday entered into a new agreement with China Harbor Engineering Company (CHEC) for the further expansion of Cheddi Jagan International Airport (CJIA).
The Ministry's Permanent Secretary, Vladim Persaud and CHEC Project Manager Liu Keliang signed the new agreement, which has been pegged at some US $ 9 million.
A statement from the Ministry said that CHEC would only bear the costs of the new work being carried out.
The new works will include extending the Airport's residential corridor to accommodate two other passenger boarding bridges, providing the Airport with a total of six boarding bridges capable of servicing aircraft such as the Boeing 777, Dreamliner, AirBus and transatlantic Atlantic aircraft.
It would also see the terminal building extended to accommodate additional commercial space such as food courts and duty-free shops. The expanded building will feature a modern airport facade covering the full length of the departure terminal.
CHEC has further agreed to rectify and complete all remaining remediation within prescribed timelines. It was agreed that all work would be completed by December 31, 2021.
Last month, CHEC submitted a revised work plan for the CJIA expansion project, but according to subject Minister Juan Edghill, the revised work plan still did not meet the Ministry of Public Works criteria. Edghill had made clear that he still did not have some key components that the Government wanted to include. Those components included the extension of the CJIA runway and an increase in capacity for eight standing aircraft.
Edghill questioned the effectiveness of additional penalties against the contractor, which had previously been slapped with penalties totaling US $ 7000 for each day the project was delayed.
President Dr Irfaan Ali had taken a tour of the CJIA expansion works site back in September, and had read the riot act to the contractor, consultants and other officials. Among his concerns was the deviation from the terms agreed in what was a US $ 138 million fixed-price contract.
CHEC was therefore tasked with submitting a revised scheme of work incorporating the original design, such as facilities for eight air bridges, an extended runway, taxis and aprons with eight aircraft standing space.
It was also expected that CHEC would make provision for rebuilding, not refurbishment of the terminal building. It was also expected that the company would submit this work plan within five days on August 28.
The project was supposed to be completed since December 31, 2018 under the previous Government A Partnership for National Unity / Alliance for Change (APNU / AFC), but has now been taken over by the People / Civic Progressive Party ( PPP / C) Government, in incomplete and underrated condition.
In fact, the Granger-led APNU / AFC Administration settled for a denigrated design while paying more than the US $ 150 million allocated.
It was highlighted that the current coronavirus pandemic would not be used as an excuse, as the Guyana Civil Aviation Authority (GCAA) would facilitate a flight to get Chinese Harbor employees back to carry out their planned work.
Once the materials and human resources are present, construction can resume. The contracting company has already been evaluated through letters of the corrective or remedial work that needs to be done.
When the coalition Government came to power in 2015, the project was postponed, but after discussions between former Public Infrastructure Minister David Patterson and CHEC, it was later announced that the project would continue, but a number of downgrades were made to the design.
Some US $ 138 million of the costs allocated were financed by the EXIM (Export-Import) Bank of China, while US $ 12 million was spent by the Government of Guyana. He was not expected to exceed that amount, but Guyana had to incur additional expenses.
The CJIA, in its undergraduate design expansion, has four smaller air passenger boarding bridges for arrivals and departures than the initial eight; a 450-seat exit area; escalators and elevators in addition to an incomplete extended runway, which was supposed to measure 400 and 690 meters at the various ends.
An old terminal building marked for cargo was refurbished, and only one of the new sections was erected.
Meanwhile, no new apron that was supposed to support the four additional airbridges exists. There is also no room for enough off-duty shops, restaurants, car rentals and other facilities.
687536
Read More Interesting Content