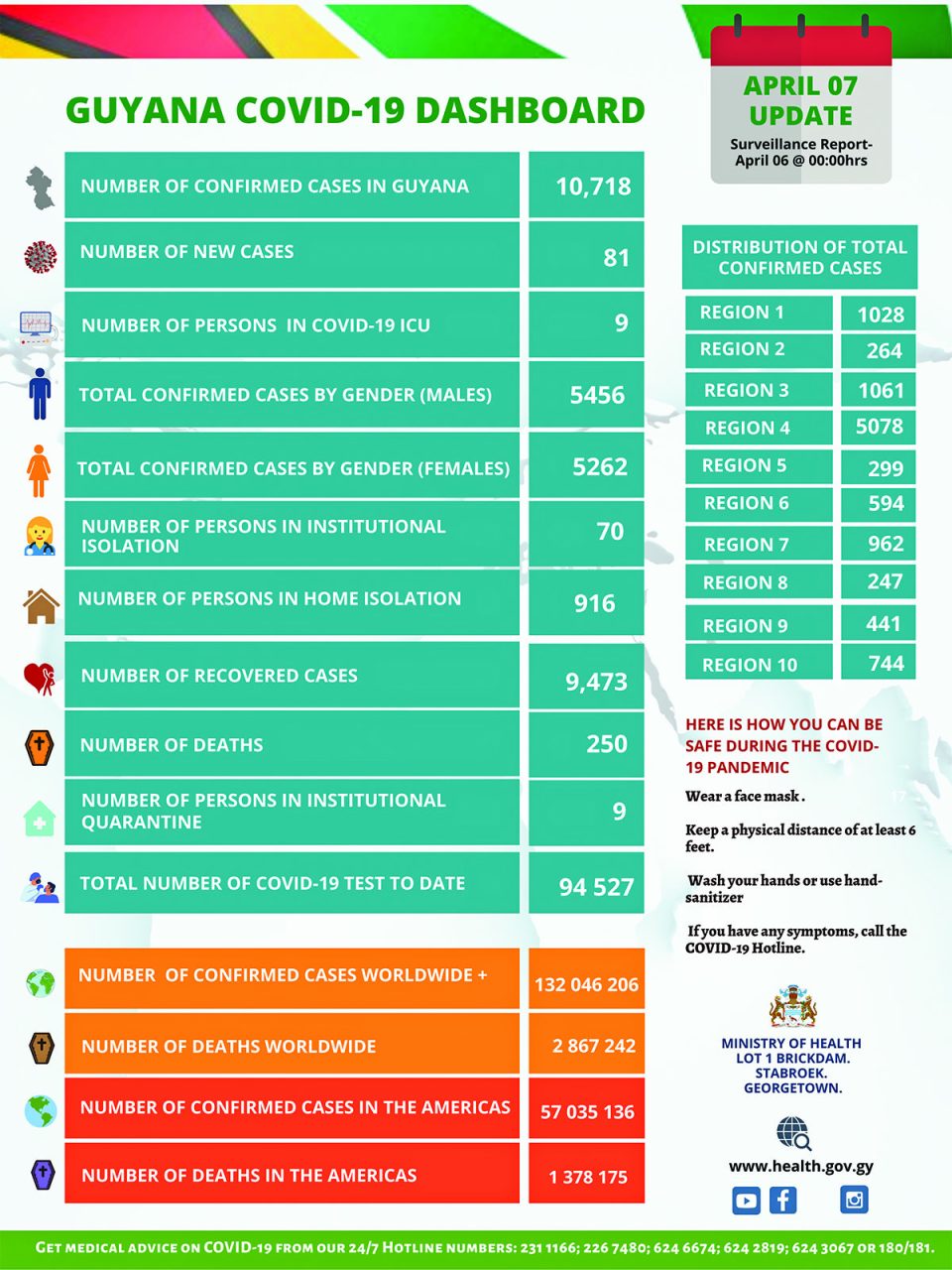 Home
Top Stories
Young people affected, more hospitals COVID-19 – Health Minister
Young people affected, more by hospitals COVID-19 – Health Minister
… The death toll climbs to 250; 81 new COVID-19 cases
Health authorities are concerned about the increasing number of COVID-19 cases in Guyana, many of them juveniles as well as persons who become ill and need hospitalization.
"Over the last month, we've started to see an increase in cases … We've also seen younger people also affected, and that's quietly worrying … And out of seeing more cases, we've we have only started to see more hospital admissions, "Health Minister Dr Frank Anthony said during a COVID-19 update on Wednesday.
According to the Health Minister, these rising cases are more common in Regions Three (Essequibo-West Demerara Islands), Four (Demerara-Mahaica) and Seven (Cuyuni-Mazaruni).
It revealed that as of Wednesday, about 70 people were hospitalized with the new coronavirus at most regional health care facilities across the country. In fact, there are about 54 such people at Ocean View Hospital in Liliendaal, Greater Georgetown, and the remaining individuals are at the Linden Hospital Complex, West Demerara Regional Hospital, and New Amsterdam Hospital.
"So, in our regional hospitals, we now have more patients coming in because they need help to breathe. So, we're seeing more cases coming to us. Of those who have been in hospital, a percentage of them are very ill, so they will have to have ICU care, "explained Anthony.
However, the Health Minister was unable to say whether there is a new variant of the COVID-19 virus in the country that is leading to these people becoming ill and more younger people being infected with the virus.
"We still don't know what variants we have in Guyana, and we can only know if it is confirmed by genetic sequencing … It's hard to decide which one we have, or if we have, because we don't have sequence, and you would only know if you have a sequence.
"But what we can say, based on what we see clinically, is (that is) we are seeing more hospital admissions; and when people come into hospital, a percentage of those get sick, so we get a lot of cases in the ICU. So we know more people are being affected by this very adversely, "said Dr Anthony.
Previously, Guyana had sent 10 samples to the Caribbean Public Health Agency (CARPHA) and, upon completion of the gene sequencing in February this year, the results showed that there were no traces of new variants of COVID-19.
However, since then, no further tests have been carried out, but Minister Anthony says authorities are hoping to send another set of samples for genetic sequencing.
"We are trying to work out arrangements where we can do the tests; but, so far, we have not been able to get additional tests. We hope we can do a bit more (testing) with CARPHA, but those arrangements, we will have to put in place, "he said.
Just last week, two young people died after being infected with the virus. They are a 28 year old male from Region Two (Pomeroon-Supenaam) and a 26 year old from Region Three. Authorities have not revealed whether these young people had any underlying conditions that could have led to their demise.
Death toll, new cases
Meanwhile, the Health Ministry reported Wednesday that another person who tested positive for COVID-19 had died, taking the country's death toll now to 250.
The latest death is a 57-year-old girl from Region Four (Demerara-Mahaica), who died Tuesday while being cared for at a medical facility. For the month so far, about 17 people have died from the novel coronavirus.
In addition, 81 new COVID-19 cases were recorded on Wednesday. This now takes the number of confirmed cases in Guyana to 10,718, of which 5456 are males and 5262 are females.
Active cases in the country have been reduced to 995. This includes nine patients in the COVID-19 Intensive Care Unit and the remaining 986 people separately, that is, 70 on their own institutionally and the other 916 besides home.
Nine other people are also in institutional quarantine.
To date, about 9,473 people have recovered from the life-threatening disease – 119 more recoveries than the figure reported the previous day.
To date Guyana has tested about 94,527 people for the new coronavirus.
Of the 81 new cases detected on Wednesday, seven were from Region Three; 40 shocking cases in the Demerara-Mahaica region; one in Region Five (Mahaica-Berbice), 20 in Region Six (East Berbice-Corentyne) and 13 cases in the Cuyuni-Mazaruni region.
The figures in the other five regions remained the same.
As more people become infected with the new coronavirus and some become ill, the Health Minister is once again urging people to adhere to the protocols and guidelines in place to prevent the disease endanger the spread of life.
"The [National COVID-19] The Task Force cannot be everywhere. We have limited resources, and while we want to use these measures as a deterrent, people have to start becoming more responsible, because everyone is involved. If you don't follow these rules, you're putting people at risk.
"At this time of pandemic, why do people want to go out and have these parties? It's not normal, so people had to start taking these measures seriously, "he said.
As it stands, curfews are in place from 22:30 pm (10:30 pm) to 04:00h (4am), but there have been increasing calls for a tougher curfew. According to Dr Anthony, the COVID-19 Task Force always takes this into account.
"We haven't changed anything yet. As cases continue to rise, we will have to re-evaluate the situation and see what the appropriate measures will be, but for now, those hours remain. One thing that people have to understand is not because the [curfew] he says 10:30 that means you have to be on the road until 10:30. If you have no business on the way, then go home early, "he stressed. (G8)
Read More Interesting Content