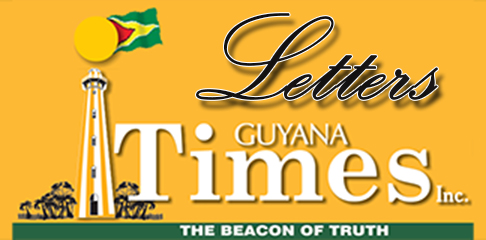 Home
Letters
Youth unemployment is Region 10's biggest development challenge
Dear Editor,
Youth unemployment has become Region 10's biggest developmental challenge. In almost all communities, unemployment remains – which resulted from the economic downturn under the previous APNU / AFC, which discouraged employers from employing the older people – nearly half of all unemployed young people are under thirty. This is something that was evident through the previous APNU / AFC Administration between the period 2015 and 2020, as they shattered the economic potential of our region and our country, the huge lies they told our population, especially in Region # 10 .The APNU / AFC administration that went after RUSAl, leaving 600 people in Region # 10 unemployed, mostly their own supporters. Our PPP / C Government is currently in discussion with RUSAL, exploring ways to re-engage, re-establishing the Forestry Commission to support small loggers in Region 10, with the need to add value to their products creating more jobs in the region.
We must be thankful that they have made immediate efforts to create sustainable employment for our young people throughout Guyana and Region 10. since the Progressive People / Civic Party took office. Some might say the challenges are insurmountable.
Excluding the high economic growth since the PPP / C Government took office some six months ago, that shows that our Government ministers have been leading the way with many defeats in the regions throughout this country, listening to Guyanese, including our young ones. people, find solutions for the various issues. Our Government is aware that Guyana's young people are our greatest employment asset. Similarly, all Guyanese are Guyana's greatest value.
Minister for Culture, Youth and Sport, Charles Ramson Jr., was in Region 10. He recently expressed the PPP / C Government's intention to change the lives of young people, and stated that all young people in Linden must have the same opportunities, and benefit from the same initiatives. Rebuilding the MSC is one initiative that would create job opportunities for Linden youth. The re-commissioning of the Linden Call Center is another. Focusing on our young people is therefore vital to our country, but creating jobs for our young people is a priority across Guyana. Young people don't find it difficult to get a job, but find it harder to find decent jobs.
What young people need today is not only a job, but a job that enables them to make contributions as employees, citizens and change agents. This is the challenge we face, the desire for meaningful employment opportunities.
This is why all development players – civil society, our Government, business, community and young people themselves – have vital roles to play in providing innovative solutions to the current huge youth employment challenge. When these development players become cooperative partners, the synergy creates powerful results. In this context, collaboration can be not only useful, but also inspirational for interested actors to identify and describe in detail a set of community-based youth employment development projects from across our region, representing valuable cooperation between development players. The intention is to identify a set of employment opportunities focused on public-private partnerships, whose success factors and lessons could provide guidance for similar initiatives in other regions and communities. Appropriately presented strengths, shared characteristics and improvisations in each region with the contrasts and details of each experience will be evidenced, and key elements of success, as restored from direct contact with project managers, will be highlighted for potential inspiration.
Our President, in his New Year's message to our nation, reflected a general overview of initiatives, including initiatives that have a significant impact on youth employment and provide decent job opportunities; illustrate a variety of methods; focus on various aspects of facilitating the development of youth employment, including initiatives relating to employable skills provision, innovative skills training, job matching and matching, mentorship, internships and youth enterprise creation; – highlighting innovative partnership and collaboration between civil society, public organizations, the private sector and young people.
As the Progressive People's Party Civic Government continues to create job opportunities, introduce low cost for tertiary education, and generally encourage young people to enter the job market, it is to overcome these difficulties, but also to unlock their potential so that they can mature and become tomorrow's dynamic workforce.
Our PPP / C Government's approach to this issue is necessarily interactive and collaborative: in conjunction with all Government agencies such as the Department of Education Services and the Ministry of Education; our Culture, Youth and Sport Administration and Services Unit is already working hard to put our young people on the path to employment by helping young people identify potential careers by experiencing aptitude and personality traits. There are also opportunities to explore a range of areas, including mechanics, office administration, fashion design, creative media, and culinary arts. In addition, the Youth Services Unit works with young people to plot their further education plans by examining tertiary education institutions, course requirements and scholarship opportunities. Staff also assist with the creation and updating of young people's résumés, and maintain an updated bulletin board of job opportunities for entry level candidates and other suitably qualified youth.
The Ministry of Education, Training and Employment has also been working on several initiatives aimed at improving services, support, assistance and guidance for the youth of this country.
But these commendable efforts should not be left alone. Parents, teachers, friends, family and community should all be part of the equation. From a young age, our children need to develop
solid values, and we need to instill in them the value of a strong work ethic.
Likewise we should offer career counseling, encouraging our youth to think outside the box when it comes to livelihood choices, and strongly promoting creativity and entrepreneurship.
Accordingly, I call on everyone to invest in Guyana's future and spend time with a young person who wants to be part of Guyana's development process. I can assure you that it will be well-spent time.
Correctly,
David Adams
Read More Interesting Content